Meet the MTA, Part 2: An Introduction to New York City Bus Advertising

October 24, 2023

Previously, we wrote about advertising on the New York City subway system. Today we'll explore the MTA's bus system and the advertising opportunities it offers.

The MTA subway is often called the circulatory system of New York, but that's only half-true. Because while its 25 lines and three shuttles essentially serve as the city's arteries, it's the buses that spread like capillaries across every neighborhood in the five boroughs and serve as the primary daily means of transit for many – especially those who don't commute into Manhattan. Because while the New York City subway system is optimized for getting people to and from Manhattan, buses carry the lifeblood of the city within its boroughs. Buses go where people go.

1.4 million New Yorkers ride the bus daily; like subway riders they represent a captive audience with a long dwell time. Therefore, the impact of bus and subway interior media is similar. However, the more local, predominantly intra-borough nature of bus ridership with long dwell time makes this an especially attractive option for neighborhood small businesses who can reach consumers in their vicinity as they move about their day. Advertisers can choose from Bus Interior Cards placed directly over the heads of passengers or a Brand Bus, which allows one advertiser to take over all of them.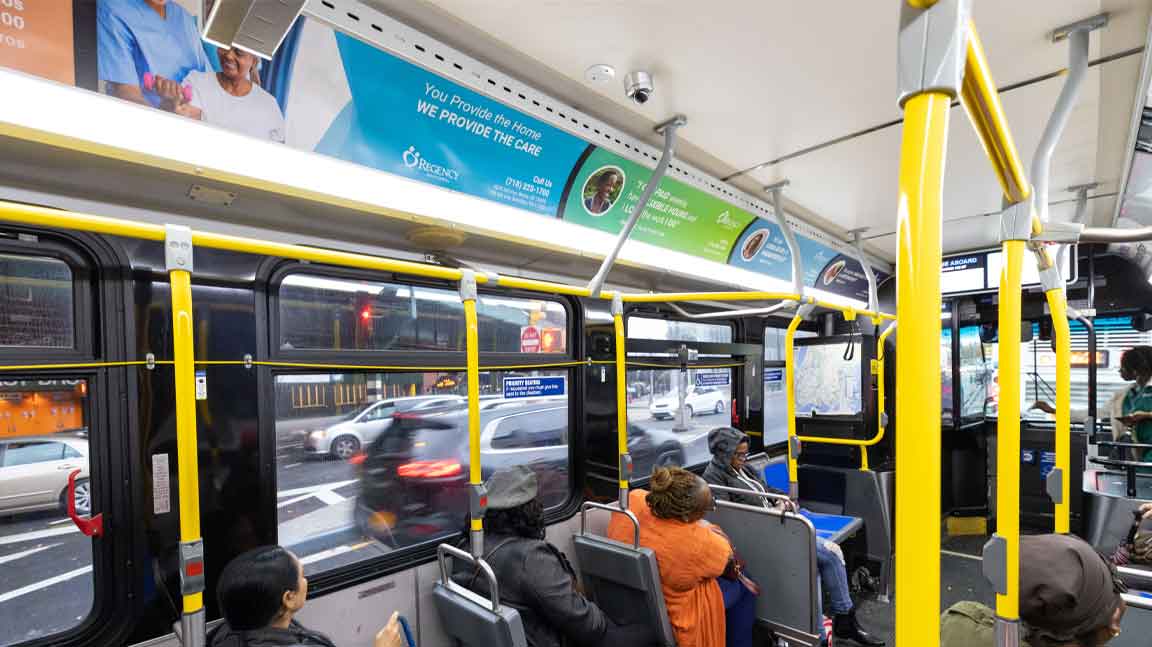 It's exterior bus media though that really gets people talking. There are over 5,700 buses in the MTA's fleet, which run on over 300 different routes. Viewing these routes on a map communicates pretty instantly how thoroughly advertising on New York City buses can reach the city's residents, both those on foot and behind the wheel. What those maps won't show you is that bus ads get a response. That's why we made a chart.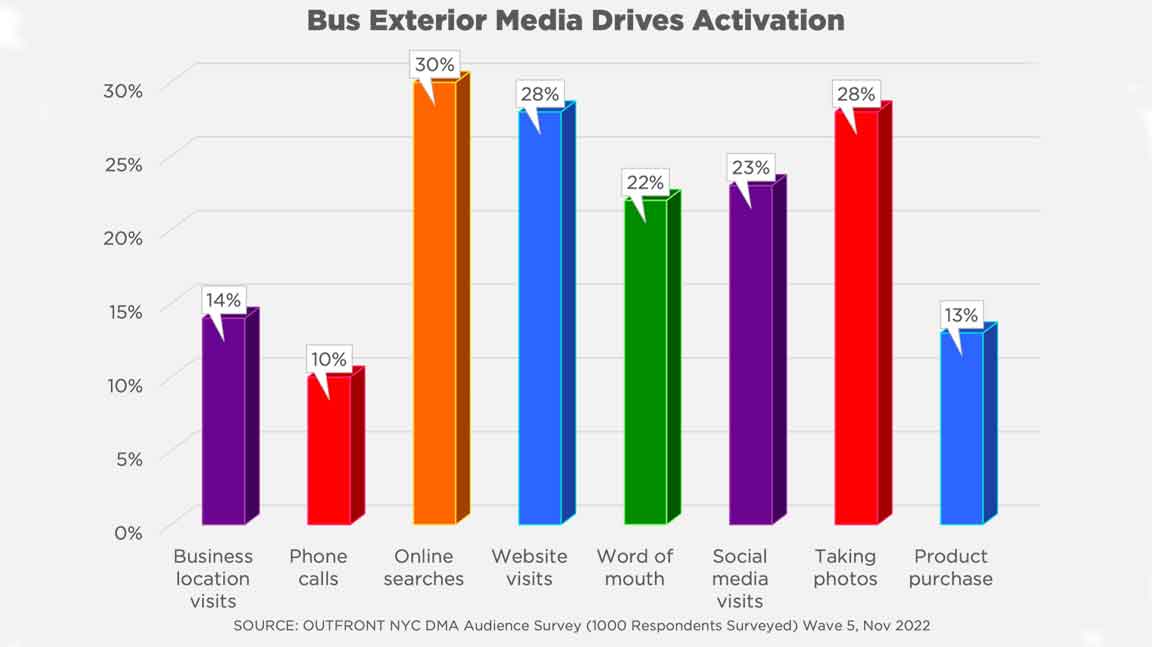 OUTFRONT offers a variety of bus advertising formats. You're probably most familiar with Kings, the 12-foot-long ads at eye level on the sides of many MTA buses. Kings are the standard bus OOH format across many markets offering effective reach at street level. There are also Queens, the same 30" height but seven feet long.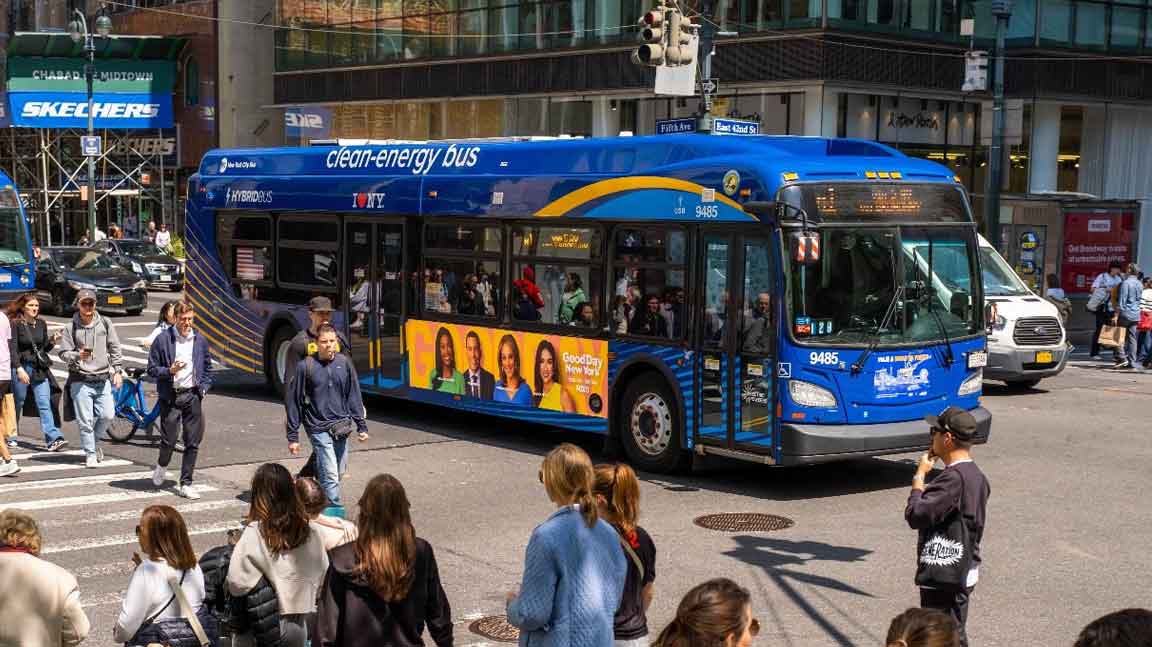 Other variations on the King are the 30 x 215 format, which is 50% longer, and Super Kings, which are a whopping 20 feet long, covering the buses from wheel to wheel.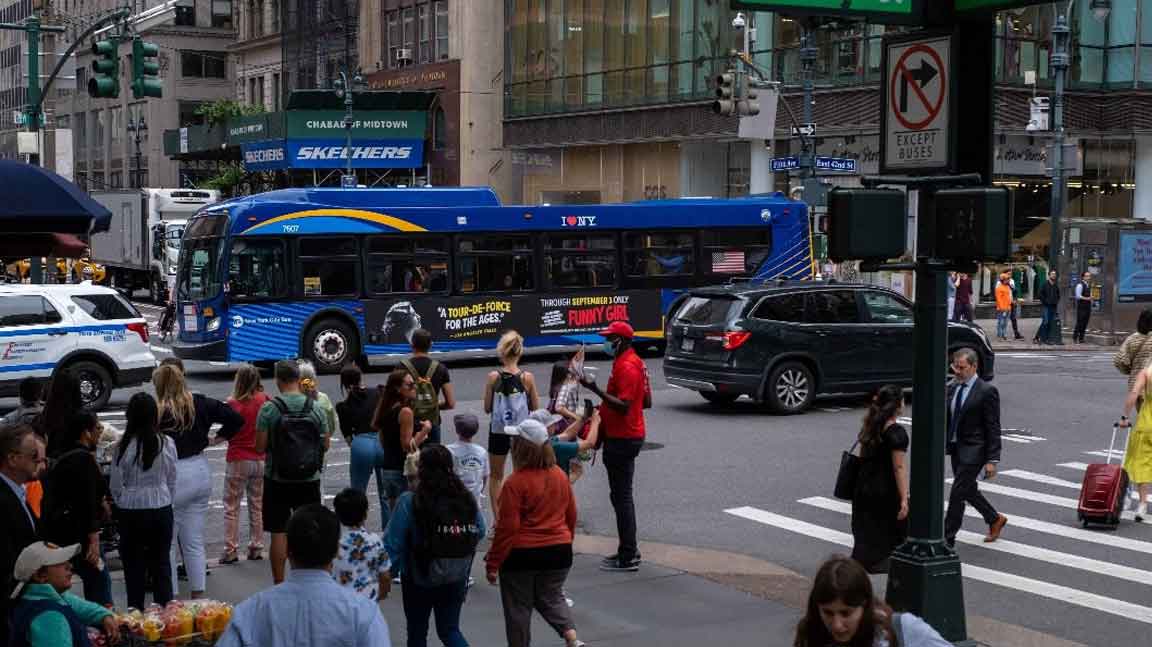 A bigger, bolder option befitting their namesake, Kongs also span wheel to wheel but rise from the bottom of the bus all the way to the window.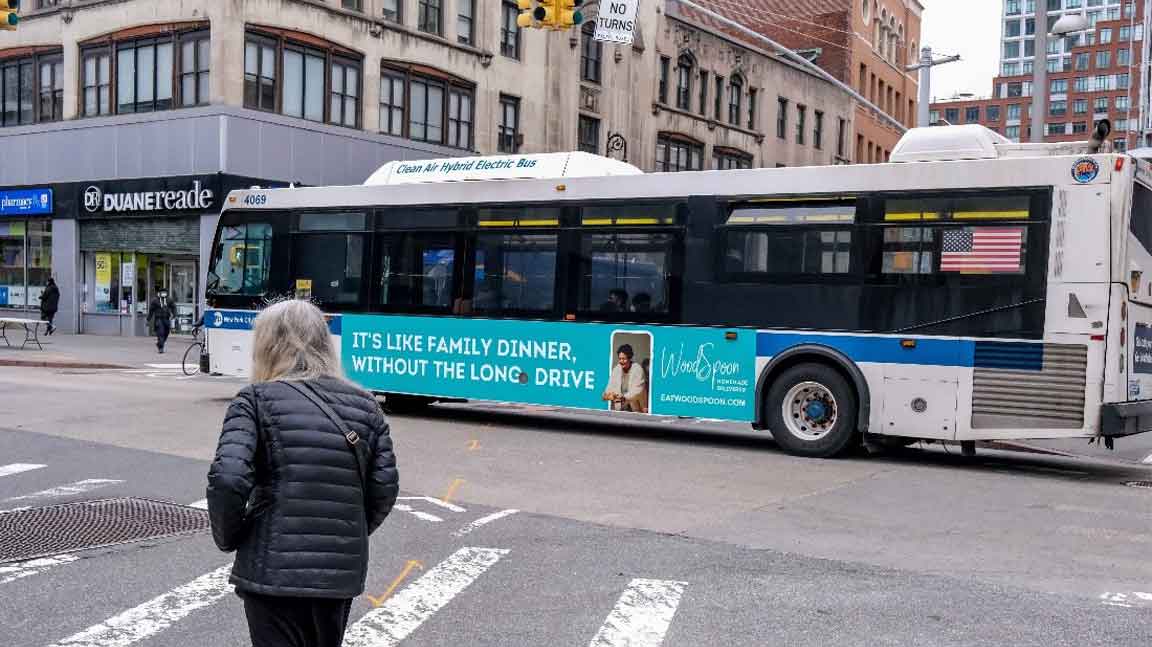 Ultra Super Kings are our largest NYC bus media format, covering roughly half the side of a bus from top to bottom. That's nearly the size of a standard poster billboard! USKs have that same in-your-face oomph – but make it mobile, USK's are NYC's premium rolling billboards and are the largest at eye level media throughout NYC providing brands with a large creative canvas as buses move throughout the city.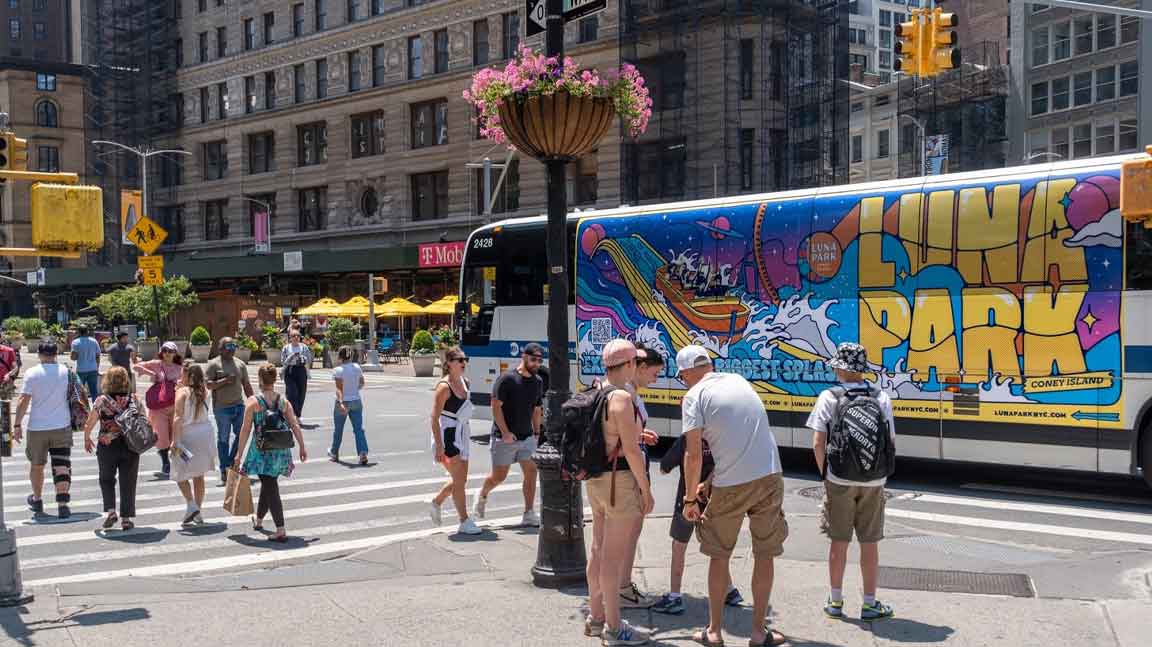 Combining multiple media formats on the same bus can reinforce a brand's message. Headliners, for example, complement Kings and Super Kings by running from wheel to wheel above the windows and doors. Headliners are an effective add on to include tune in information or further drive engagement at an unobstructive view. And window extensions are perfect for advertisers that don't want to be constrained within four corners.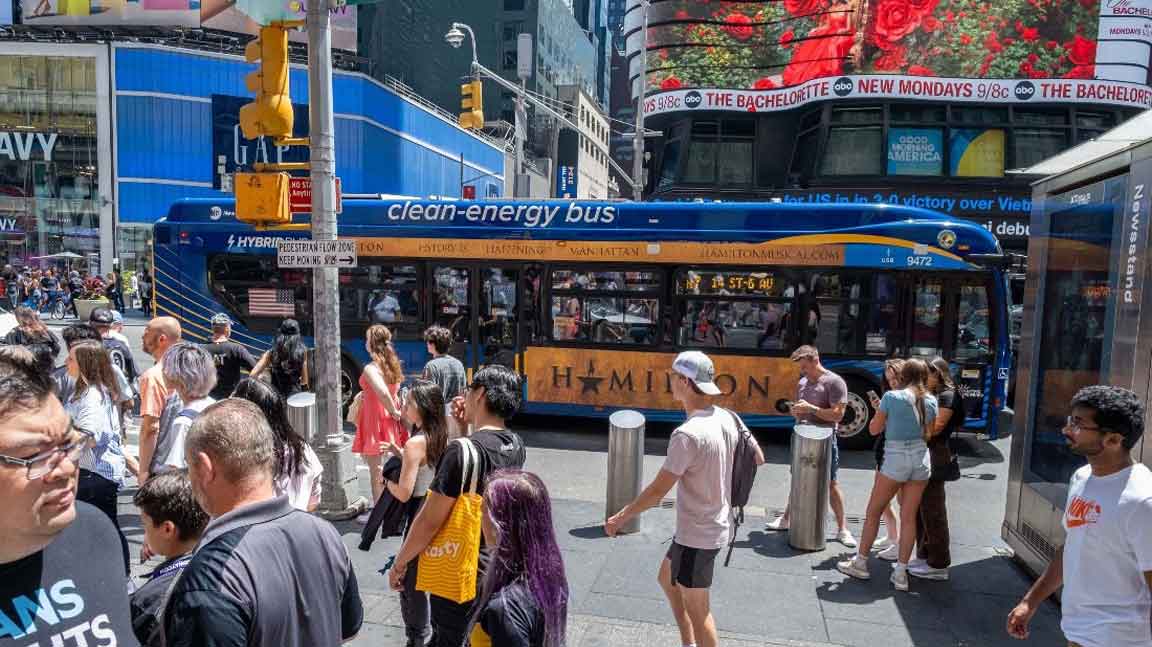 On the back of the bus, reaching both vehicular and pedestrian traffic, Tails offer consistent exposure, high reach, and frequency, while The Franklin – a double-panel bus tail – opens up additional brand storytelling opportunities.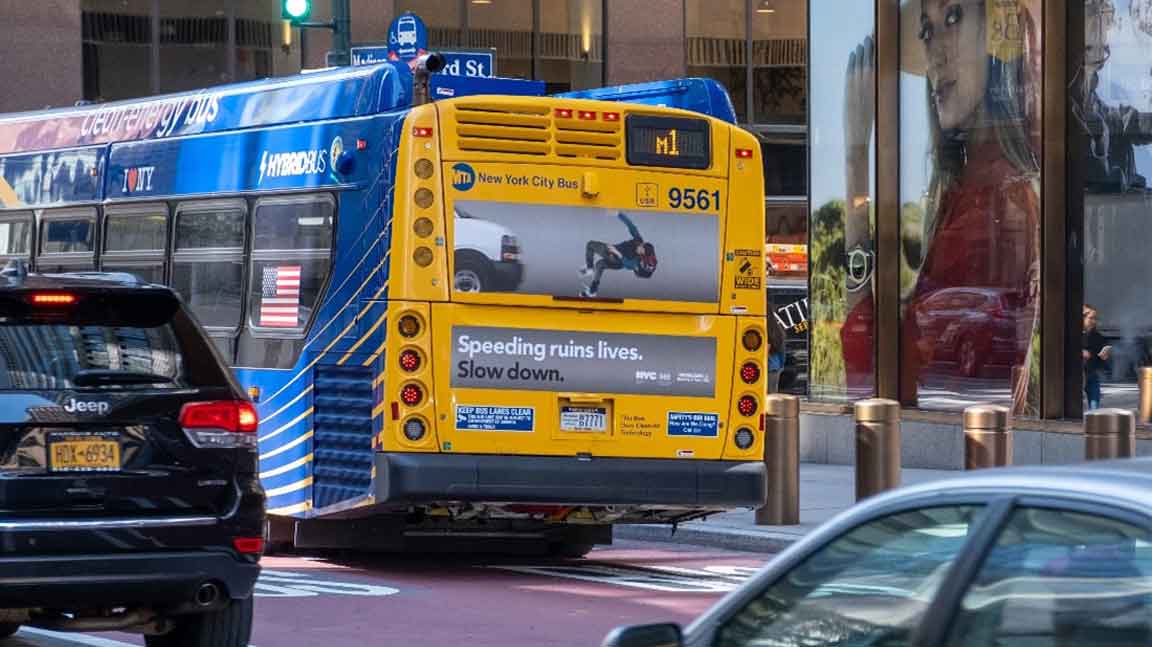 Finally, we offer Headlights on the front of over 3,200 buses, a perfect choice for head on messaging dominating the market and driving reach with a lower CPM.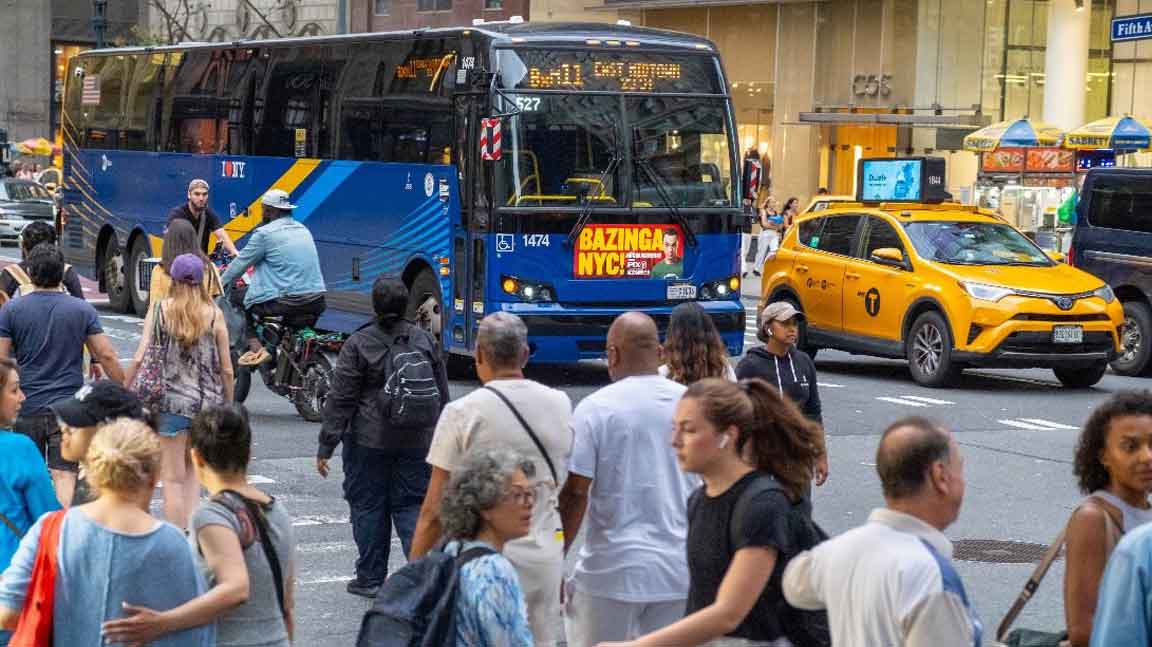 Between its variety of formats, breadth of coverage, and granularity of reach, New York City bus media offer something for everyone. Contact us today to find out how advertising on the MTA's buses can help you reach your audience.

Author: Jay Fenster, Marketing Manager @ OUTFRONT