The Breckenridge Distillery is the "World's Highest Distillery" and is widely known for its blended bourbon whiskey, a high-rye mash American-style whiskey. Recently, Breckenridge Distillery has been named the "Official Bourbon of the Denver Broncos."
21%
Increase in Brand Awareness
Source
BRECKENRIDGE DISTILLERY
12M
Impressions Served
Source
BRECKENRIDGE DISTILLERY
Media Feature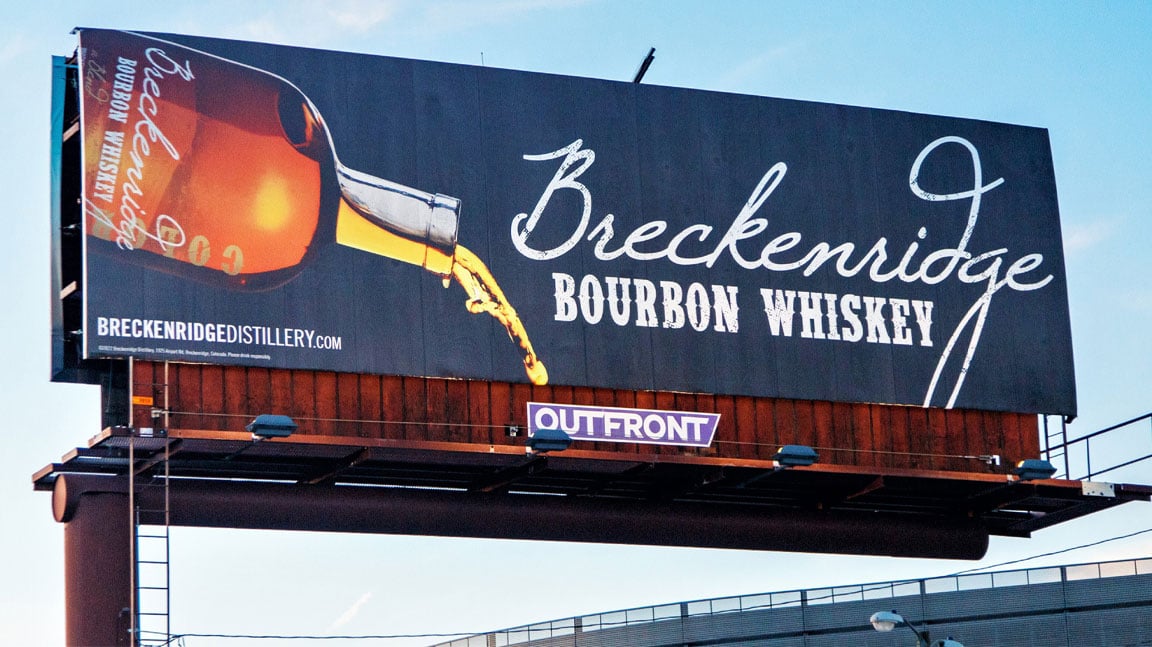 Objective
The brewery's goal was to promote and sell their 40,000 Bronco Blend beverages.

Strategy & Plan
Their strategy was to reach A21+ who are Bronco fans, friends/family of Bronco fans, whiskey enthusiasts, and/or collectors in the Denver and Rocky Mountain areas. Breckenridge Distillery's 8-week campaign ran across multiple formats, including bulletins, posters, and digital OOH. Locations were chosen based on their higher ability to reach the distillery's target audiences, as well as some structures near paths to purchase.

Results
Breckenridge Distillery's campaign yielded 12,317,801 impressions for A21+, which led to increase online, in stores, and overall sales of the Bronco Blend. Whiskey drinkers and Bronco fans continue to mention noticing the distillery's OUTFRONT ads. Many who were unfamiliar with the Bronco Blend disclose that OOH signage initiated their awareness of the Breckenridge Distillery.

Client Success
"Every year I think about alternate media solutions, but for 10 years, I have always gone back to OUTFRONT. Some of the many reasons include professionalism, attention to my needs, and the ease of the process."
-Kevin Litch Polich, Co-founder Breckenridge Distillery


DISCLAIMER: OF COURSE, THE RESULT OF ANY CASE STUDY ARE SPECIFIC TO ITS FACTS. WE CAN'T GUARANTEE THAT ANY OTHER CAMPAIGN WILL DRIVE SIMILAR RESULTS, INCLUDING INCREASED TRAFFIC, END-USER ACTIVITY (CLICK-THROUGH OR SECONDARY-ACTION RATES), OR REVENUE.