Kansas City
Public Schools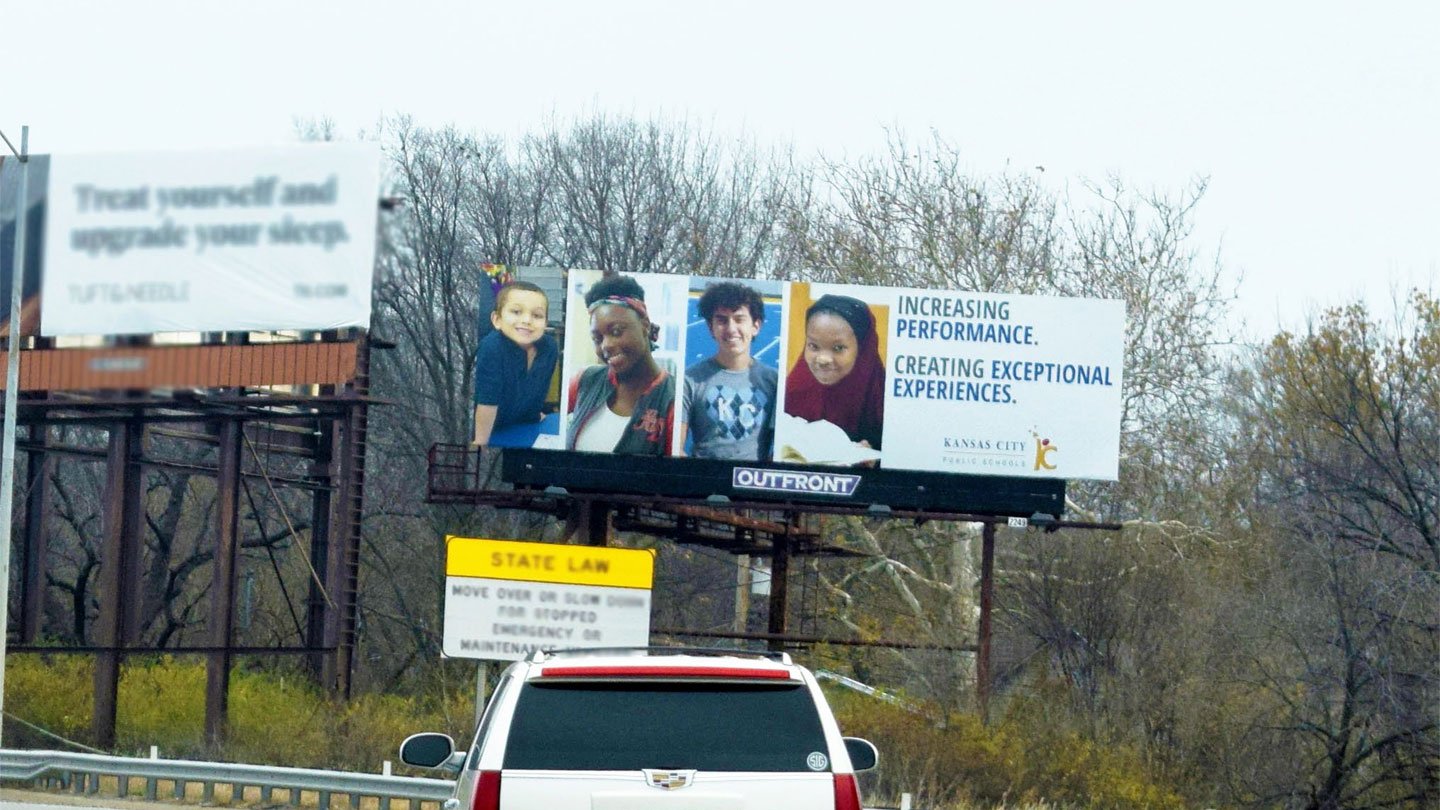 For the 2020-2021 school year campaign, KCPS wanted to reach district(s) residents in mass with messaging that focused on general KCPS, signature schools, and neighborhood school's awareness. Each creative campaign would be specifically placed to match the appropriate audience. The goal was drive awareness, increase inquiries, and drive residence to enroll with KCPS.
250k+
Mobile Impressions
Source
KANSAS CITY PUBLIC SCHOOLS
2.7K+
Mobile Clicks
Source
KANSAS CITY PUBLIC SCHOOLS
9.7M
Mobile Impressions
Source
KANSAS CITY PUBLIC SCHOOLS
Plan Details
The Kansas City Public Schools' flighted programs included a general KCPS 8-week campaign which ran on OOH only, while the Signature School and the Neighborhood School 8-week campaigns utilized billboards and Mobile combined. The Outdoor included high-delivery bulletins along Kansas City highways within the schools' district(s) areas and Poster inventory that provided specific neighborhood audience coverage. The Mobile included geofencing into specific zips that were meaningful to each message.

Results
Kansas City Public Schools program delivered over 9.7M impressions with and additional 250k+ in Mobile. In general, KCPS saw an increase in web activity, interest, and inquiries. Kansas City Public Schools tracks their media performance against leads and applications. OUTFRONT's program was deemed the number one referrer to their website helping to lead to a 10% increase in overall applications.

"Working with OUTFRONT has been wonderful. Since we launched our advertising efforts, we have experienced great results including increased traffic to our websites and number of applications. OUTFRONT provides us with boards that best fit our specific needs and strategy. OUTFRONT makes it easy and is one of my favorite advertising providers."
- Lynn Goehring, Marketing Manager, KCPS


DISCLAIMER: OF COURSE, THE RESULT OF ANY CASE STUDY ARE SPECIFIC TO ITS FACTS. WE CAN'T GUARANTEE THAT ANY OTHER CAMPAIGN WILL DRIVE SIMILAR RESULTS, INCLUDING INCREASED TRAFFIC, END-USER ACTIVITY (CLICK-THROUGH OR SECONDARY-ACTION RATES), OR REVENUE.