Professional Bull Riders (PBR) reached out to OUTFRONT to grow its audience base for its upcoming Kansas City Outlaw Days event. PBR smartly utilized every aspect of the OUTFRONT Edge, from audience planning tools, to second screen amplification (including influencers), to measurement solutions. In doing so, their largest OOH campaign to date reached the target audience and increased ticket sales.
14%
Of Impressions Delivered to Those Interested in Live Events
Source
SMARTSCOUT, GROUNDTRUTH
22%
Of Impressions Delivered to Country Music Concertgoers
Source
SMARTSCOUT, GROUNDTRUTH
18%
Of Impressions Delivered to Pro Sports Fans
Source
SMARTSCOUT, GROUNDTRUTH
Media Feature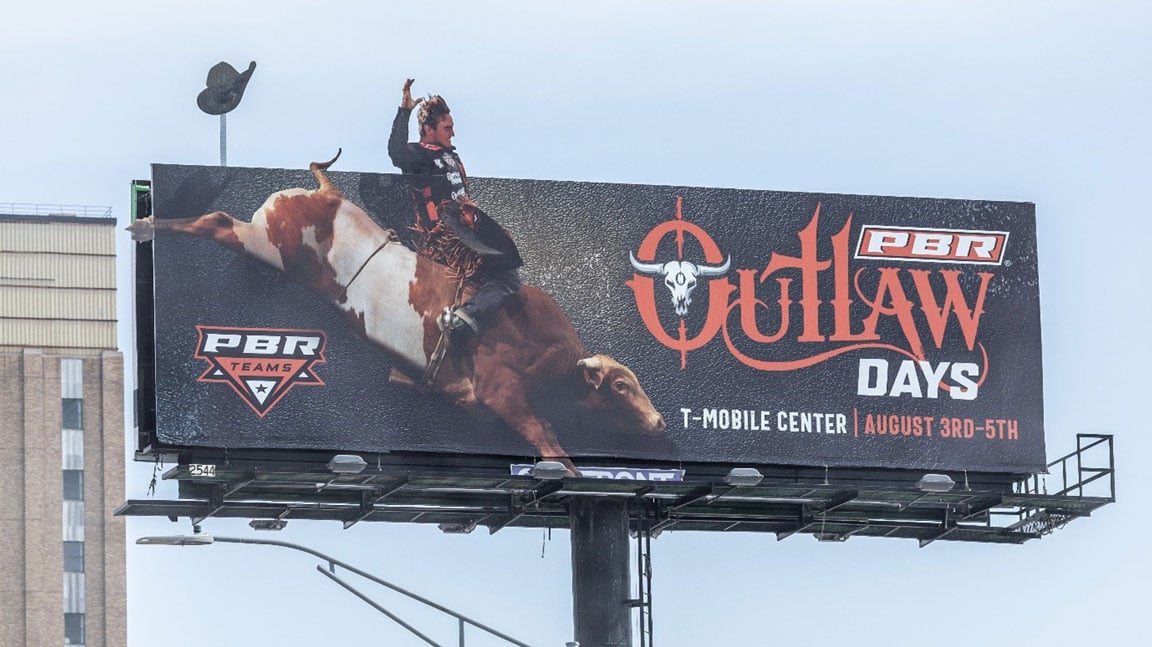 Our partnership with PBR Teams spanned nearly the entire OUTFRONT Edge:

Consultation & Audience Planning:
With our proprietary data platform, smartSCOUT™, we pinpointed the best assets to reach PBR Teams' target audiences and support its objectives.

Creative Development:
Our award-winning in-house creative agency, STUDIOS, produced attention-commanding designs including extensions, 2D pop-outs, and lighting effects.

Advanced Buying Solutions:
PBR Teams used our streamlined programmatic purchasing platform, Digital Direct Ad Server, to achieve national coverage that provided scale and consistency across its most important markets.

Amplification:
- Comprehensive Media Mix: In addition to OOH, we executed OTT/CTV, cross-device, and mobile elements for the campaign.
- Influencers: We partnered with local influencers to activate their social media audiences before, during, and after the event.
- Press and Organic Social: The campaign got people talking!
Attribution:
We quantified the impact of the campaign to measure how it performed against the goal of higher ticket sales.
DISCLAIMER: OF COURSE, THE RESULT OF ANY CASE STUDY ARE SPECIFIC TO ITS FACTS. WE CAN'T GUARANTEE THAT ANY OTHER CAMPAIGN WILL DRIVE SIMILAR RESULTS, INCLUDING INCREASED TRAFFIC, END-USER ACTIVITY (CLICK-THROUGH OR SECONDARY-ACTION RATES), OR REVENUE.