San Diego
Wave Fútbol Club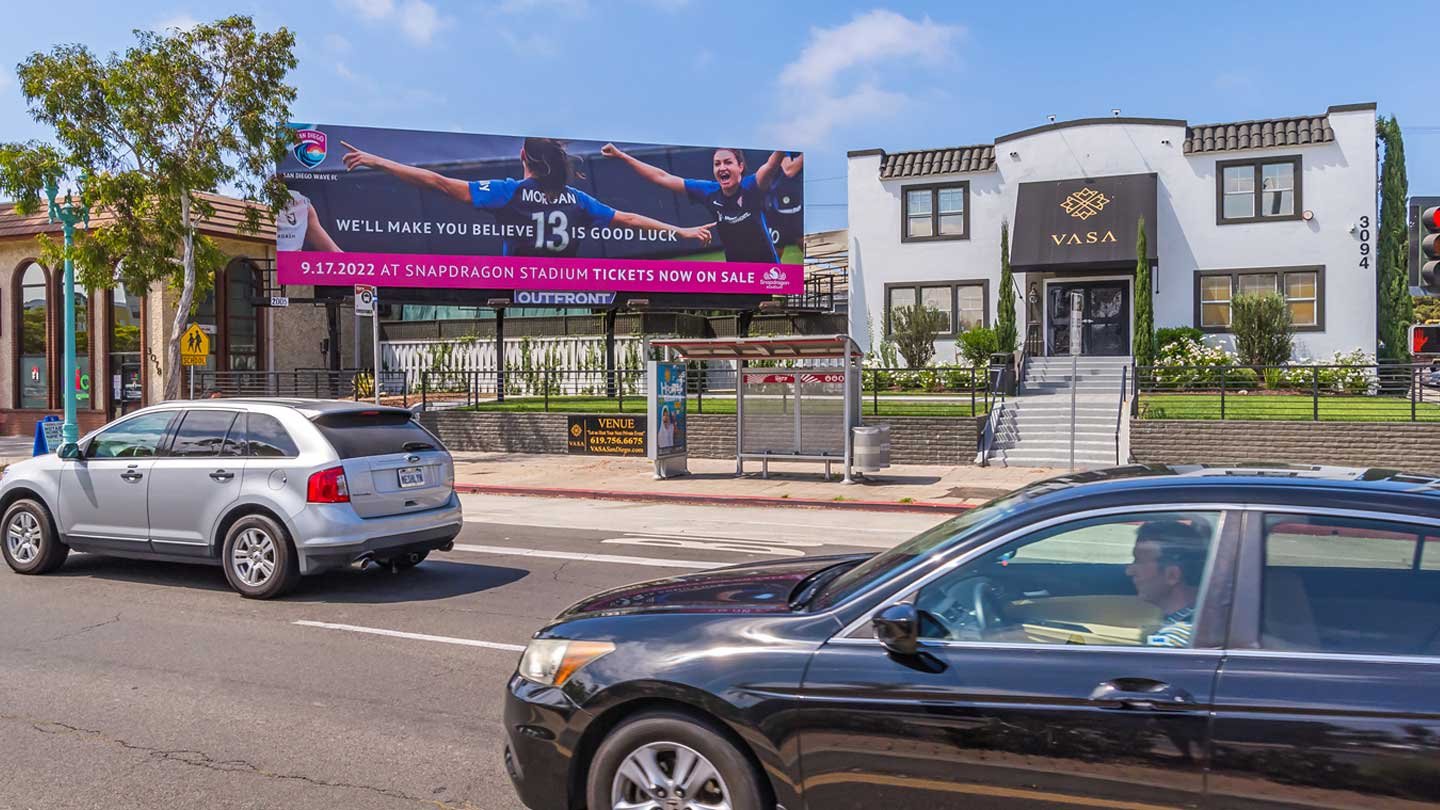 San Diego Wave FC is San Diego's latest National Women's Soccer League expansion team. The newly formed team was founded in 2021 and values excellence, integrity, growth, diversity, equity, and community.

In anticipation of their soccer season at Snapdragon Stadium in 2022, the soccer team sought to increase ticket sales and expand their fan base throughout the season. In an effort to increase brand awareness and spread their message, the soccer club utilized OOH and a targeted mobile campaign to increase their ticket sales.
1.41%
SAR
Source
SAN DIEGO WAVE FÚTBOL CLUB
631K+
Impressions Delivered
Source
SAN DIEGO WAVE FÚTBOL CLUB
53%
Lift over the mobile alone SAR benchmark
Source
SAN DIEGO WAVE FÚTBOL CLUB
2K+
Clicks
Source
SAN DIEGO WAVE FÚTBOL CLUB
Strategically Placed
To reach Sports enthusiasts and potential fans, San Diego Wave FC placed one bulletin and three posters off the 8-Freeway on surface roads. The boards were located near the Snapdragon Stadium, in Old Town San Diego, and La Mesa.

Targeting
The San Diego Wave FC utilized proximity and audience targeting to engage with fans.

Creative Excellence
The San Diego Wave FC utilized two creatives and two banner ads in their mobile campaign. The mobile campaign creatives featured a hot pink button to direct viewers to their website while the OOH boards stated their website on the creative, creating synchrony in the campaign.

Web Linked Banner Ads
Directed users to their website to purchase tickets.


DISCLAIMER: OF COURSE, THE RESULT OF ANY CASE STUDY ARE SPECIFIC TO ITS FACTS. WE CAN'T GUARANTEE THAT ANY OTHER CAMPAIGN WILL DRIVE SIMILAR RESULTS, INCLUDING INCREASED TRAFFIC, END-USER ACTIVITY (CLICK-THROUGH OR SECONDARY-ACTION RATES), OR REVENUE.