See's Candies, an iconic candy brand that leveraged OUTFRONT's resources and increased store traffic. As a result, See's Candies saw a year-over-year product sales increase, and utilized proximity and audience targeting to attract specific audiences such as Gen Z candy fans and Fit Moms.
3.3M
Delivered Mobile Impressions
Media Feature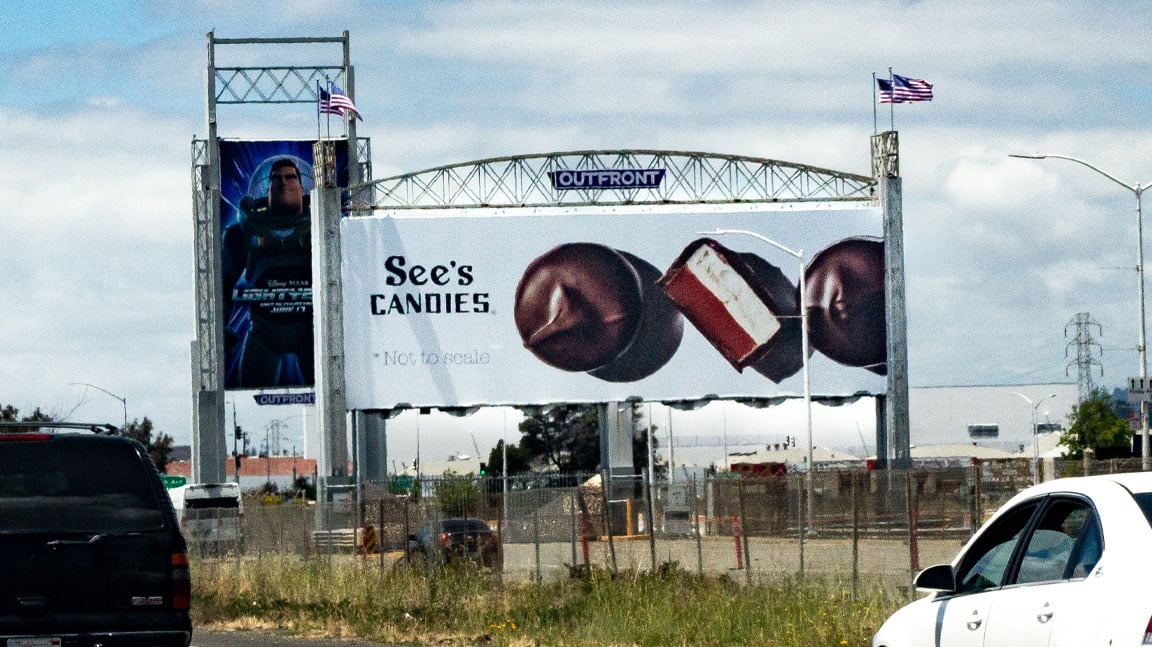 Strategically Placed
See's Candies utilized 4 impactful digital bulletins between the Bay Bridge and San Francisco Peninsula, and 1 static bulletin near the Oakland Coliseum for branding and awareness. Known for it's heavy traffic, these areas were perfect for See's Candies to engage with a wide audience.

Targeting
See's Candies utilized a mix of proximity and audience targeting. A 1-mile geofence was set around their store locations as well as audience targeting within the SF DMA around competitor brands such as Lindt, Ghirardelli, and Godiva Chocolates. Rooftop mapping was also utilized to track store visitation.

Captivating Creative
See's Candies utilized multiple creatives and banner sizes for maximum impact. To keep the messaging fresh, they did a mix of general branding as well as 20% off promotion for their Butterscotch Lollipops.

Web Linked Banner Ads
Linked to their webstore and included discount promotion on their larger web ad to attract customers.


DISCLAIMER: OF COURSE, THE RESULT OF ANY CASE STUDY ARE SPECIFIC TO ITS FACTS. WE CAN'T GUARANTEE THAT ANY OTHER CAMPAIGN WILL DRIVE SIMILAR RESULTS, INCLUDING INCREASED TRAFFIC, END-USER ACTIVITY (CLICK-THROUGH OR SECONDARY-ACTION RATES), OR REVENUE.