Direct-to-consumer hosiery brand Sheertex made its presence known in New York City with a Mix It Up layered campaign including subway and bus media. The campaign paired their "Alarmingly Strong Tights" tagline with memorable visuals illustrating just that. To understand the impact of the campaign on website visitation and conversion, OUTFRONT worked with StreetMetrics, an independent third-party measurement and attribution provider.
Highlights & Results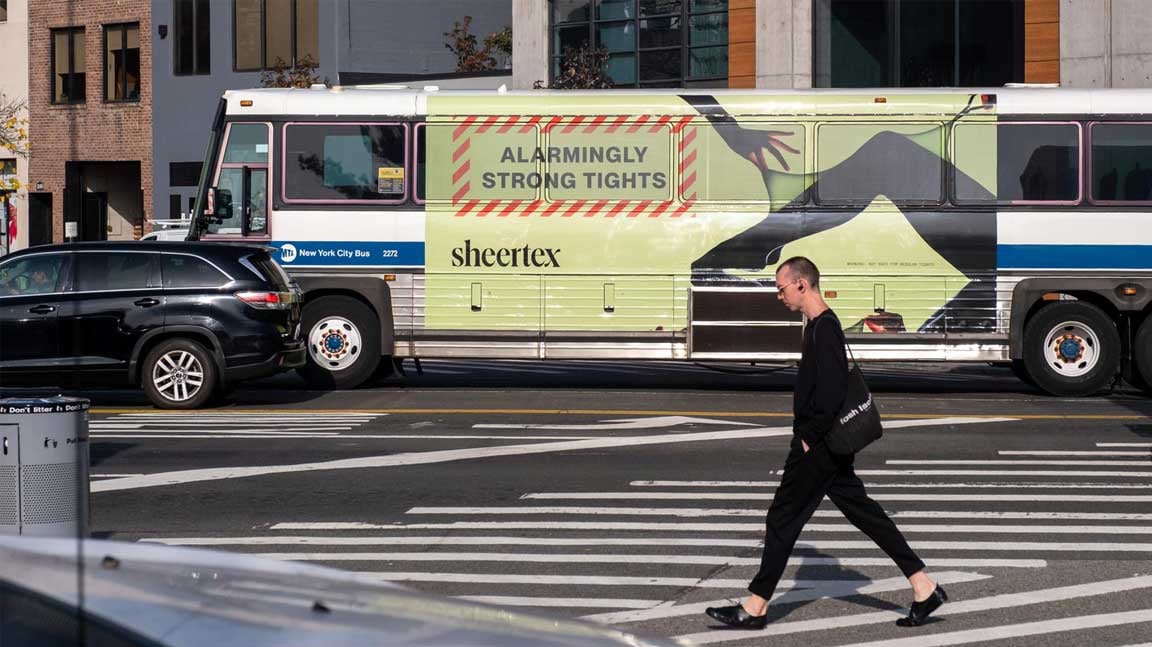 Strategy & Execution
Sheertex's inaugural out of home campaign dominated New York City by utilizing the power of transit media, with memorable visuals on branded subway trains, station dominations, liveboards, and ultra-super-kings on NYC buses.
Measurement
OUTFRONT commissioned an independent measurement and attribution provider, StreetMetrics, to determine the effectiveness of Sheertex's four-week bus campaign. The study found that compared to the control group, consumers who were exposed to the out of home media:

- 98X more likely to visit the Sheertex website
- Visited the website at nearly double the rate
- The campaign gained momentum over time; each week the rate of visitation among the exposed group grew an average 94.7%, with the visitation rate gap between the exposed group and control group becoming wider.
Methodology
Using a control vs. exposed methodology, the measurement was twofold: 1) to see if there was a change in visits to the website among both groups from pre-campaign to post-campaign (measurement continued for two weeks after the campaign ended) and 2) to compare the change in visits of the two groups to see if there was a significant lift among the exposed group vs. the control group.
DISCLAIMER: OF COURSE, THE RESULT OF ANY CASE STUDY ARE SPECIFIC TO ITS FACTS. WE CAN'T GUARANTEE THAT ANY OTHER CAMPAIGN WILL DRIVE SIMILAR RESULTS, INCLUDING INCREASED TRAFFIC, END-USER ACTIVITY (CLICK-THROUGH OR SECONDARY-ACTION RATES), OR REVENUE.