Times Square, located in the heart of New York City, is one of America's most famous landmarks. It is a major tourist destination known for its bright lights, billboards, and bustling energy. Dubbed as "one of the world's most photographed and televised landmarks," Times Square is home to some of the world's largest and most iconic billboards.

OUTFRONT is a leading provider of out-of-home advertising and operates more than 300,000 billboards, street furniture displays, and transit displays. In Times Square, OUTFRONT operates many of the large billboards that line the streets and towers above the crowds. These billboards are not only a popular attraction for tourists but also an important advertising platform for businesses and organizations.

OUTFRONT's billboards in Times Square are among the most technologically advanced in the world. They are equipped with high-resolution LED screens that can display vibrant and dynamic content in real-time. The billboards are also connected to a network of cameras, sensors, and other technology that allows for advanced targeting and measurement of advertising campaigns. This allows businesses to reach a highly engaged and diverse audience in one of the most heavily trafficked areas in the world.

Overall, OUTFRONT's presence in Times Square is a testament to the company's commitment to providing innovative and effective advertising solutions. Our billboards and other displays are not only a major attraction for tourists, but also play a vital role in supporting the local economy by providing businesses with a powerful advertising platform.
90%
Public opinion of Times SQ -
90% consider TSQ as the most recognizable part of NYC.
Source
TIMES SQUARE ALLIANCE
243K+
Daily Social Mentions -
Over 243K+ people post about Times Square on social media daily.
Source
TIMES SQUARE ALLIANCE
286K+
Average Daily Pedestrian Count -
Over 286K+ pedestrians passing through daily.
Source
TIMES SQUARE ALLIANCE
Highlights & Results
Digital billboards have revolutionized the industry with cutting-edge technology.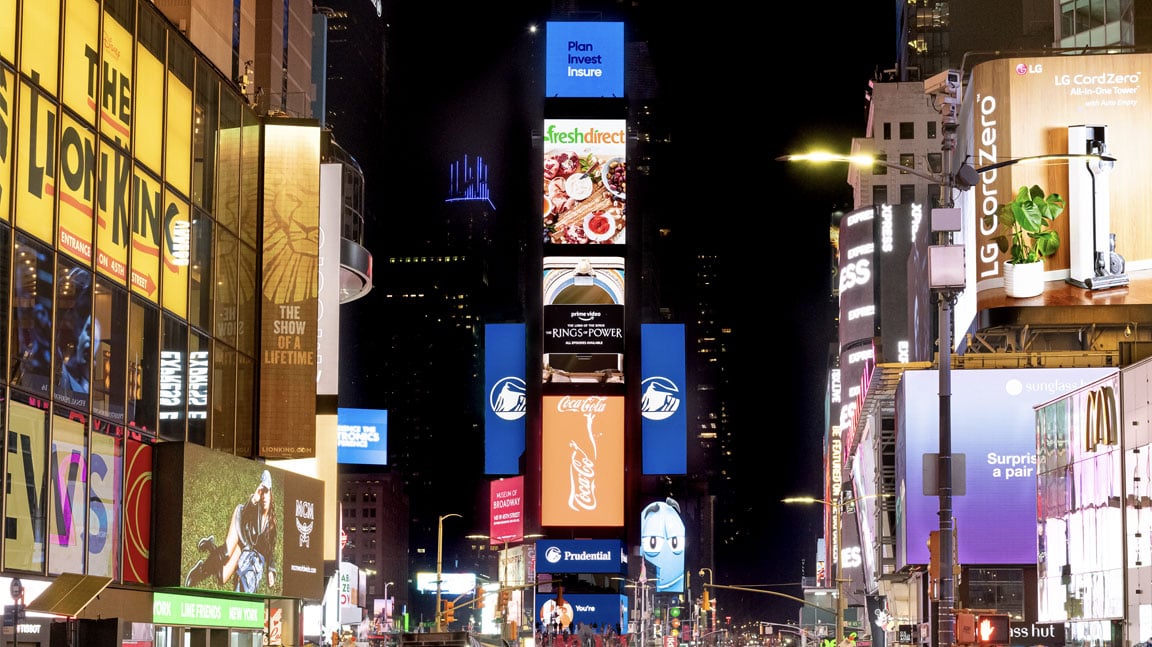 Let's Reach Your Target Audience Together
We are committed to the success of your brand or business. Get in touch using the form!
How can we help you?
I have a question about