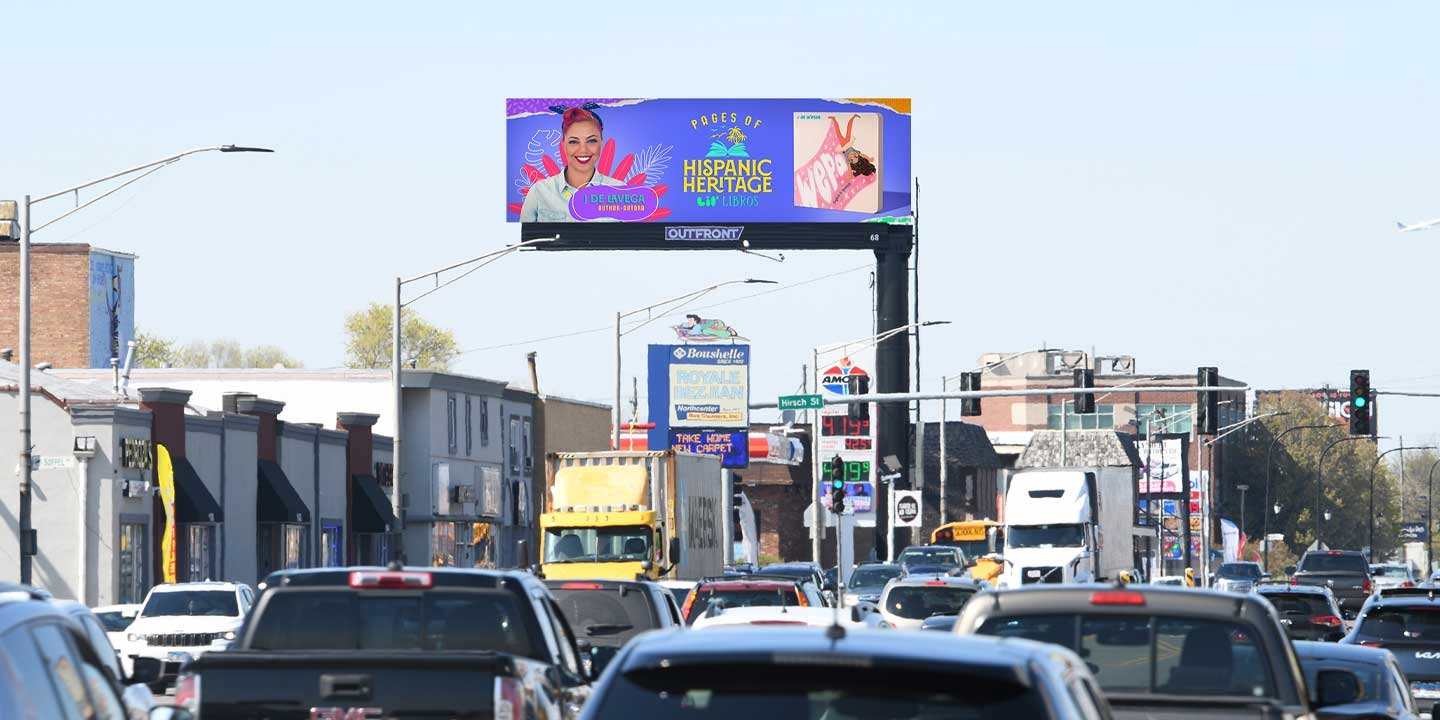 Pages of Hispanic Heritage
To celebrate Hispanic Heritage Month in 2023, OUTFRONT partnered with Lil' Libros, a champion of bilingual literature, for a vibrant and inspiring campaign "Pages of Hispanic Heritage". With Hispanic Heritage Month coinciding with back-to-school season, this campaign ignites a passion for learning and culture by bringing Lil' Libros bilingual stories to life, celebrating Hispanic heritage and language diversity. This was done in collaboration with UnidosFRONT, OUTFRONT's Hispanic Employee Resource Group.


With our digital billboards, "Pages of Hispanic Heritage" harnesses the positive power of OOH advertising to showcase the brilliance of Hispanic Authors and their tales that captivate children and parents alike. Our campaign's lively and vibrant creative not only captures the essence of Lil' Libros' collection but also mirrors the colorful tapestry of Hispanic heritages and cultures. Just as each book page weaves a unique story, our digital billboards tell a visual story that resonates with the diverse narratives found within Lil' Libros' pages.

Join OUTFRONT & Lil' Libros in embracing bilingual literature, cherishing history, and celebrating unity. Let's make this Hispanic Heritage Month a time to honor our roots, nurture education, and illuminate pathways to a brighter future. Experience the magic of "Pages of Hispanic Heritage" and be part of the narrative that shapes generations to come.

As the most visible platform in America, we have a profound opportunity to positively impact the people and businesses within the communities in which our canvases exist. This campaign is an example of OUTFRONT's unique role in driving cultural impact by being embedded into the fabric of our communities.

"At Lil' Libros, we believe in the power of representation and storytelling. Partnering with OUTFRONT Media allows us to reach even more families, helping them embrace their dual identities and heritage. We hope these billboards inspire children and adults alike to take pride in their cultural backgrounds."- Lil' Lilbros co-founders, Patty Rodriguez and Arianna Stein.
Mariana Galvez
Little Astrology Catrinas
Jayri Gómez
The Stars of Din / Las estrellas de Din
Cynthia Gonzalez
The Life of / La vida de Llort
Zaida Hernandez
My First Space Words in English and Spanish
Ellia Ana Hill
The NO Boy / El niño que dice no
Maria Rosana Mestre
Carlota Shares Her Secret / Carlota Cuenta Su Secreto
Cindy Montenegro
My Mind is a Mountain / Mi mente es una montaña
Juan Moreno
El pato y sus zapatos
Ellen Ochoa
Dr. Ochoa's Stellar World: We Are All Scientists / Todos somos científicos
Citlali Reyes
Sana, sana, colita de rana
Nayeli Reyes
Medias naranjas: Diego & Frida
Patty Rodriguez
The Life of / La vida de Dolores
Melanie Romero
Amor De Colores
Victoria Roth
Eva and the Impossible Tin Can Telephone
Ariana Stein
La Catrina: Vowels / Vocales
Marcela Valladolid
Cocinando on Cook Street: A collection of mi familia's recipes
Cris Winters
El ABC de las telenovelas
Michelle Winters
El ABC de las telenovelas