Culvers started to advertise on a great digital billboard located approximately one mile before their restaurant location in Riverview. Their goal was to direct diners to the restaurant and attract fish lovers by letting them know they had a quality seafood item on the menu. The creative design featured a plate of delicious looking cod. Just as the billboard went live, COVID 19 hit and many local restaurants closed. With the flexibility of digital Culver's quickly put up a message to inform the public that their drive thru was open, and to their surprise cod sales increased.
Media Feature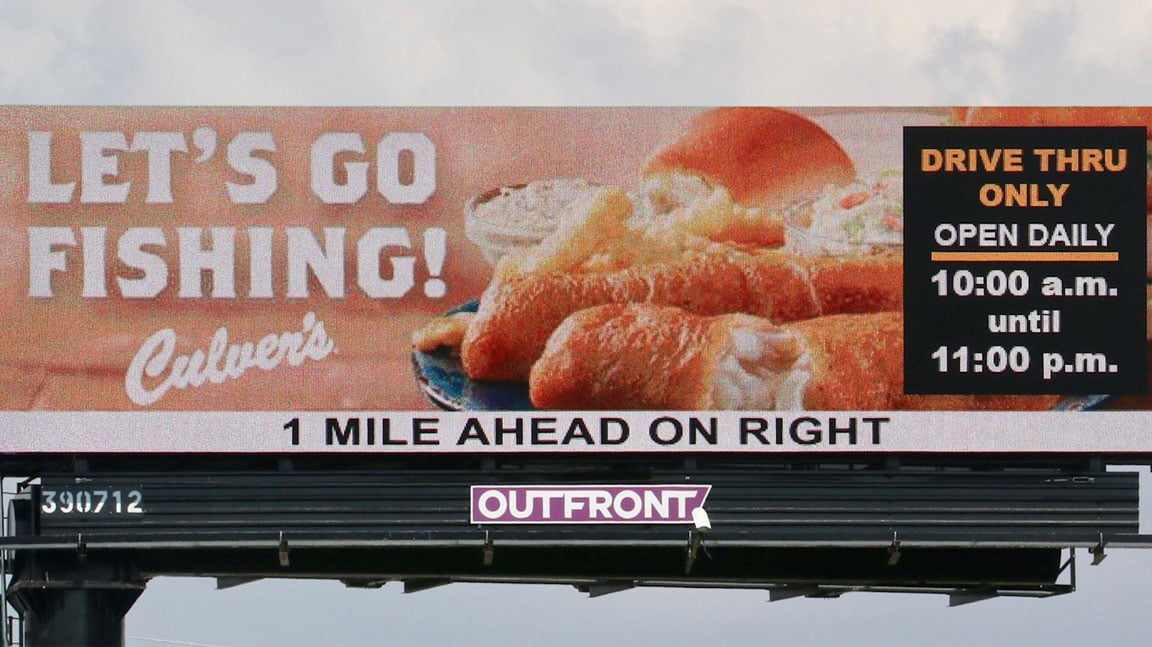 Strategy & Tactics
Inform diners that Culver's had cod, a quality item, on the menu.

Quickly adapt to market conditions by posting drive thru hours to inform diners that Culver's remained open for business during the pandemic.

Results
Cod sales increased after running the digital billboard campaign for only a few months. Not only were fish sales up but other menu items saw an increase as well.

Clients Said
"I just checked our cod sales before running the spot on the billboard; they were 7.04% of sales. Last month, after running only the cod piece for a few months, Cod was 9.66% of sales. That is a 37% increase in the sales of Cod! But, more importantly, it is introducing people to a menu item which is very high quality and which many people didn't even know we had. This broadens our base and also increases sales of other items. Now the fish eaters can come in with the burger eaters and everybody is happy."


DISCLAIMER: OF COURSE, THE RESULT OF ANY CASE STUDY ARE SPECIFIC TO ITS FACTS. WE CAN'T GUARANTEE THAT ANY OTHER CAMPAIGN WILL DRIVE SIMILAR RESULTS, INCLUDING INCREASED TRAFFIC, END-USER ACTIVITY (CLICK-THROUGH OR SECONDARY-ACTION RATES), OR REVENUE.