Hastings & Hastings is a law firm in Phoenix AZ that focuses on personal injury cases. They turned to OUTFRONT for an OOH strategy to reach audiences in Phoenix AZ and increase phone calls from potential clients.
Best Year Ever
In 40+ years of doing business in Arizona
Source
HASTINGS AND HASTINGS
Most Calls
Of Any Previous Year
Source
HASTINGS AND HASTINGS
Media Feature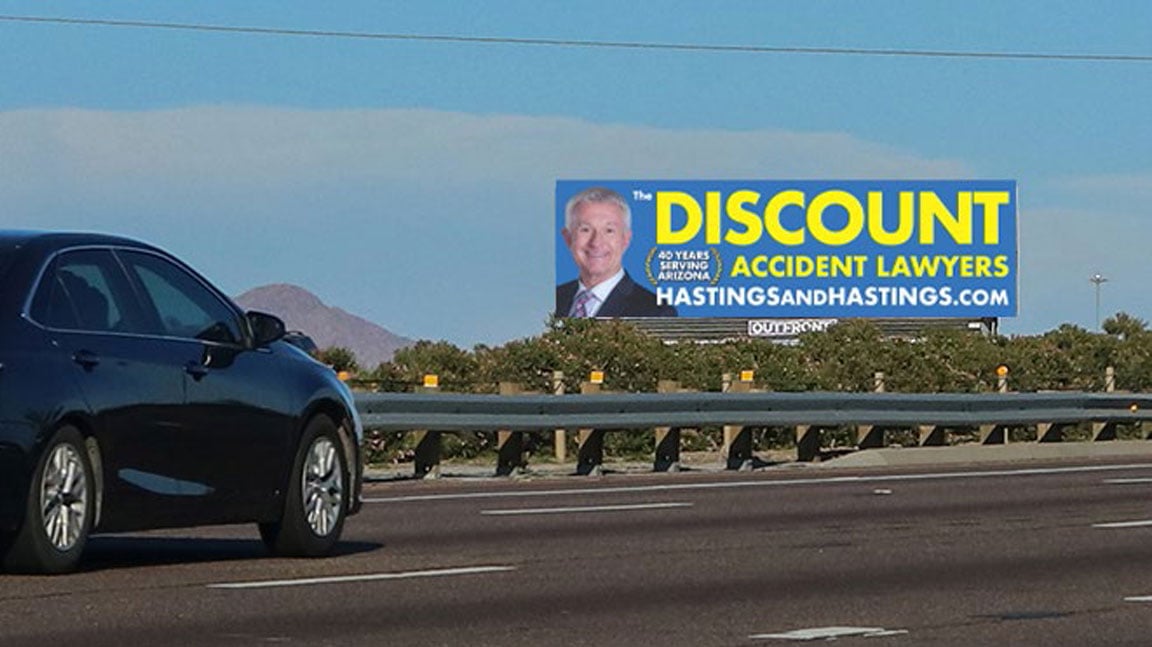 Move Budget from TV to OOH
As the population of Phoenix continues to grow, there is a need to keep their brand top-of-mind. They have been long term buyers of OOH for many years. However, in the last 3 years they moved money out of their TV budget and tripled their OOH spending.

Strategically Placed
The Hastings campaign used a multipronged approach: 1.) Eco Posters were used to target the top ten most dangerous street intersections in Phoenix. 2.) Digital content was scheduled during the times of the day when most accidents occur. 3.) Rotary bulletins were used to increase reach and frequency. 4.) High profile freeway bulletins were used to increase impressions.

Client Praise
The client stated that they measure their success by phone calls, and that this campaign helped them to have the best year they have ever had in their 40+ years of doing business. They attribute this success to a more strategic OOH plan and a better use of their media dollars.


DISCLAIMER: OF COURSE, THE RESULT OF ANY CASE STUDY ARE SPECIFIC TO ITS FACTS. WE CAN'T GUARANTEE THAT ANY OTHER CAMPAIGN WILL DRIVE SIMILAR RESULTS, INCLUDING INCREASED TRAFFIC, END-USER ACTIVITY (CLICK-THROUGH OR SECONDARY-ACTION RATES), OR REVENUE.