KPMG Federal Advisory needed to create brand awareness around the advisory services they provided to the Government. The challenge was that they were known as Auditors and not for their technology services. Utilizing OOH and mobile, KPMG began a 3-year program to become known as a technology provider.
.27%
Click Through Rate
Source
KPMG FEDERAL ADVISORY TEAM
7.5K
Clicks
Source
KPMG FEDERAL ADVISORY TEAM
2.8M
Impressions
Source
KPMG FEDERAL ADVISORY TEAM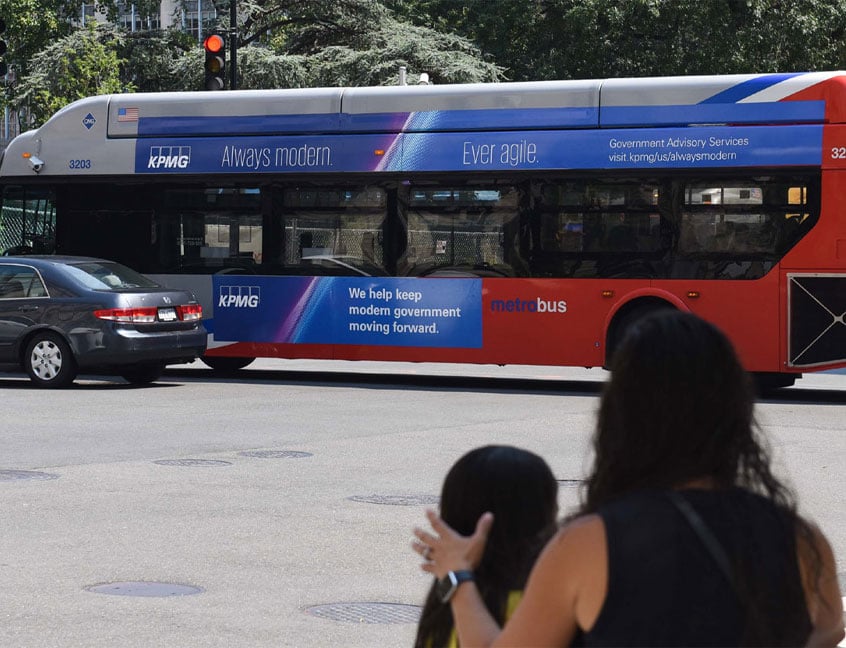 Strategically Placed
A targeted layered approach of Exterior Bus, Digital Liveboards, Bike Share and Mobile was utilized over 4-months to saturate the marketplace.

Target Audience
KPMG Federal Advisory was targeting specific government agencies in DC for general awareness of services in the Defense and Federal Healthcare sectors.

Annual Strategy
A 3-year strategy is in place to reach the client and market with OOH on an annual basis in Washington DC with evolving messaging.

Proximity Targeting
KPMG utilized mobile geofencing across multiple states to expand their awareness to the satellite agencies and military installations in key areas. They also geofenced key areas across the DC Metro Area during their OOH campaign to amplify and increase targeting.


DISCLAIMER: OF COURSE, THE RESULT OF ANY CASE STUDY ARE SPECIFIC TO ITS FACTS. WE CAN'T GUARANTEE THAT ANY OTHER CAMPAIGN WILL DRIVE SIMILAR RESULTS, INCLUDING INCREASED TRAFFIC, END-USER ACTIVITY (CLICK-THROUGH OR SECONDARY-ACTION RATES), OR REVENUE.