The Carpet Guys objective was to expand their brand awareness to keep their brand top of mind to homeowners for when they need to update their floors. In a highly competitive market, it is a priority to The Carpet Guys that their digital rotary campaign provides the ability to saturate the Detroit DMA.
325M+
General Market Impressions
Media Feature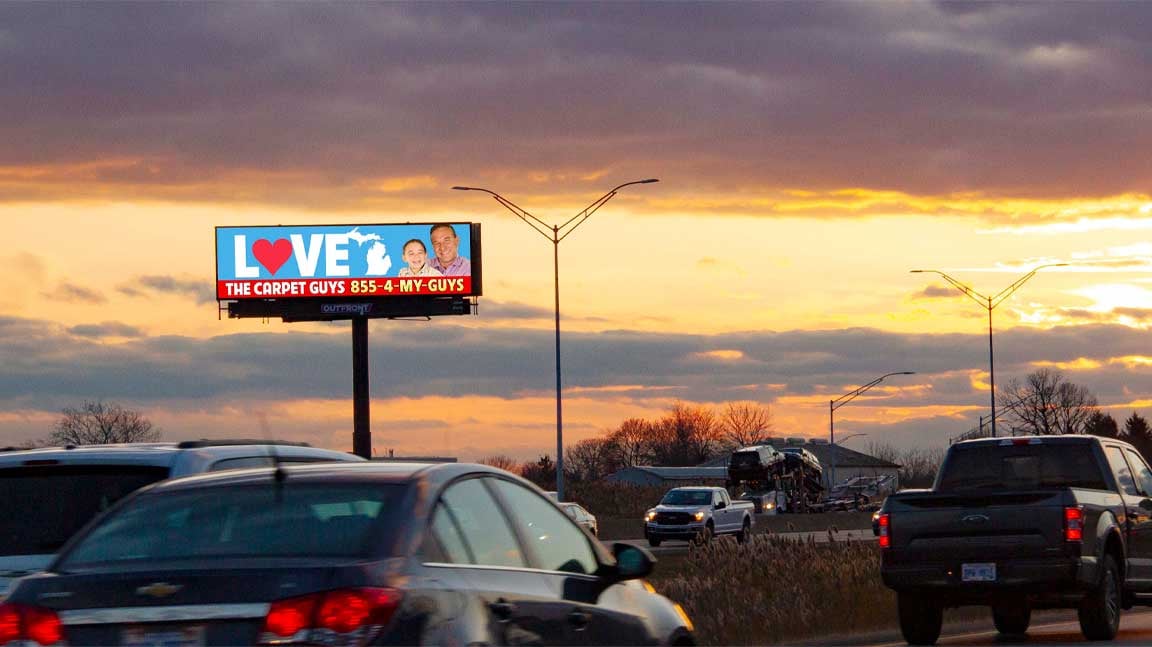 Strategy
The Carpet Guys uses digital billboards to ensure mass coverage across the market, capturing audiences wherever they go in Metro Detroit as they move about their day. The digital billboards allow for flexibility of messaging, rotating branding messages with special deals and limited promotions.

Results
Overall, this digital rotary-style campaign delivers over 325M general market impressions throughout the multiple flight durations. The Carpet Guys are known for their billboards! They use the OOH medium well, are constantly showcasing buzzworthy creative, and they see the uptick in calls when they increase the number of units running within the market.

Client Praise
"OUTFRONT's digital billboard network gives us mass awareness throughout Metro Detroit with the flexiblity to change out our messaging quickly and easily. We love our digital billboards!"
- Tom Kash, Marketing Director


DISCLAIMER: OF COURSE, THE RESULT OF ANY CASE STUDY ARE SPECIFIC TO ITS FACTS. WE CAN'T GUARANTEE THAT ANY OTHER CAMPAIGN WILL DRIVE SIMILAR RESULTS, INCLUDING INCREASED TRAFFIC, END-USER ACTIVITY (CLICK-THROUGH OR SECONDARY-ACTION RATES), OR REVENUE.