Left OUT - Out of Home News You May Have Missed: September 15, 2023
September 15, 2023

Have you had a busy week? It's been a busy week for out of home advertisers! Here are a few of the stories you may have missed.

The University of Oregon's Bo Nix is one of the biggest names in college sports - and now he's one of the biggest billboards in Texas. The football phenom spans two giant Dallas walls - one over 200 feet high - in the latest ad in Oregon's promo blitz.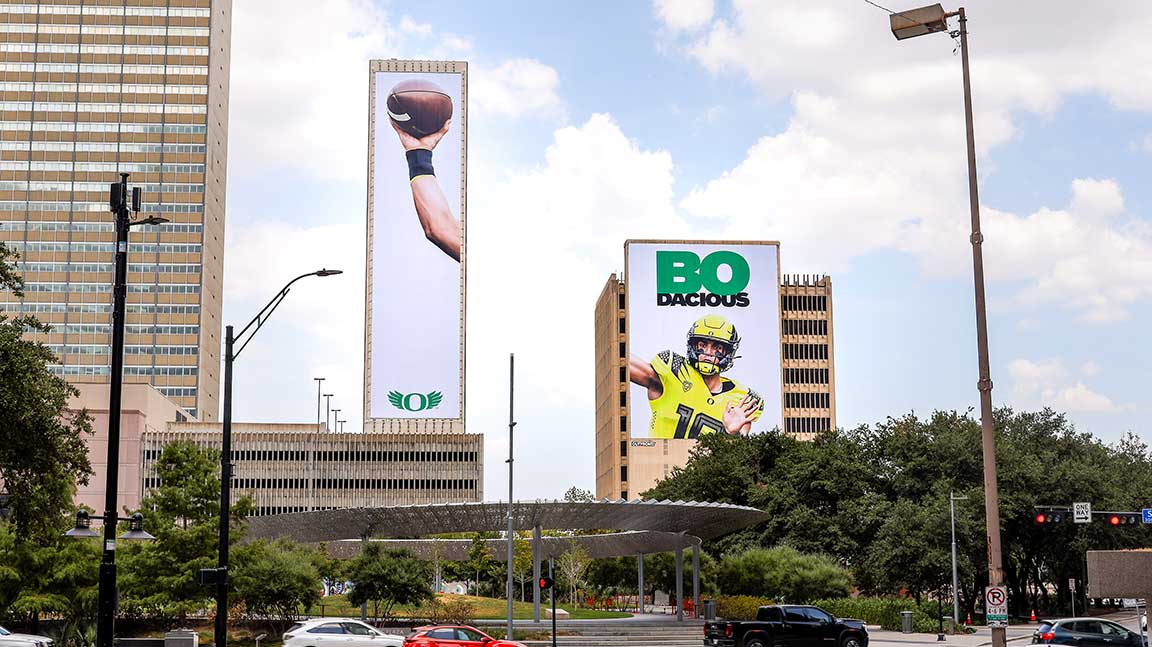 Edgar Wright, director of Shaun of the Dead and Baby Driver, gets behind the camera for the latest in Hotels.com's "Find Your Perfect Somewhere" campaign, spanning OOH, audio, digital, and social channels. The video ads feature The Human League's classic "Don't You Want Me."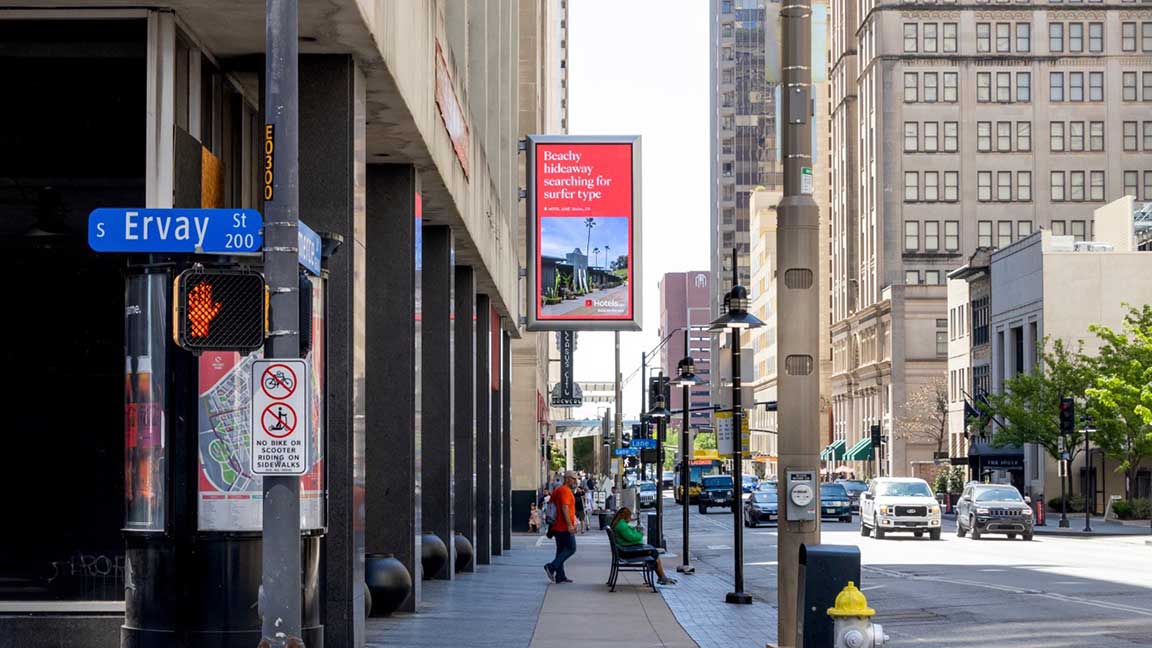 "Spiciness used to be about the combinations of flavors and spices rather than how much a food can make you sweat," said Jacqueline Chao, Heinz Senior Brand Manager. That's the message of the Pittsburgh and Chicago out of home ads supporting the iconic brand's new line of spicy ketchups. They use the tagline "stupid good, not stupid spicy" to poke fun at the sweat-inducingly-hot food fad exemplified by the likes of Hot Ones.

The latest entry in Topgolf's "Come Play Around" campaign reimagines duffers' heads as golf-gloved hands in order to leverage "the power of hand expressions, capturing the range of emotions players feel," combining CGI and practical effects to achieve the surreal imagery. Watch for the campaign out of home as well as via social, OLV, CTV, and print.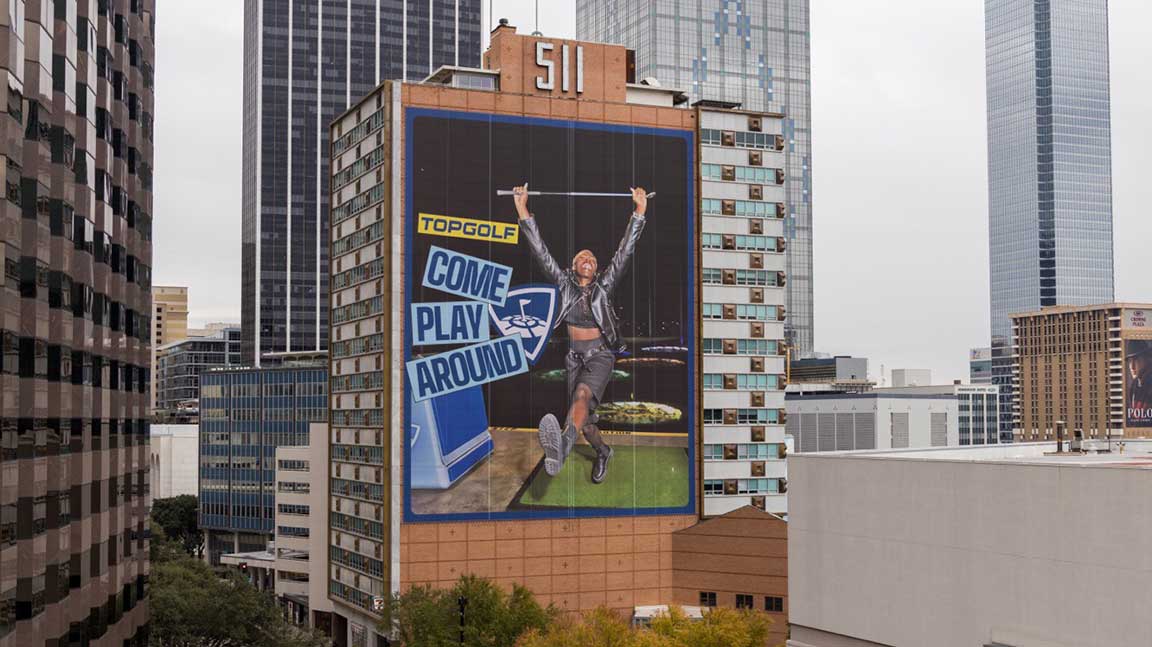 What did Paul Schiraldi, CEO of skincare brad Murad, have to say about the logic behind its first-ever OOH campaign? "Definitely a different approach. … The social space has become so competitive, it's [become more] interesting for us to think about how to advertise differently. It's the old-school reach and frequency media advertising strategy, but it works."

Dove has taken over "the pits of New York," aka the subway, to #freethepits and encourage women to break free of negative judgments about their underarms. The campaign includes a massive Times Square Station Domination as well as Digital Urban Panels, single and triptych format Liveboards, and Livecard Max immersive in-train media as well as a September 7 activation at Chelsea Plaza, just in time for New York Fashion Week. Consumers could visit the "Pit Stop" for giveaways including deodorant samples and MetroCards.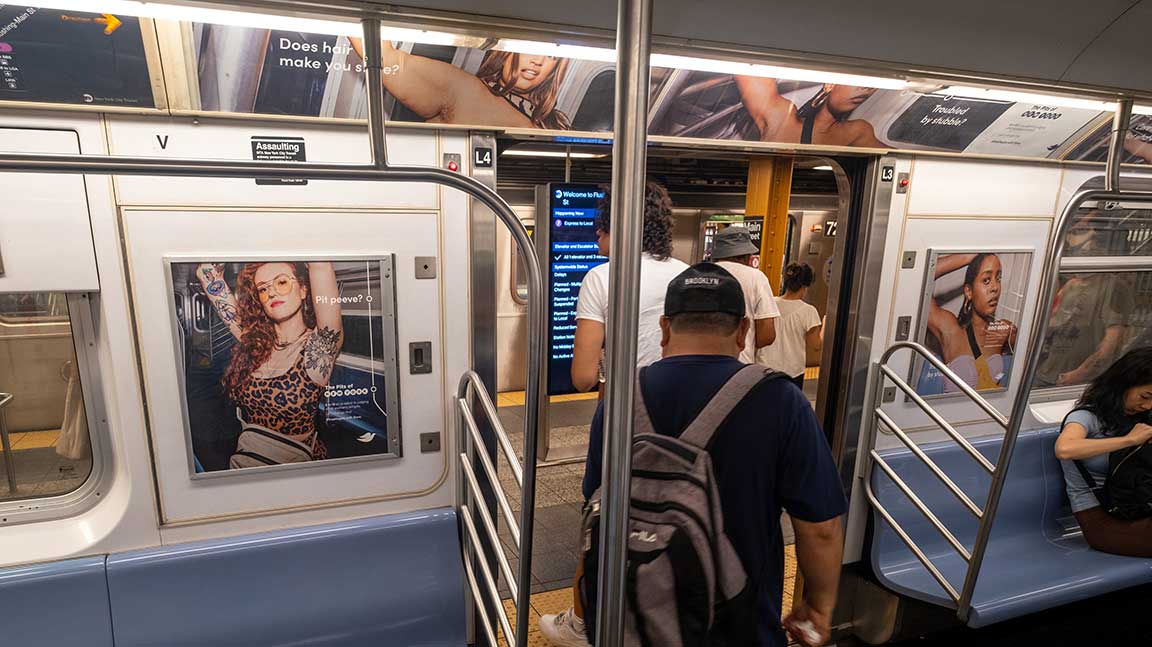 Beloved British grocery chain Aldi just increased its salaries, and they're telling prospective job seekers about it with a campaign that uses extensions to show a loaf of bread climbing over the top of the billboard. The chef's-kiss perfect tagline? Get a proper raise.

Trend watch: Those over 60 make up 16% of the U.S. population and 25% of global spending power. So why are only 4% of people cast in ads over 60? New research from CreativeX calls attention to the disparity.

When Walmart began carrying deodorant upstart Curie in 4,300 of its stores, the brand supported the launch by deploying out of home in three of the retail giant's key markets - including Bentonville, Arkansas - home of Walmart HQ.

Spotify's #1 search term among users 18-24 is "sad." That's why the streamer is curating personalized playlists of moody music, promoting the offering with a "Bummer Summer" campaign spanning out of home and social.

Want to make news for your brand with an out of home campaign? Contact us to learn how!
Author: Jay Fenster, Marketing Manager @OUTFRONT