Meet the MTA: A Guide to New York Transit Advertising, Part 1: NYC Subway Advertising
September 11, 2023
New York is the most gloriously diverse city in the world, with a population of 8 million people who speak over 600 different languages. Every niche and interest possible are represented somewhere within the five boroughs. Every cuisine imaginable is just an app away.
Amid all that, the one thing that unites New Yorkers more than any other is transit. Carrying four million daily trips, the Metropolitan Transportation Authority's subway system is the busiest in the Western Hemisphere.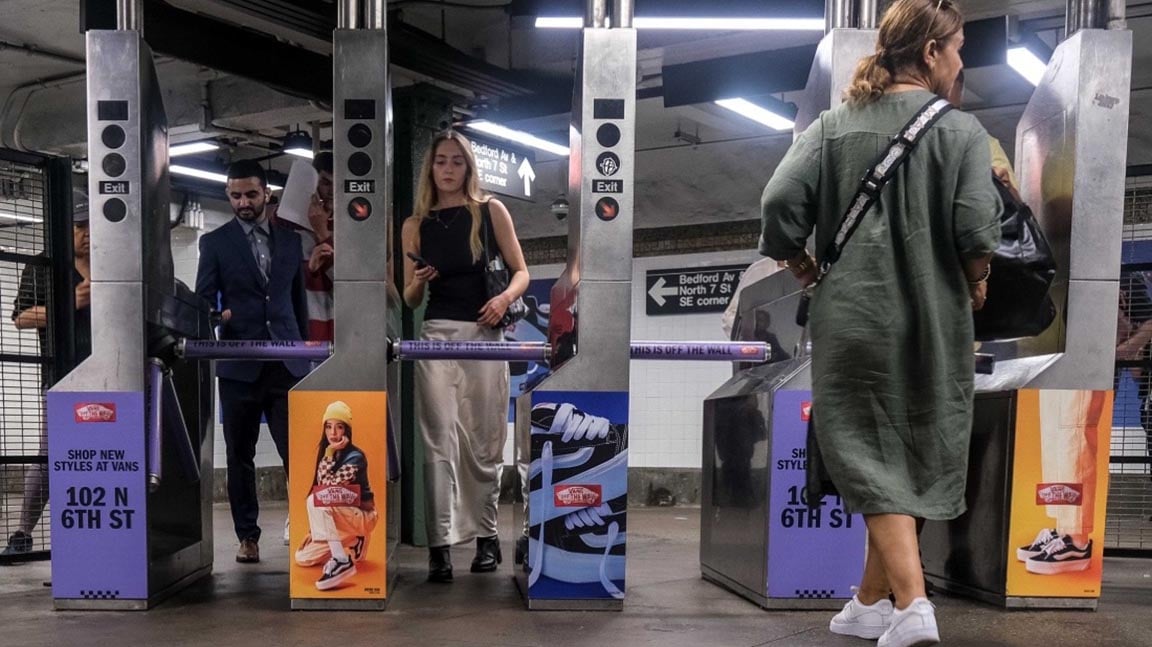 Transit connects us, in every sense. That's exactly why transit media like
New York City subway advertising
is the most effective way for brands and businesses to reach us, especially considering that today's subway riders are younger, more educated, and higher-earning than pre-pandemic (SOURCE: Scarborough, New York City 5 Borough A18+ 2023 Release 1 (March 2022 – April 2023), Commute/Any Purpose by Subway (last seven days)).
Transit advertising is proven to engage commuters, whether that engagement means taking a picture of an ad, searching a brand, or even visiting its physical location. 41% have scanned a QR code in a subway ad, with one in ten doing so to make a purchase (SOURCE: OUTFRONT NY 5 Borough Audience Survey (based on 426 out of 1000 respondents surveyed), Wave 4, June 2022).
In this three-part guide, we'll tell you everything you ever wanted to know about
advertising on New York City transit
.
We'll start with the subway – it is, after all, perhaps the world's most iconic form of public transportation, as evidenced by
its full line of merch
. The subway system consists of 25 full lines and three shuttles that connect 472 stations. Between them, there are numerous different digital and static media formats, but they primarily fall into one of three categories: at the stations, inside the trains, or on their exteriors. They each serve a different role, as they're each consumed in a different way.
MTA Subway Station Advertising
Advertisers can choose between numerous digital and static formats located on the platforms where riders wait for their trains as well as along the mezzanines, corridors, and stairwells that connect them.
The first media formats that NYC subway riders encounter are our
Urban Panels
, landscape format canvases situated atop the entrances to subway stations. Urban Panels come in three varieties. In addition to the static version,
Digital Urban Panels (DUPs)
show still images on the stairway side of entrances along with subway departure times, while
Video Urban Panels (VUPs),
on the sidewalk side, are basically streetside televisions that can present full-motion video.
Besides their attention-commanding nature, these formats also stand out among our transit portfolio in that they are the only ones that reach both subway riders and pedestrians.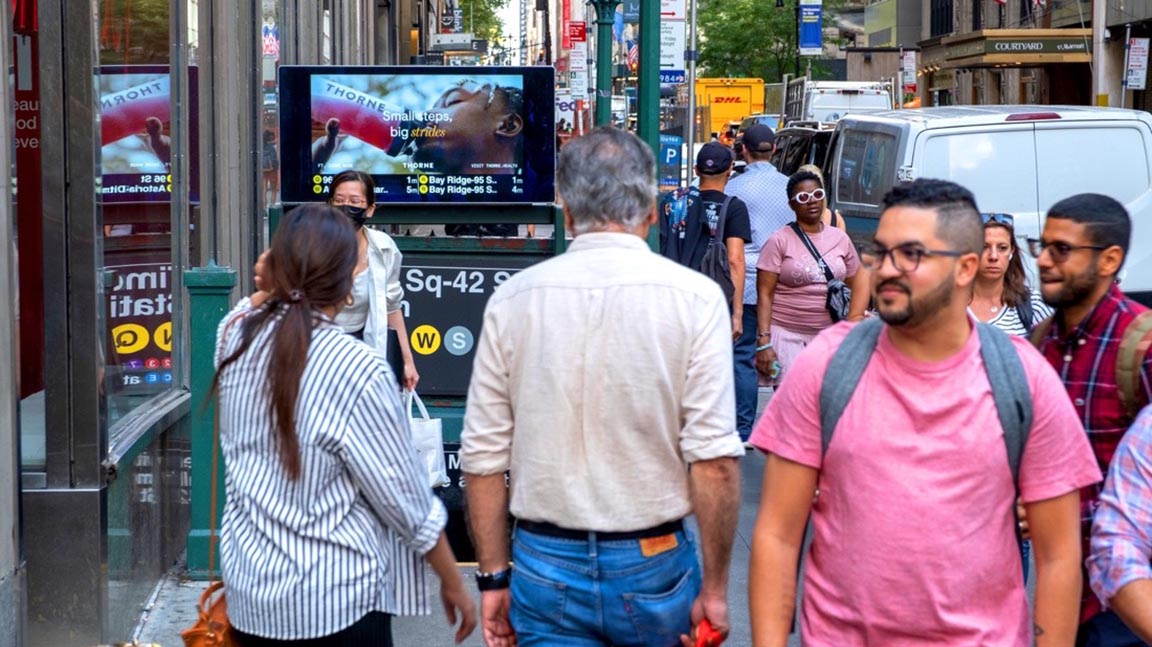 Inside the station, you're most likely to notice our
Liveboards
. These portrait-oriented screens provide advertisers with speed to market and flexible messaging capabilities via dynamic digital. Their robust capabilities are perfect for connecting with commuters during their average 6+ minute wait for their train (SOURCE: MTA).
On some of these vertical digital screens, you'll see train times, real-time service alerts, and MTA announcements. The rest offer brands the ability to deliver full-motion video, which can even be synced between screens. Liveboards can be found in a triptych configuration as well as single screens throughout the stations.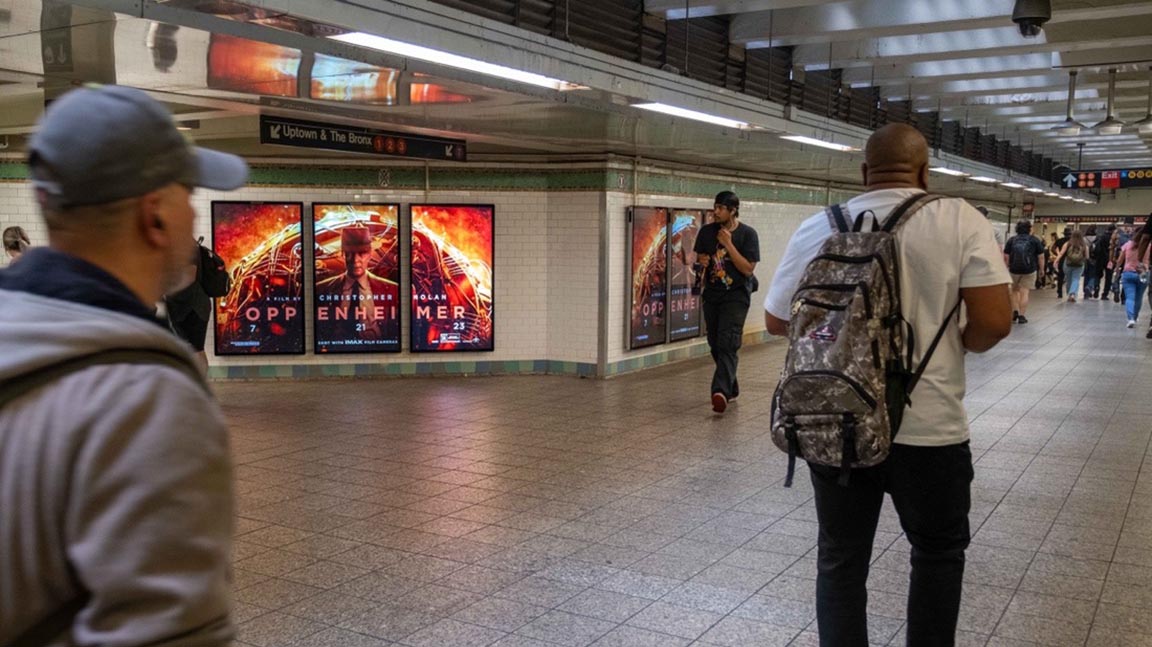 The Times Square-42nd Street-Port Authority Station complex is the busiest in the system, with
45 million riders in 2022
. Here you'll find several
Livescapes
, series of eleven linked Liveboards in a row. These immersive, full-motion experiences span the entire corridor, allowing brands the opportunity to execute bold storytelling using imagery that spans multiple screens or includes multiple creatives. In this station you'll also find a
mural by Andy Warhol's buddy Roy Lichtenstein
as well as
the most depressing poem ever written
. (Fun fact: the art installation containing the poem was inspired by the format of Burma Shave's out of home campaigns from the 1920s.)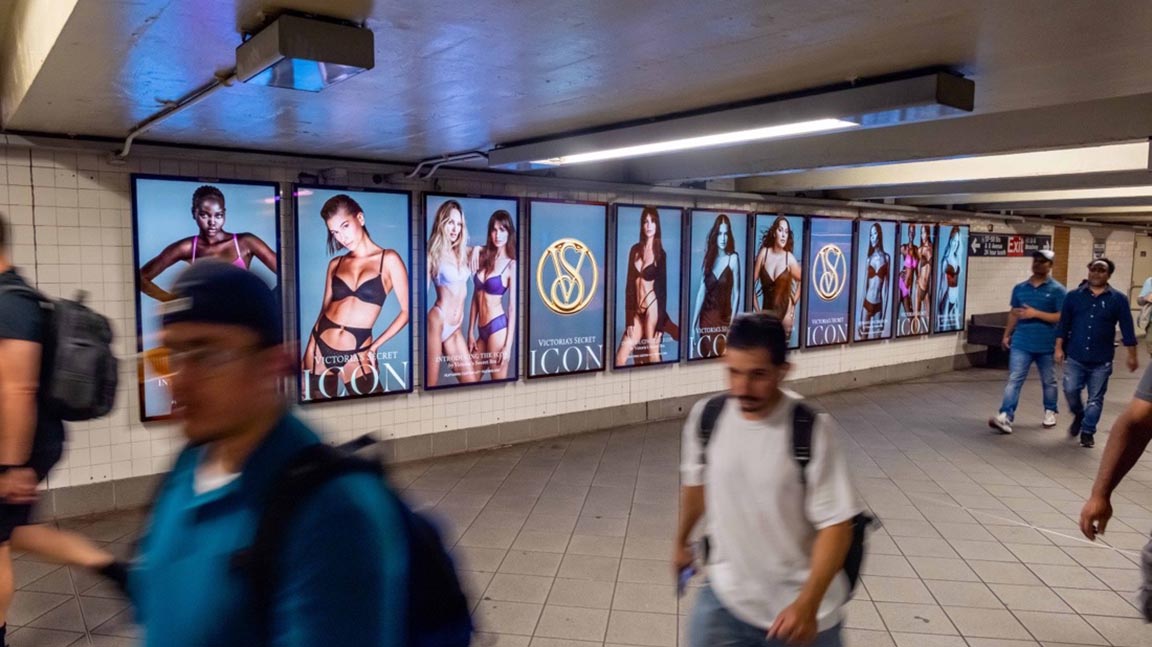 The New York City subway system is filled with
little easter eggs
like that, many of them thanks to
MTA Arts & Design
, the division of the agency dedicated to enhancing the transit environment. We appreciate them, even if most of us are in too much of a rush to stop and marvel at the
intricate tile mosaics
on the platform and mezzanine walls.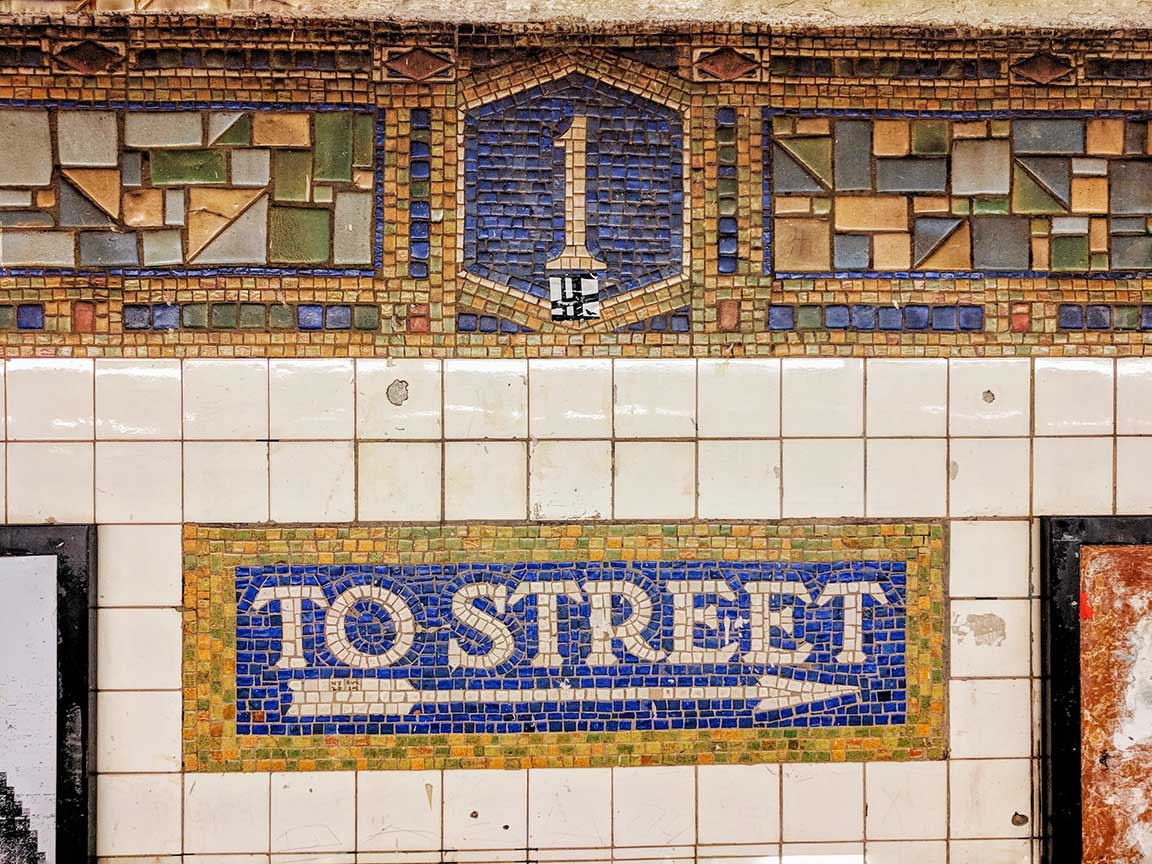 And most New Yorkers probably don't realize that hundreds of musicians audition each year for the opportunity to perform in station mezzanines as part of the official
Music Under New York
program, which is so prestigious, just last month Gov. Kathy Hochul and Mayor Eric Adams came down to Times Square to help us crown New Yorkers' favorite busker in the first-ever
Riders' Choice Award
.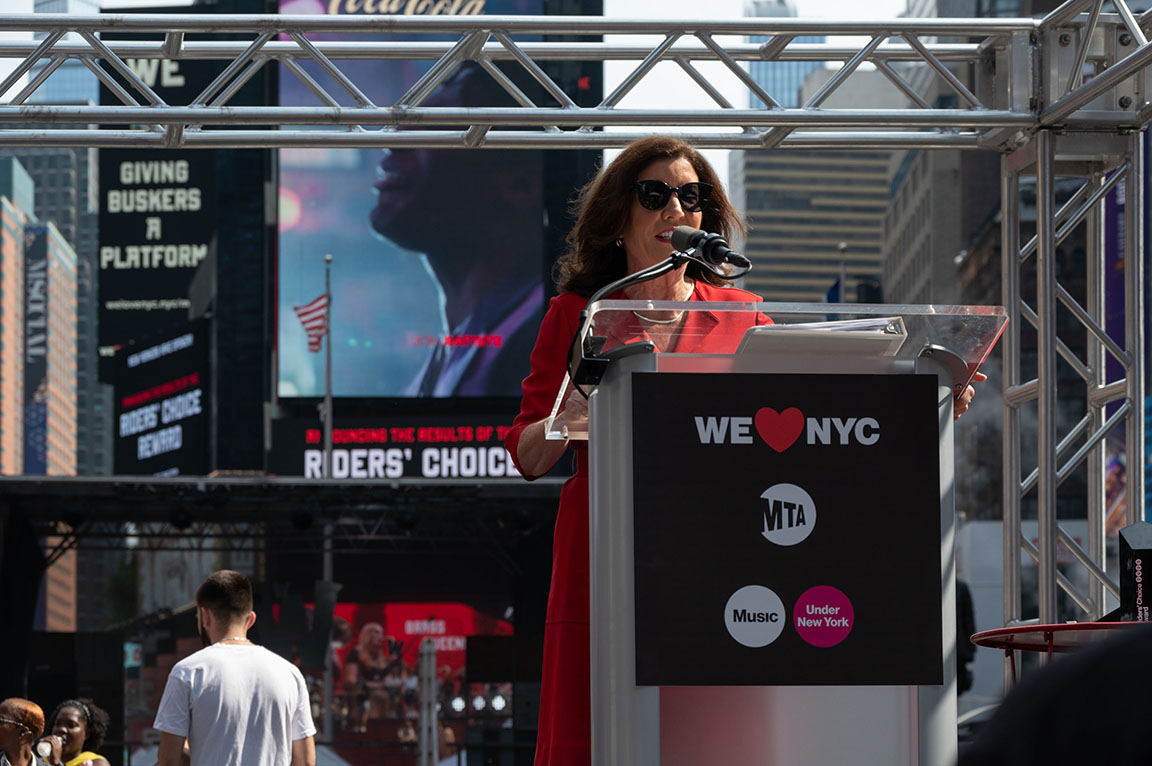 Like MTA Arts & Design, OUTFRONT also works to make the transit experience more enriching. In between advertisements, our digital screens display content from our
Moments by OUTFRONT
channels. On
Moments in Sports
, last month The Tennis Channel fed in real-time scores from the U.S. Open. Then there's
Moments in Art
, which is curated by MoMA. So Yummy's
Moments in Food
series presents simple and fun recipes, while
Moments in Culture
from Artsy offers the occasional life hack. These are just a few of them. And while we're proud to add a little beauty and levity into the most joyless part of most New Yorkers' days, that's not the only reason we created
Moments
. Rather,
Moments
raises the overall value of looking at our screens, which means more attention paid to the ads that run on them.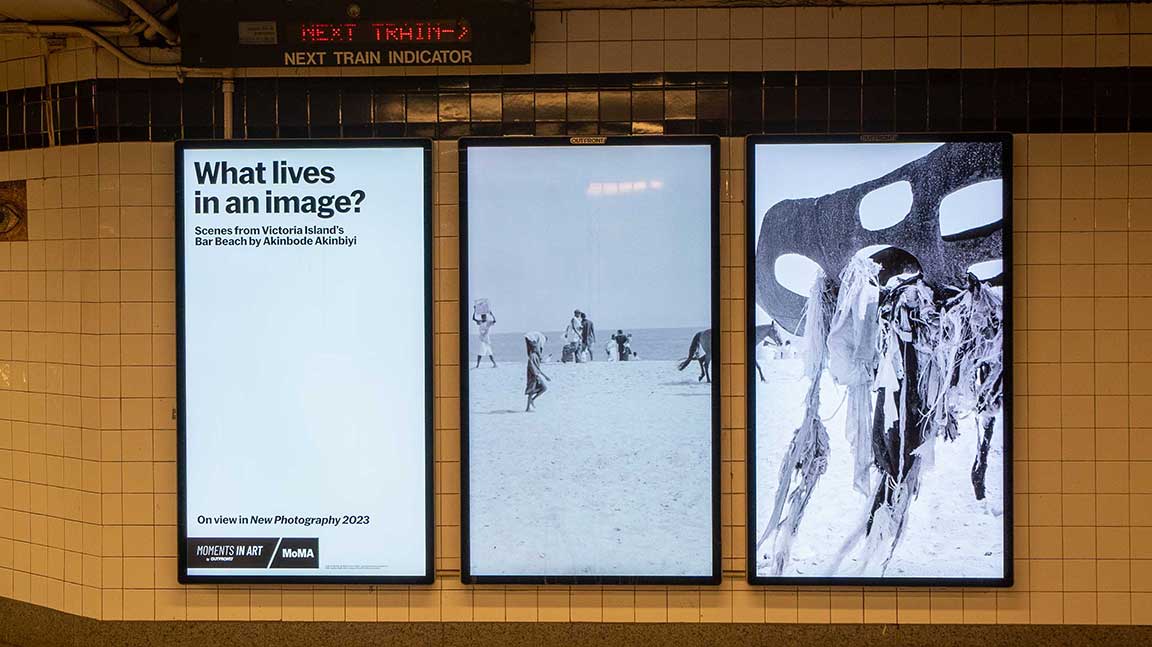 Liveboards, Livescapes, and Digital/Video Urban Panels give advertisers access to our powerful suite of
advanced capabilities from XLabs
, including
QRad responsive content control
and XPress dynamic creative. We've also broken new ground by bringing our
XScape spatial out of home
(aka 3D billboards) to small-format screens for the first time.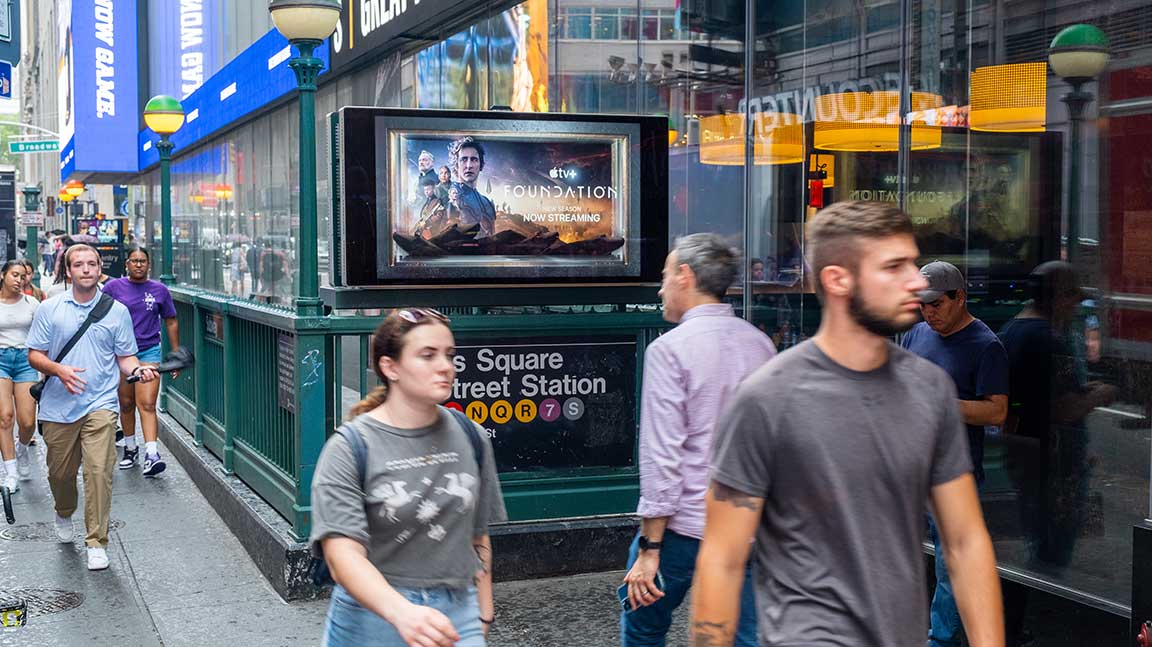 Static advertisements have a prominent place in the subway as well, with numerous formats available. The classic
wall poster
, available in either one- or two-sheet variants, is perfect for brands who prefer an ad that's always on, driving frequency by maintaining 100% share of voice. Even the turnstiles, fare gates, and staircases represent potential places for your brand to be.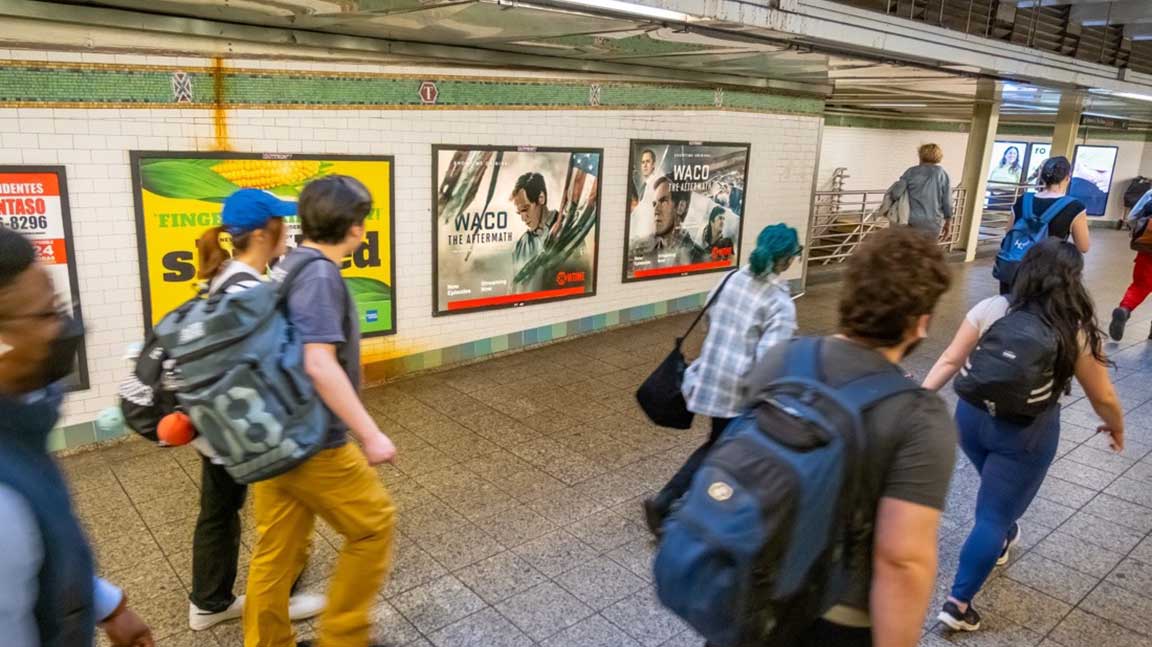 For the most immersive and impactful subway campaign possible, there's the
Station Domination
, in which a single advertiser takes over every media position in an entire station. Station Dominations can include platform posters, floor graphics, turnstiles, and digital inventory as well, and are available at some of the most important and high-traffic stations in the system.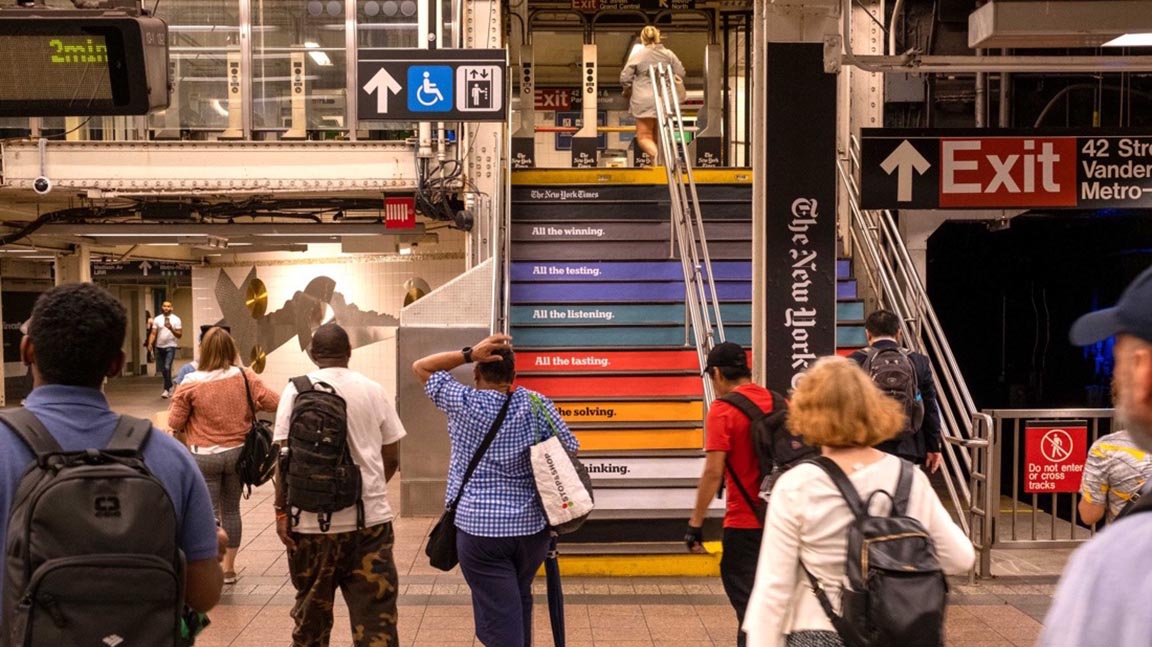 Station Dominations create real-life connections with consumers
, perfect for product and brand launches. They can also command viral reach thanks to the synergy of
social out of home (#sOOH)
. But social media engagement is just one of the ways that subway station advertising activates its audience. It drives action across the board: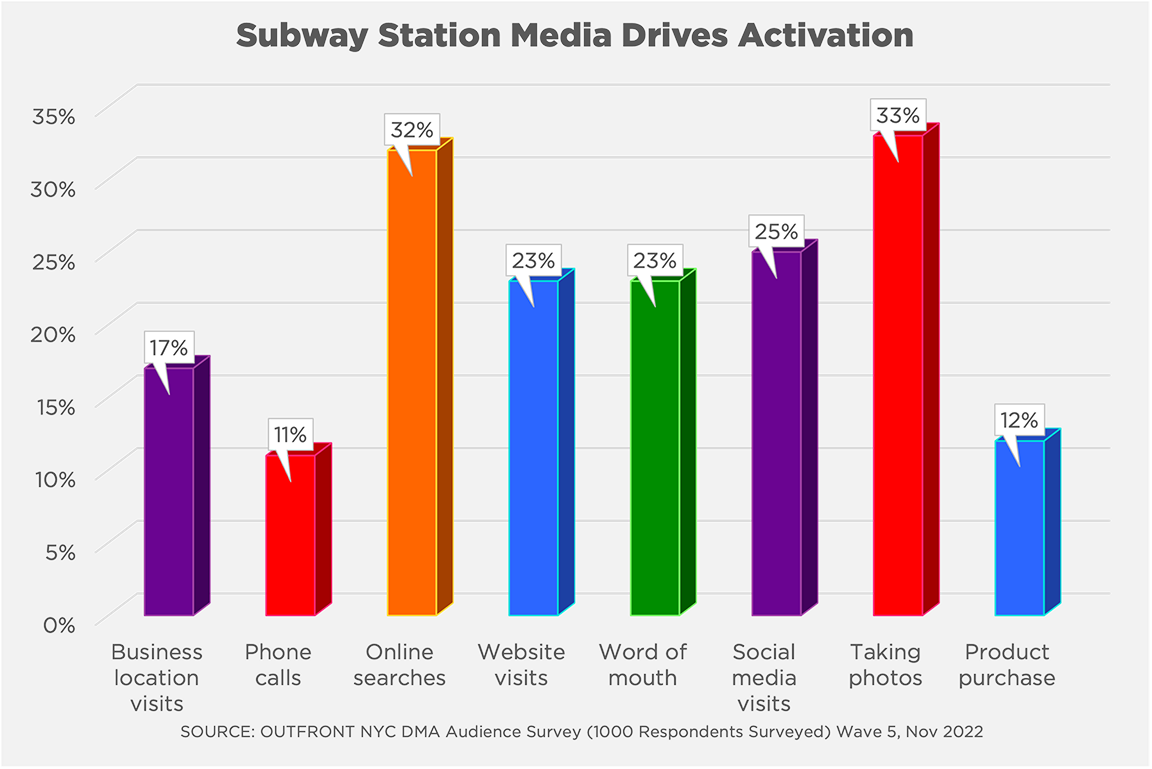 Finally, there's the most unexpected subway station media format: the
platform audio announcement
. Perfect for entertainment brands, imagine the surprise-and-delight moment when you're on the subway, minding your own business, and suddenly you hear the iconic voice of
Carrie Bradshaw
, Indiana Jones, or the mysterious
Gossip Girl
herself (xoxo!).
MTA Subway Interior Advertising
Like the subway stations, advertising options inside the MTA's subway trains include both digital and static options.
Our newest
digital transit media
format is our most exciting. LiveCard MAX combines square, full-motion screens at eye level – known as Livecards – with overhead banner-type screens that also offer full motion capabilities without obstruction. These screens span an entire side of a train car, its different formats offering opportunities for creative storytelling and carwide reach. Some train lines offer the individual Livecards by themselves. Other trains have those same positions available as static media.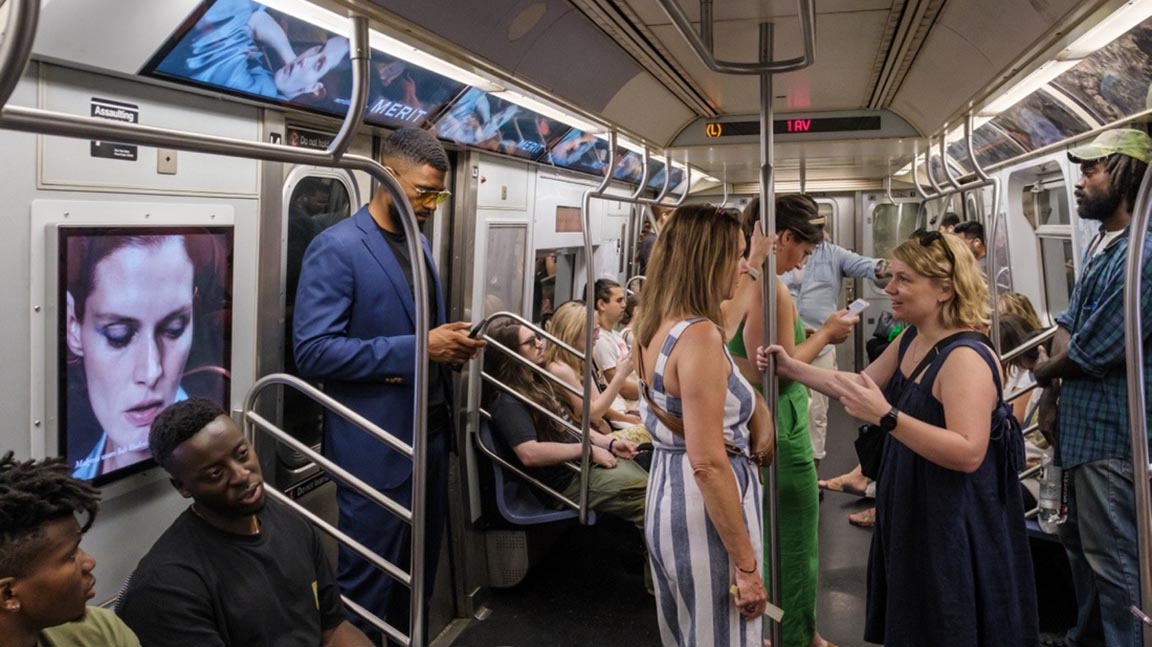 Why do brands want to advertise inside NYC subway trains? Because New Yorkers have the longest subway commutes in the nation – 30 minutes each way (SOURCE: MTA and mobile proprietary data, March 2022). And here's the thing about New Yorkers: we will spend every single one of those minutes doing anything we can to avoid eye contact with our fellow riders. Subway ads give us somewhere else to look. Subway ads save us from awkward moments! (You're welcome.)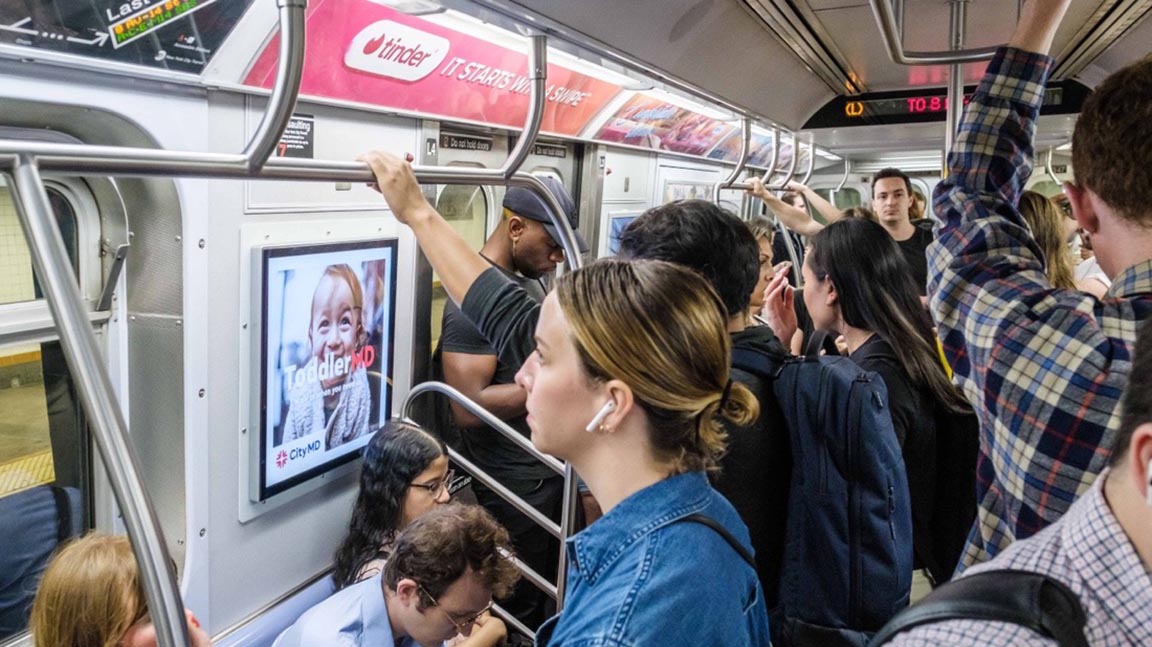 But more importantly, subway interior ads get attention and drive activation at nearly the same rate as station media. Strong calls to action and QR codes help advertisers take advantage of those long dwell times and turn them into action.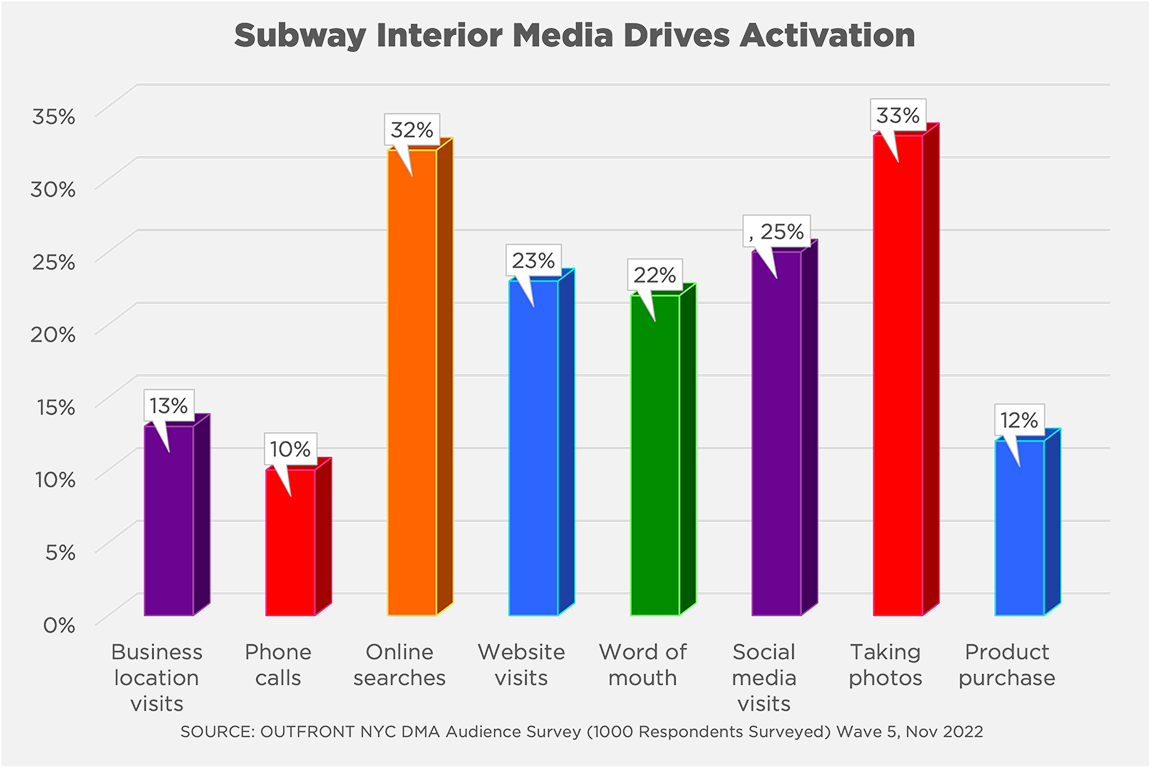 Subway Wrap Advertising
There's one other subway media format we haven't mentioned yet, and it might be our most impactful. It's the full wrap, which, as the name implies, completely envelops the train cars with your creative.
Megabrands like Supreme, Sony PlayStation, and max have used
have used train wraps to create brand moments – because there's something truly exciting about watching a fully decked-out subway train pull into the station and then stepping into an immersive experience inside.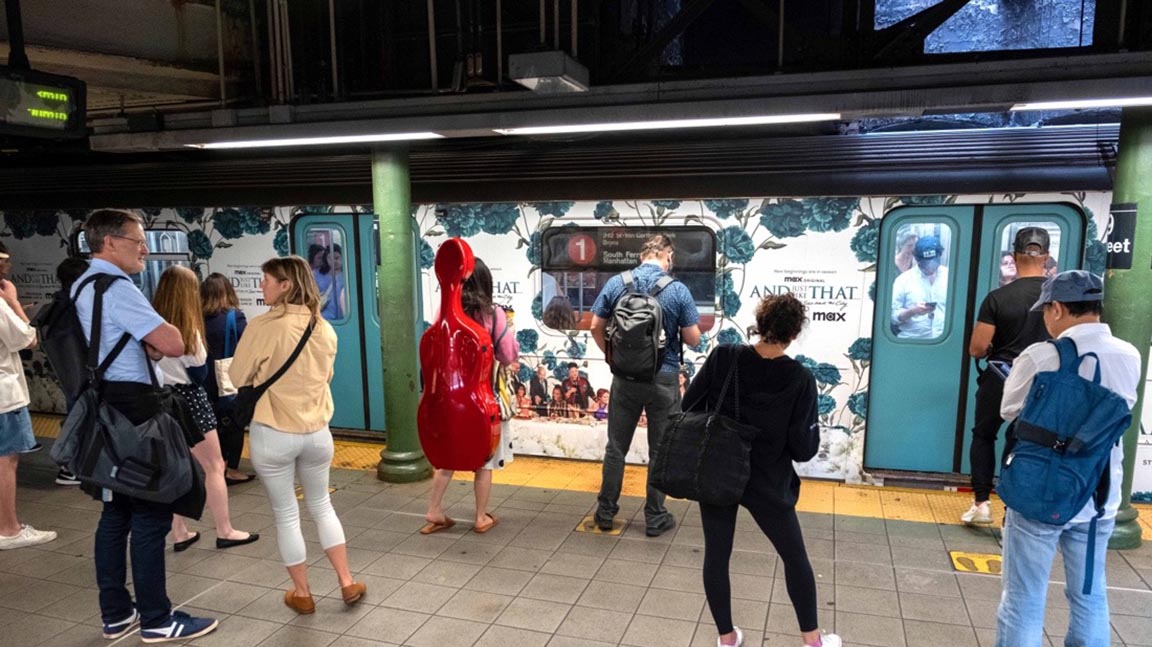 Subway wraps can even reach an audience beyond the subway system on lines like the 7, which travels aboveground for most of its length in Queens, and the L, which is elevated across much of eastern Brooklyn.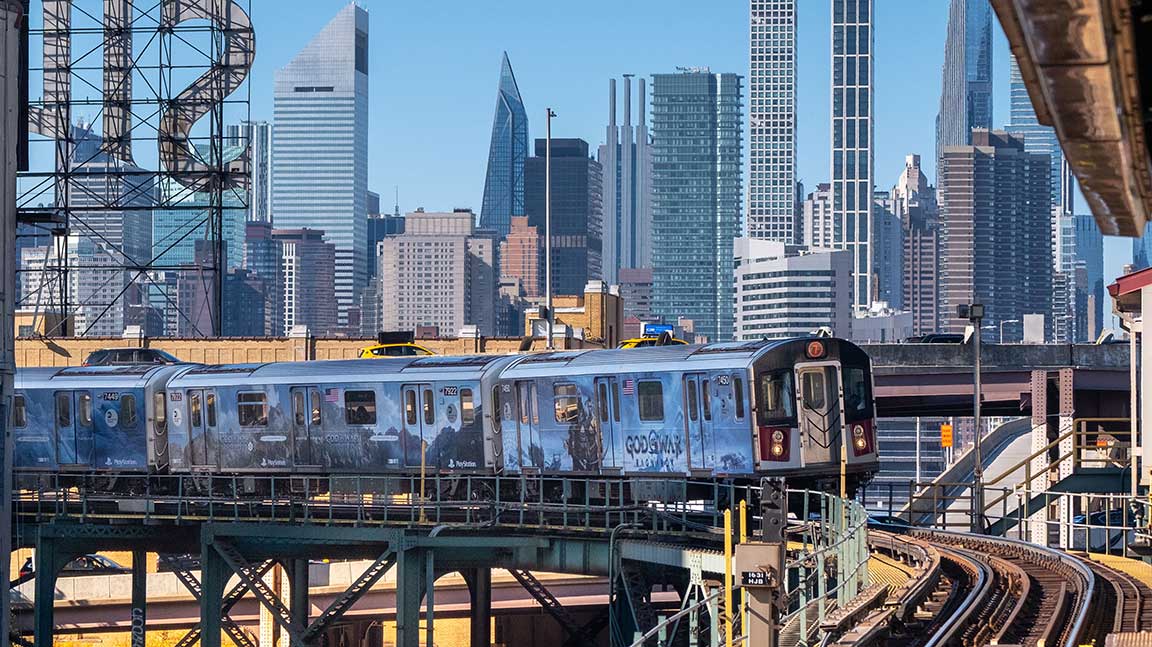 But the most popular option for subway wraps is the Times Square Shuttle, a short but vital line that
moves over 100,000 commuters and tourists daily
to and from the world's largest train station, Grand Central Terminal.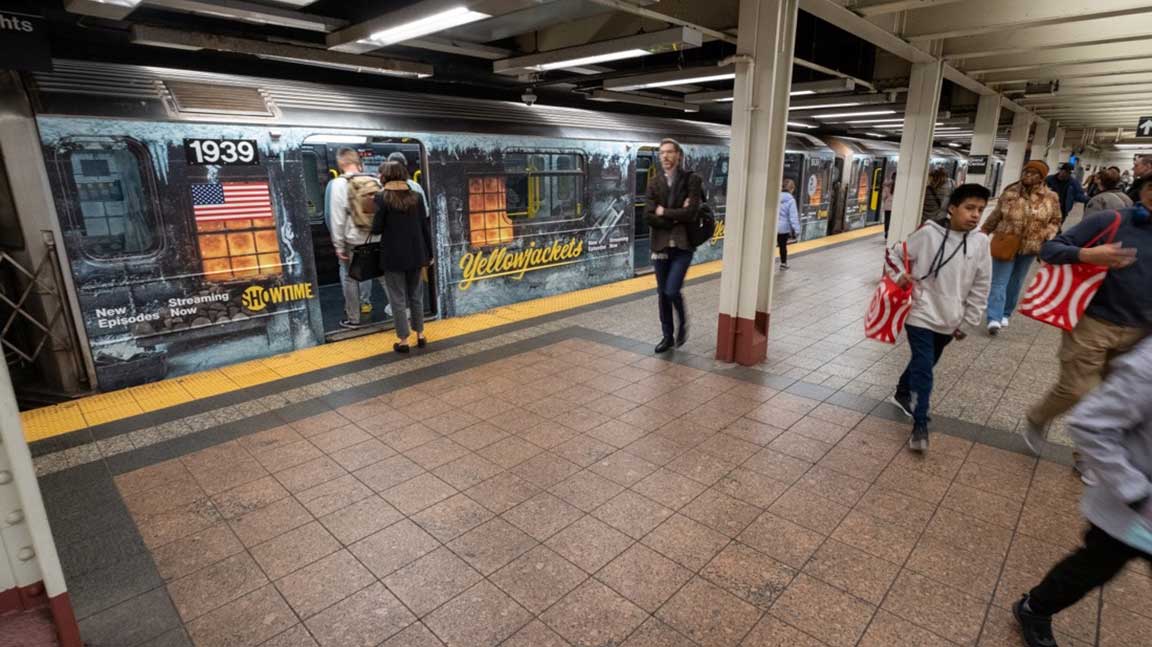 The Times Square Shuttle can also be wrapped on the inside, enabling advertisers to completely immerse subway riders in the brand experience.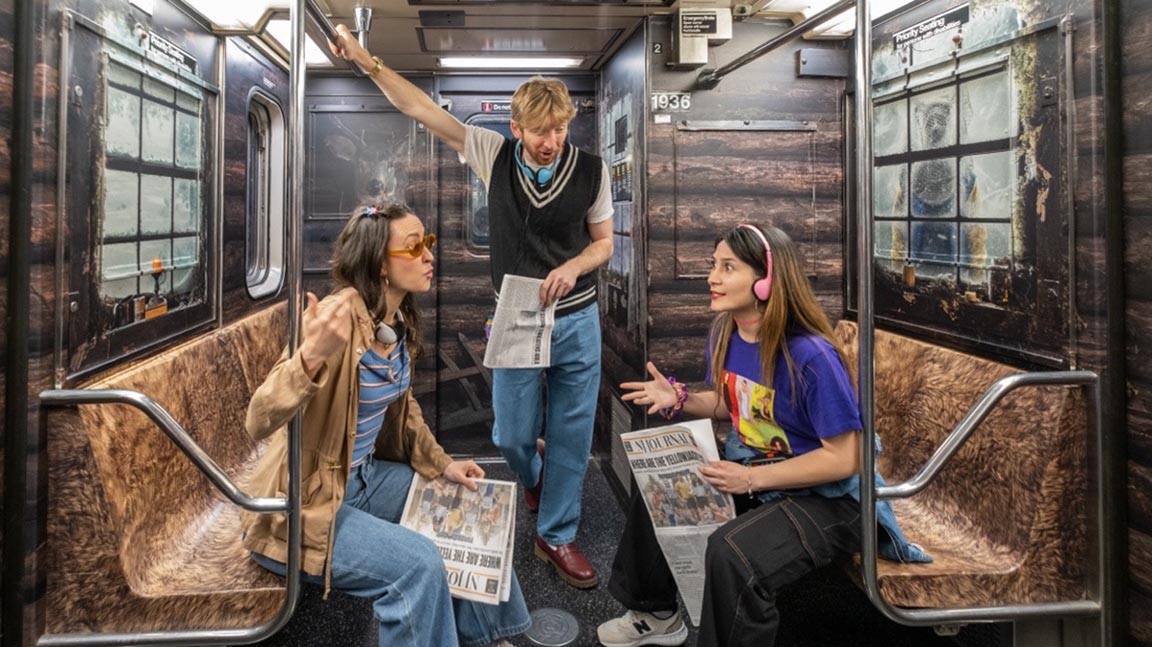 In the next part of our guide to New York transit media, we'll cover
advertising on the MTA's bus network
. In the meanwhile, you can
contact us
to learn how we can get your brand in front of New York City subway riders!
Author: Jay Fenster, Marketing Manager @ OUTFRONT