Plenty of Fish Turns Heads with Its Latest NYC Transit Advertising
August 29, 2023
"Men send 70% more unsolicited pics than flowers," reads the copy on a subway liveboard. "That can't be true," you might be thinking – if you're a man.
But if you're a woman on any kind of online dating site, chances are high that a man has sent you something unsolicited and we are definitely not talking about a bouquet. It's one of the most cringeworthy things about online dating. That's why this recent
transit advertising
campaign from
Plenty of Fish
is so brilliant.
Behold The Gallery of Richard Pics.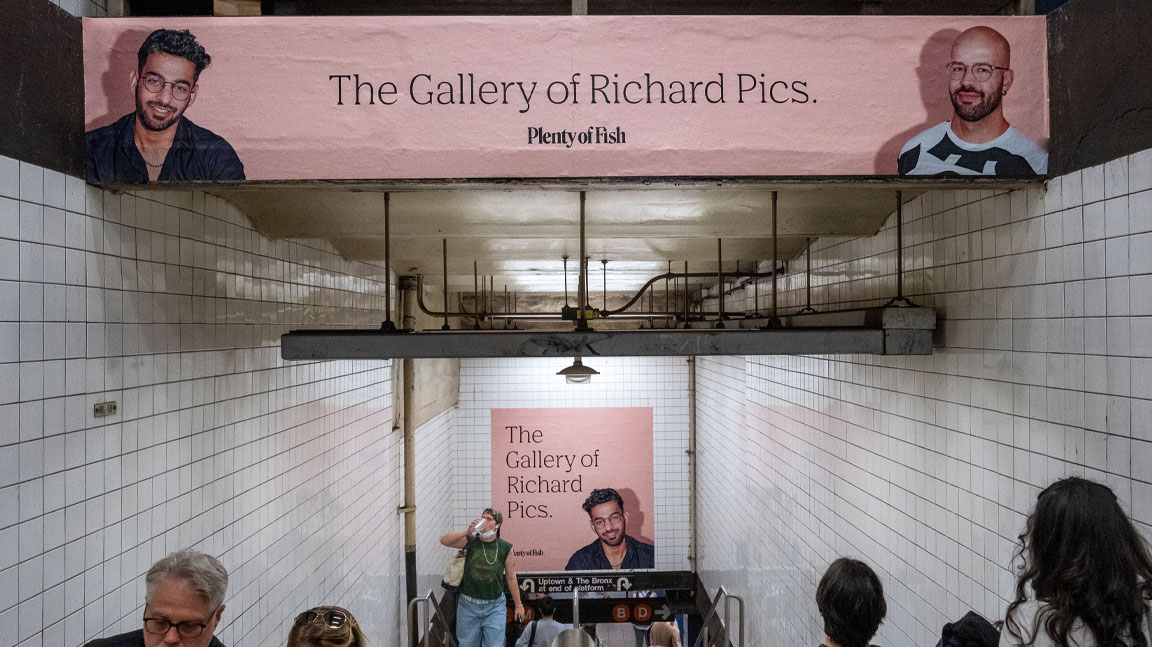 This station domination transformed lower Manhattan's Broadway-Lafayette, where the B, D, F, and M lines converge, into a tasteful exhibition of photos featuring men from the dating website – all of whom are named Richard. It's an IRL, pop-up version of the
online gallery
that debuted last fall. Broadway-Lafayette sits at the heart of one of New York's trendiest and liveliest neighborhoods, SoHo, a place full of exactly the type of people you'd want to swipe right on.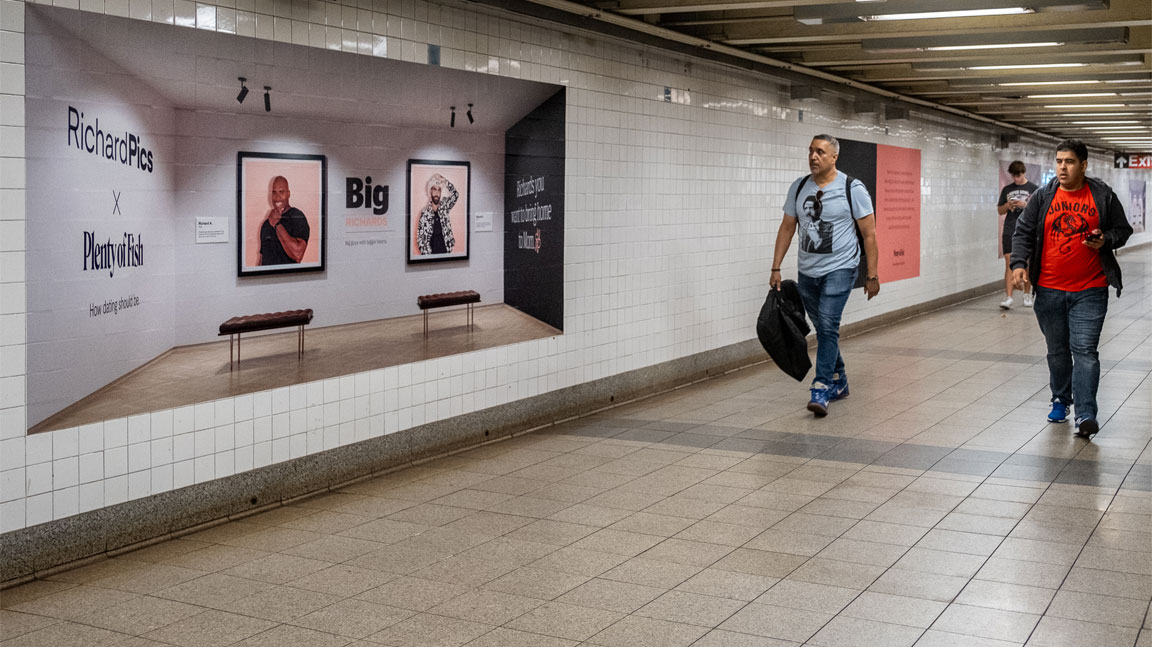 Station dominations, where one advertiser occupies all the media positions within a subway station, saturate riders with a single advertiser's imagery and messaging. The varied media formats each contribute a different element to the total impact of being surrounded by a single brand while waiting for your train.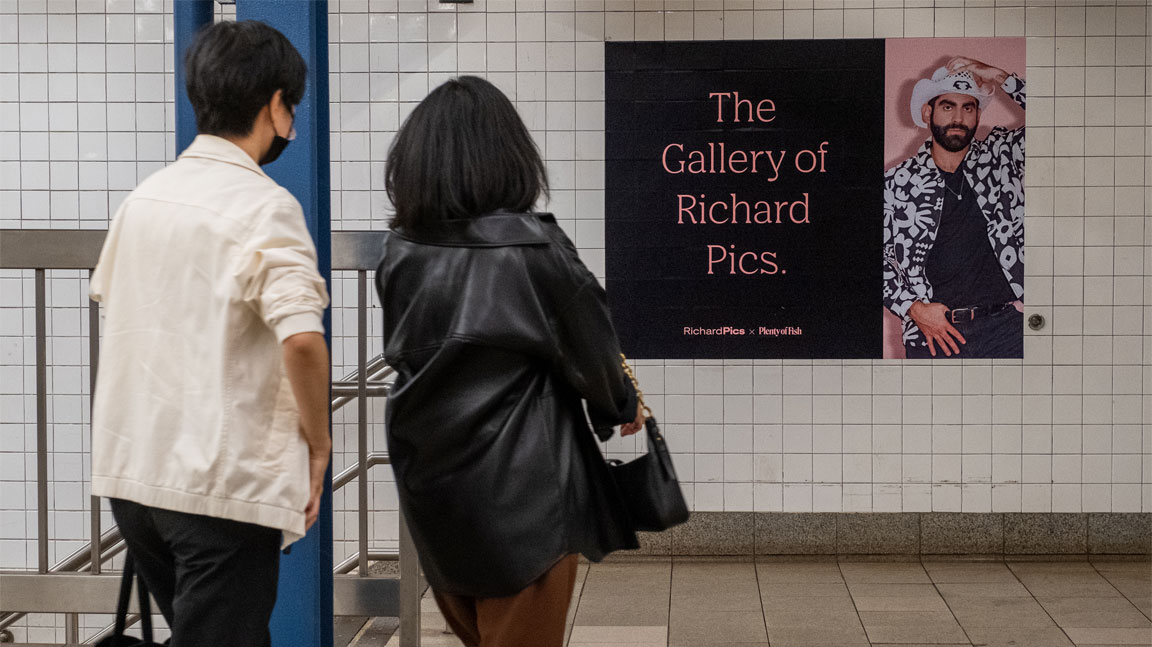 Key to Plenty of Fish's media mix were the oversized vinyl posters on the station's walls that feature various varieties of Richards, such as "Big Richards" and "Shaved Richards." (The gallery is nothing if not inclusive.)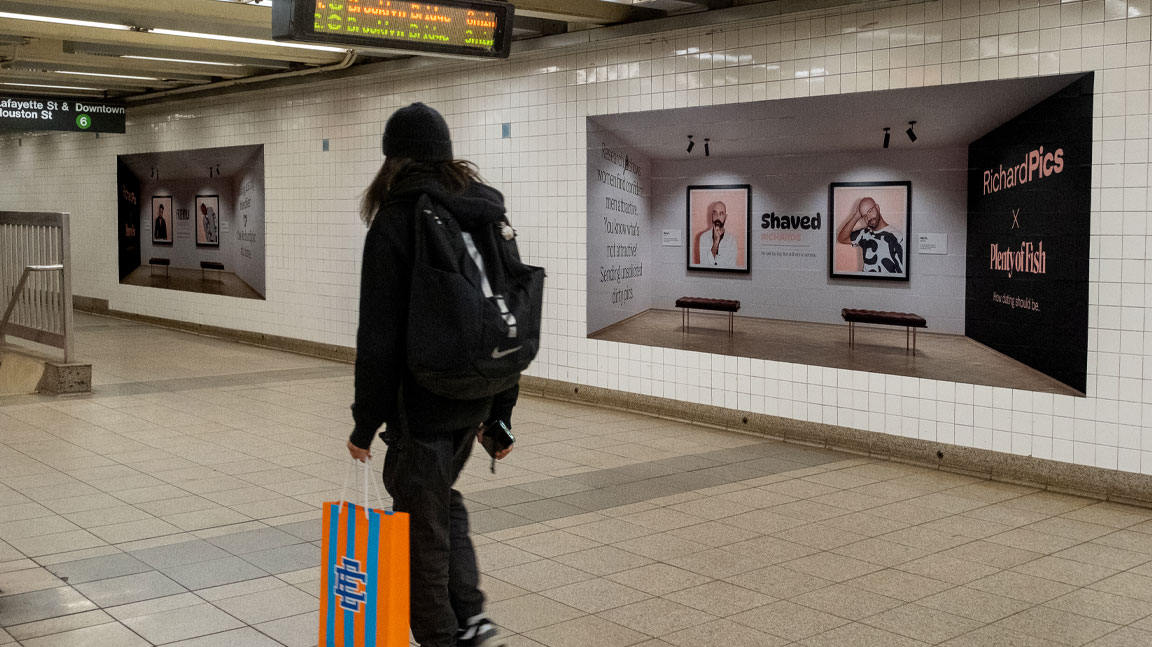 In addition to the wall posters, the campaign included digital out of home (DOOH) ads on our liveboards, turnstile wraps, and even a very large Richard who spans an entire staircase.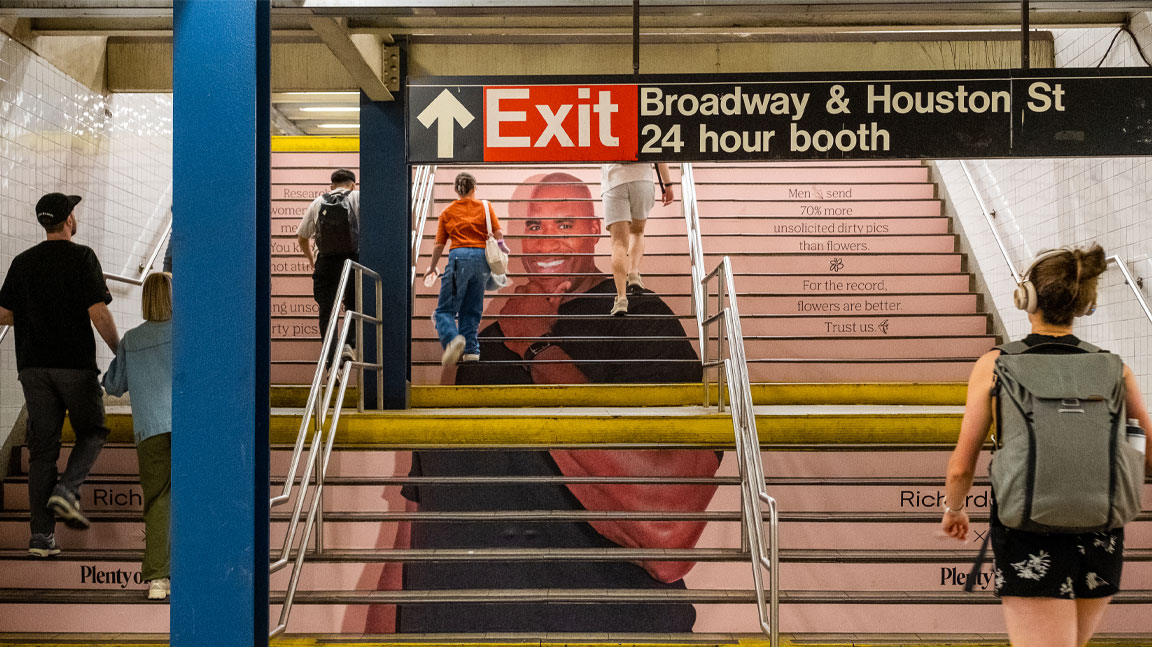 For a week, the brand took the activation even further with a
pop-up gallery gift shop
just outside the station entrance, giving away coffee and Richard-themed swag.
"So why are you seeing Richard pics?" the copy of another creative asks. "Because they're the friendlier version of those other unsolicited pics dirtying up dating – and we won't stand for that."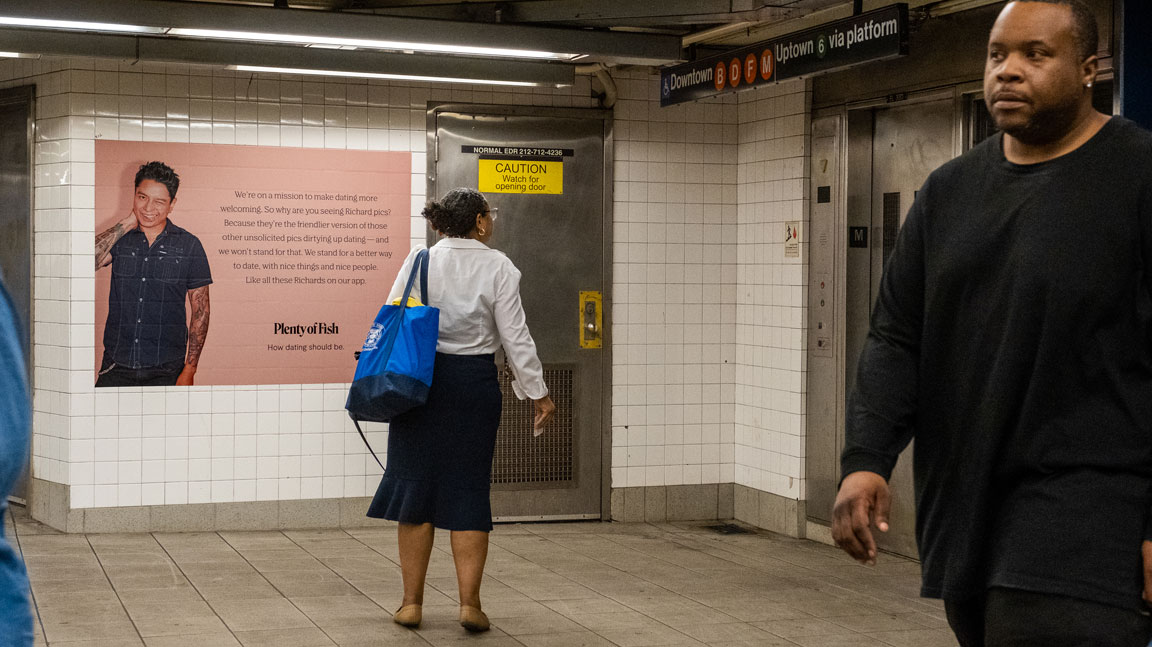 Okay, but isn't
turning an entire subway station into a great big dick joke
just a little childish? That's debatable. What's not debatable is that the campaign got people talking about the brand.In the first week, Plenty of Fish's ads generated 518 social media posts, which captured 22,752 engagements and a total potential
#sOOH
reach of over 3.4 million (SOURCE: Sprout Social). With competitors like
Hinge
,
Tinder
, and
OK Cupid
also using New York City transit advertising to reach singles, they've got to stand out somehow.
And with New York City
subway ridership topping 4 million daily
, transit advertising campaigns like this are one of the most effective ways for Plenty of Fish – or any other advertiser – to tell its story, by creating both IRL and URL conversations in the public spaces that so many of us share.
Is your brand ready to find love on the subway?
Swipe right on OUTFRONT!
Author: Jay Fenster, Marketing Manager @ OUTFRONT