The Spirit of Maui Endures: How Out of Home Supports Communities Before and After Disaster
September 13, 2023

When you think of digital out of home, hopefully words like "timely", "contextual", "dynamic," and "relevant" come to mind. This is especially true, and especially important, in moments when a city or region is faced with preparing for or overcoming a force of nature. Ironically, it's in these times that something as technological as DOOH makes us think of another word: "community."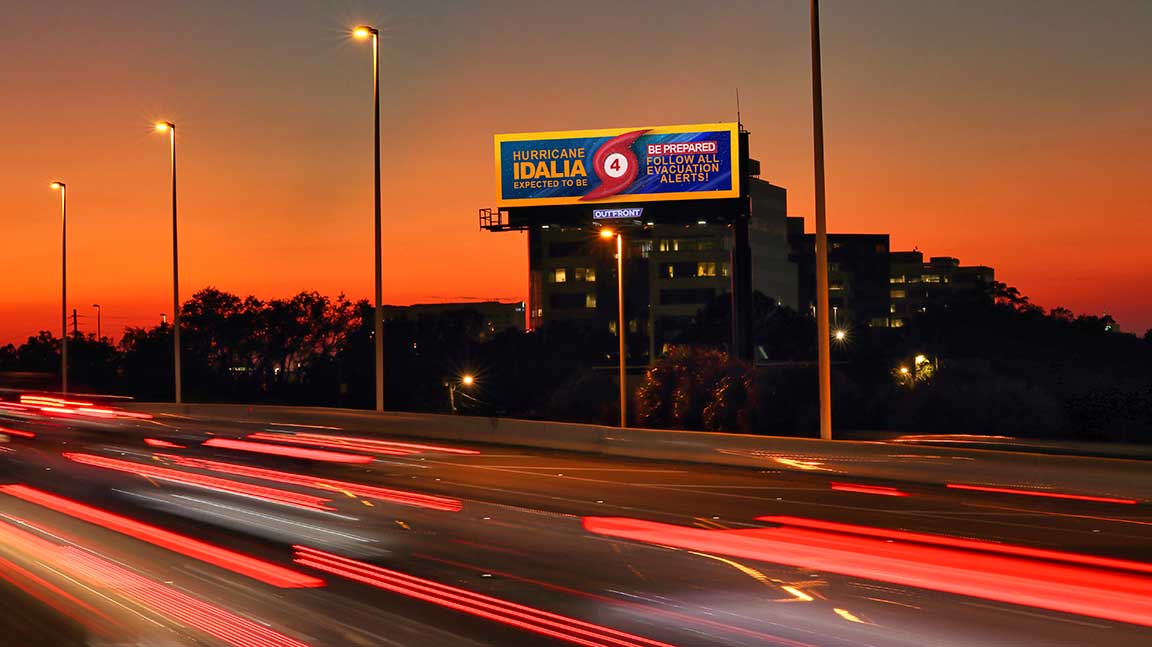 These critical moments include when Hurricane Idalia, a category 4 storm, was bearing down on Tampa. It became vital to spread awareness to everyone in that community. The ability to post a single message about the seriousness of the storm to an entire city, regardless of any audience demographics, is not just incredibly helpful, but has a way of uniting people. Digital OOH truly can be the town crier in instances like this; there is a unifying power that helps us be more prepared, which in turn strengthens the community.

But DOOH isn't just a tool for one city facing one obstacle or crisis. It is such a powerful tool to unite multiple cities, even entire country. For example, the OAAA, Interstate Outdoor CEO Drew Katz, OUTFRONT CMO Jodi Senese, and other leaders in the OOH space came together for an initiative to help the thousands of people suffering after Hawaii's devastating wildfires.

I had the opportunity, a truly touching experience, along with National Associate Creative Director Drew Bolen and Creative Director Shannon White, to co-present a creative presentation to Maui's Food Bank. And before you read anything below, if you can, please download these images and post them anywhere and for as long as you can. Please.

Drew, Shannon and I initially had a discovery call with Marlene Rice, Development Director at the Maui Food Bank, where she told heroically gut-wrenching stories of how the people of Maui have come together, even amidst such great loss. How they at the Food Bank have been serving 20,000 pounds of food a week and well over 250,000 pounds to date, despite facing the loss of so many friends and loved ones. We shared a lot of personal stories, not that anything can compare to what she was going through, but really to let her know that our minds and hearts have been in a similar place and we were using those experiences to have empathy and create a campaign that ideally will be something we can build on for years to come, as Maui will without a doubt take years to recover.

When we presented, there was a sense of collaboration, constructive critique, and a lot of hope for what we'll be able to achieve. No egos, just hearts on the table working to create something emotionally memorable.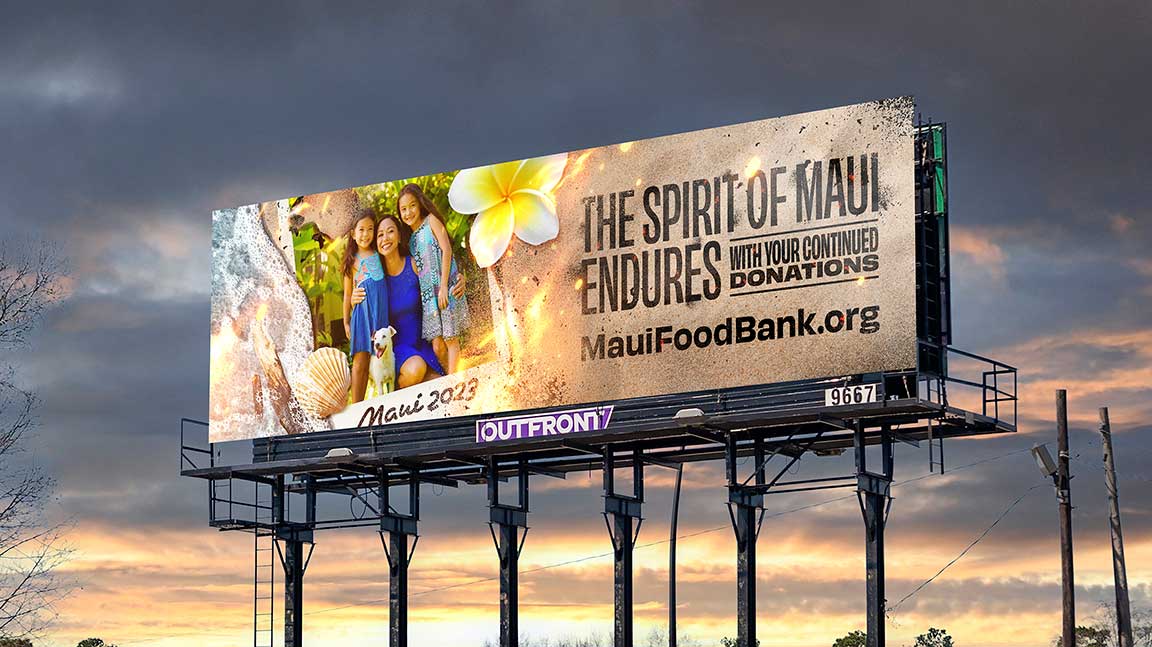 As tears rolled down her cheeks, Marlene said that in her 20+ years of working at the food bank and other marketing jobs, this is by far the most touching design and the most excited she's been for a campaign. I don't say that to prop up OUTFRONT STUDIOS, but instead to highlight how meaningful this project is. The headline of "The Spirit of Maui Endures" goes beyond advertising, marketing, or agendas. It's one that connects us as people. We all know what loss feels like. We all know what it takes to get back up, despite the pain… to move forward… to rebuild the world around us. "The Spirit of Maui Endures" is not a cry for help so much as it is a statement about the resourcefulness, pride, and heart of Maui. Even without anyone's help, I have zero doubt after talking to Marlene and Richard Yust, Executive Director at Maui's Food Bank, that they will be fine in the end. However, after hearing and seeing the stories of the families and people of Maui, I want to be a part of that spirit of Maui. I want to do all I can to help.

I say all this to say that we can't do this alone.

We all live in communities across this country. Whatever your role is, it takes a community to grow stronger.

To donate online or hold a virtual food drive, visit MauiFoodBank.org.
Author: Eddy Herty, VP & National Creative Director @ STUDIOS