Unlocking Last-Minute Holiday Success: From Behavior Shifts to Seasons Bliss
November 16, 2023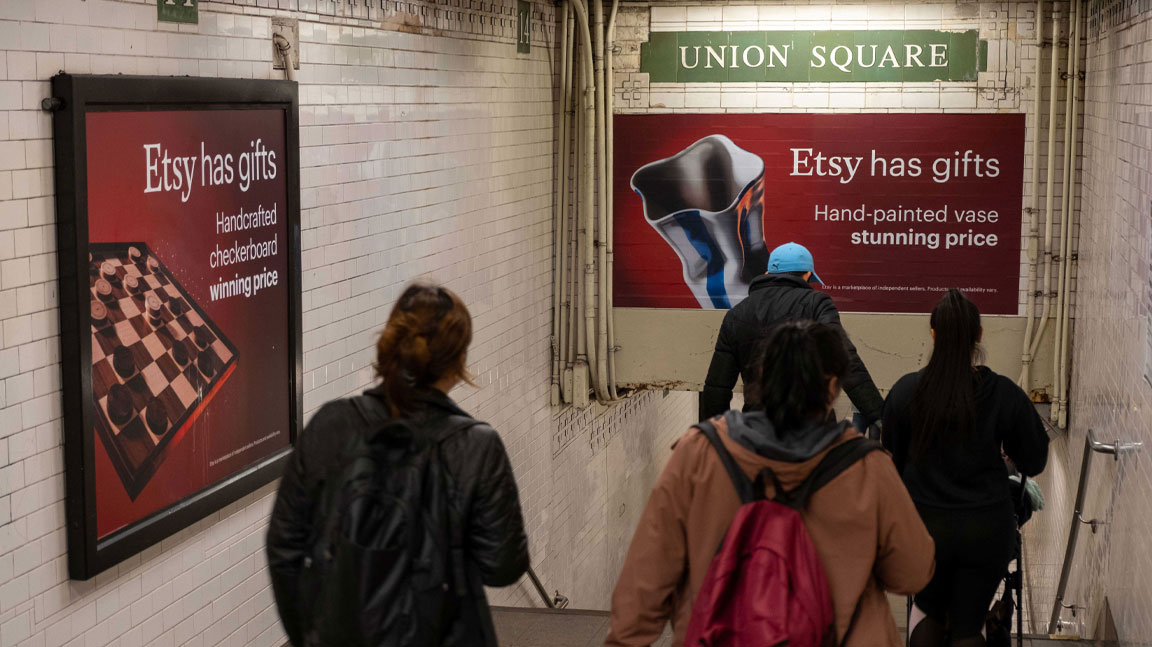 As we find ourselves well into the 2023 holiday season, the stage is set for brands to connect with consumers amidst favorable economic tides and ever-evolving shopping preferences. In this post, we'll uncover key insights to help your brand seize the full potential of the fourth quarter.
There is Still Time to Connect to your Consumer:
While stores start decking the halls as early as September, it's worth noting that 69% of shoppers plan to snag their holiday gifts in November and December¹. So, brands, keep those festive marketing engines roaring until the last twinkling holiday light goes out. And here's the magic—out of home advertising is your trusty sleigh, guiding you to connect with consumers along their path to holiday shopping.
"69% still haven't purchased holiday gifts yet¹"
Bargains, The Mighty Transformer:
The 2023 holiday season reveals a significant shift in consumer behavior - discounts have morphed from a mere cherry on top to the driving force behind their holiday shopping. An astonishing 89% of Americans now crown price as the unrivaled factor influencing their buying decisions². In a world of rising costs and dwindling savings, consumers are putting discounts on a pedestal.
Discounts come in various shapes and sizes, but the statistics paint a clear picture. Percentage-off coupons are the holiday champion among American consumers, with 93% of online shoppers reaching for them and 62% declaring them as their favorite discount³. Additionally, free shipping coupons hold a significant presence, as 90% of online shoppers prefer them, though just 19% report them as the most essential factor³.
It's more than just pinching pennies – for many consumers, it's about feeling like a savvy shopper. An impressive 63% of Americans experience a sense of pride and smart shopping when they turn to discounts⁴. Discounts don't merely cut costs; they empower consumers with financial intelligence.
"56% want ads with discounts⁵"
Thinking Creative, Give the People What They Want:
When aiming to engage savvy holiday shoppers be sure to bake promotions and deals into your holiday messaging. The data doesn't lie – with over half of consumers expressing a distinct preference for ads featuring discounts⁵, which is 7% more than when shopping during the rest of the year.
Additionally, it's essential to note that 84% of consumers believe retailers should be doing more⁶ to integrate their online and offline channels, underscoring the importance of cohesive multi-channel strategies.
Unwrapping the Gifting Trends of 2023:
Let's delve into gifting trends set to help you achieve your holiday KPIs! Below are visual breakdowns of the top insights we gathered.
Product Categories Consumers Plan to Spend on This Holiday:¹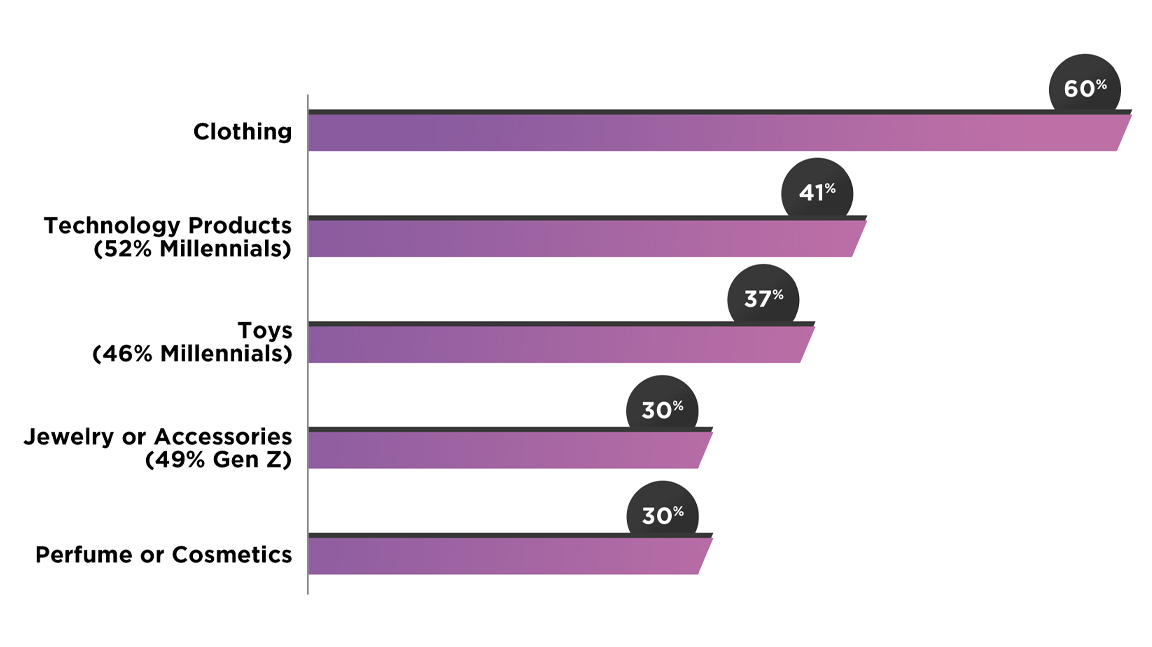 Top Locations Holiday Gifters Plan to Visit & Spend:¹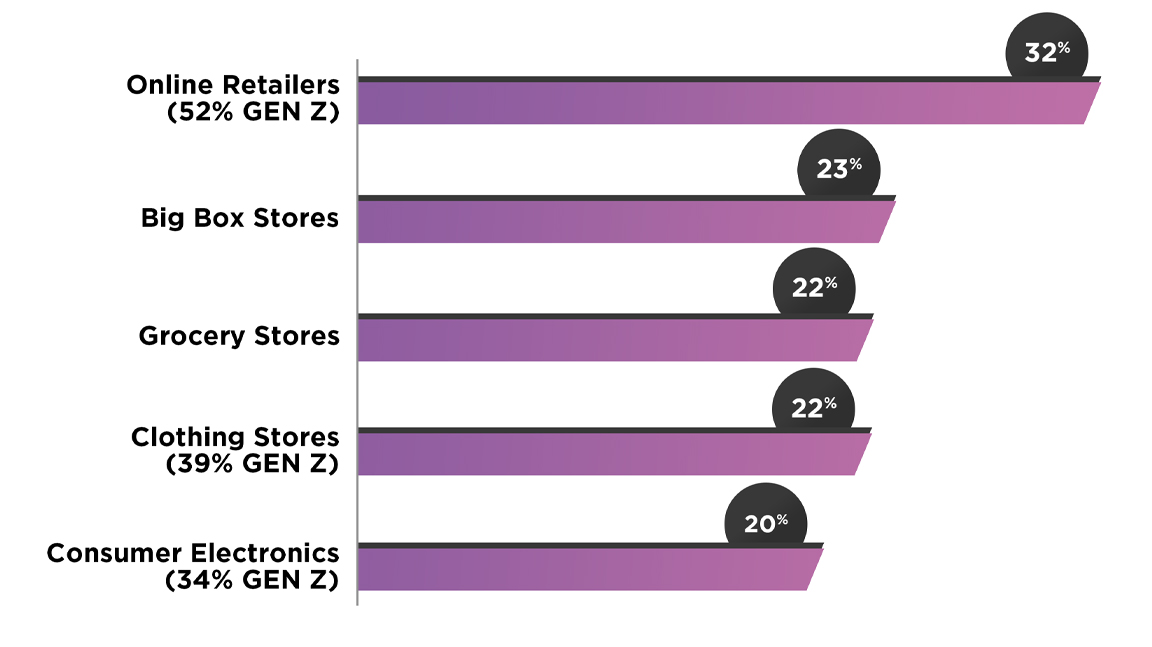 The Journey to Purchase: Transform Shoppers into Celebrating Consumers:
Now that we have a grasp on where and what holiday shoppers are allocating their budgets, let's discuss how to connect and amplify that perfect brand messaging to effectively engage with this ready-to-convert audience.
Out of home media has the power to leave a lasting impression that drives conversion. As they journey to the stores to make their final purchases, street furniture and transit media become the ideal opportunity to ensure your brand is the last they see before reaching the checkout counter, reinforcing your message, and encouraging those purchases. A recent study found that 82% of consumers make their purchase decisions in-store⁷.
For many shoppers, their journey to checkout (where in store or online) involves buses, subways, or trains. The data confirms the importance of transit media in reaching and influencing them before they say cha-ching. According to recent research, advertisements, and 35% have visited a store or made a purchase after viewing an ad during their commute⁸. This data highlights the power of OOH in influencing consumer behavior and driving foot traffic to physical stores.
OOH also drives online engagement and conversions. One great example is Sheertex, a DTC hosiery brand, which
ran a transit campaign
with OUTFRONT last holiday. The campaign produced great results against all measured KPIs. With those exposed to the bus ads 98X more likely to visit the Sheertex website.
Never too late: Connect with Impression-Based DOOH:
If your brand is behind on the holiday season, OUTFRONT's impression based DOOH is your shortcut to seasonal success. Launch campaigns within hours, adjust on the fly and reach your ideal audience. OUTFRONT's Digital Direct Ad Server (DDA) offers a hassle-free experience with no programmatic fees, ensuring your brand shines bright during the holiday season.
Summary: Unlocking Last-Minute Holiday Success:
Most shoppers haven't purchased their gifts yet
Discounts are the key driver in holiday shopping
Consumers are seeking ads featuring discounts
Integration of online and offline channels is crucial
Out of home media influences in-store purchase decisions
Transit media is effective for reaching shoppers
Impression-based DOOH is a never-too-late strategy, with OUTFRONT's Digital Direct Ad Server (DDA) providing a seamless, cost-effective solution
By implementing these strategies with impression-based DOOH, your brand can empower itself to guide last-minute shoppers into conversions, ensuring a joyous and successful holiday season.
Hungry for more trends and insights? Check out our full
2024 Advertising Trends Report
.
Sources:
1. The Harris Poll, 2023
2. Brizfeel
3. Capterra, 2023
4. Blippr
5. Morning Consult, 2023
6. RetailNext
7. Adcock Solutions
8. Nielsen
Author: Joshua Pritzker, Consultant @ OUTFRONT