Celebrating Creativity: The Ad Art Show

October 17, 2023

At OUTFRONT, we always put creative first. Why? We think out of home is the most creative of all mediums due to its highly visual nature and the fact that there are simply things you can accomplish on OOH that you can't anywhere else. Plus, we understand its importance to the success of our clients' campaigns. In fact, the Wharton Business School reports that 70% of an ad's effectiveness is due to its creative. We have invested in two core in-house creative agencies, STUDIOS and XLabs, to ensure that our clients get best- in-class creative up on our canvases. Creative is the key ingredient in effective OOH, and at OUTFRONT our leadership and commitment to excellence in creative is unparalleled.

There was a natural synergy in OUTFRONT sponsoring the Ad Art Show, a contest that celebrates the artwork of industry creatives. Since its launch at Sotheby's in 2018, the AD ART SHOW curates a panel of contemporary art experts to select the best artists hailing from the advertising sector.

Last night, we were thrilled to watch the winners recognized on stage at The Power Arts Studio in Brooklyn, NY. Our own Eddy Herty presented the awards to the top ten artists. Starting today, you can see the top three winners in Times Square and the top ten honorees on billboards across America. We had the pleasure of getting to know the top three artists and capturing their reaction as they saw their artwork on a global stage for the first time.


Top Honors went to Parme Marin, who received the Special AD ART SHOW Clio. We asked Parme to explain the meaning behind her work:

"This series is all about the feet. When you become a new mom, it's very complicated to find your new self and your new balance. I started painting and printing these feet, really not thinking about it initially. And then I realized, what grounds you? It was very interesting for me to realize that I was actually painting something that is the most important part of the body because it anchors you. Trying to become this new person, this mom, it is really about balance and becoming your new self."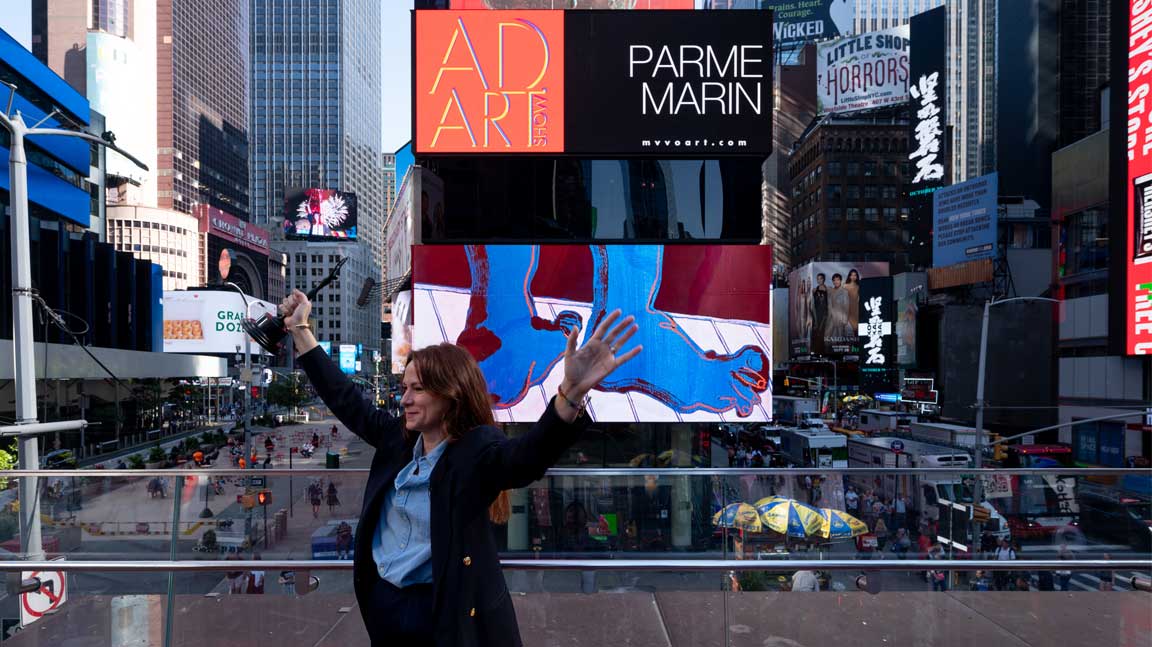 Abstract mixed media photographer Tobi Shinobi and expressionist mixed media artist Marco Gallotta also received top honors from the collectors' jury.

Marco has expertise in paper-cutting techniques, drawing, watercolors, and printmaking. His uniquely layered artwork is coveted by many including collectors, fashion brands, and major museums. We asked Marco about the process of creating one of his pieces (and if his hands ever hurt!).

"I do a lot of layers, which symbolize different stages our lives which are constantly shifting and changing, like a kaleidoscope. The series is called Beyond Beauty. I really try to go beyond the appearance of my subjects to dig deeper and find their inner beauty. Each artwork piece takes me at least a month because they are very intricate, and each piece is cut by hand. So, it takes a lot of time and patience. But don't worry my hands still feel good."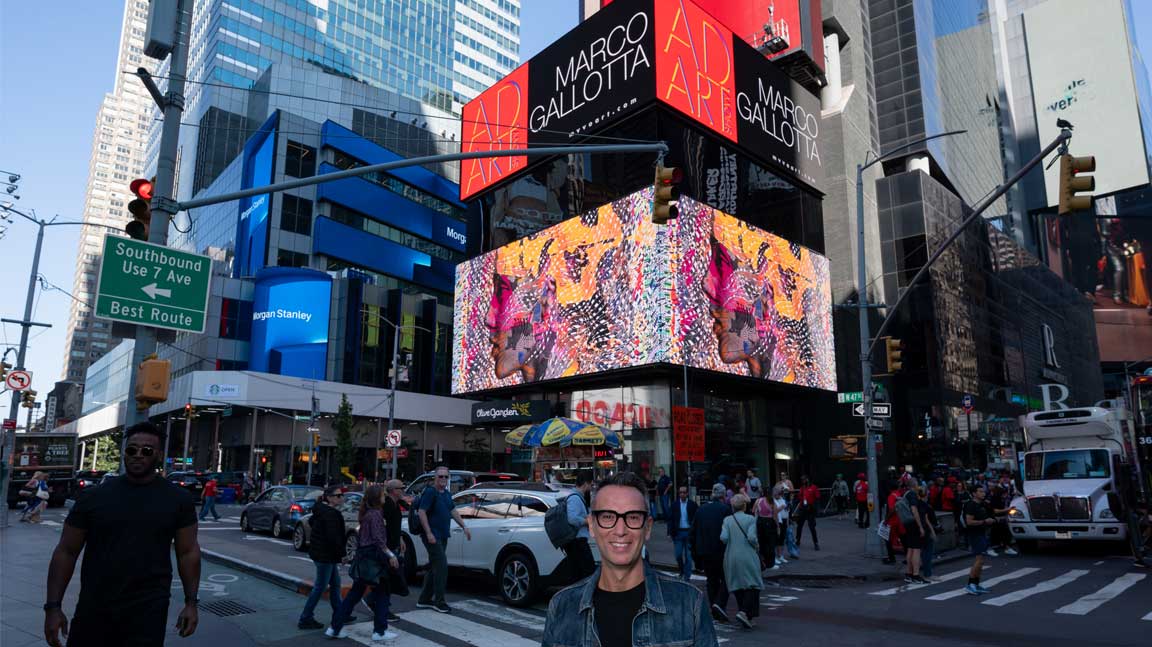 Tobi is known best for his photography. He finds inspiration from all aspects of his life from music, food, religion, sports, philosophy, anime, to even martial arts. And number one inspiration source is his Mom. An artist herself, she left being a jeweler to become a civil engineer to give Tobi and his brother a better life.

We asked Tobi to explain the purpose behind with artwork series:

"My work focuses on perspective in the physical sense. I think about different ways to show people things that they take for granted every day. I just really want people to see what I see. I think that as humans, often we are surrounded by people who have different views and we don't take the time to think about their perspective. I want my work to encourage people to think about things from different perspectives."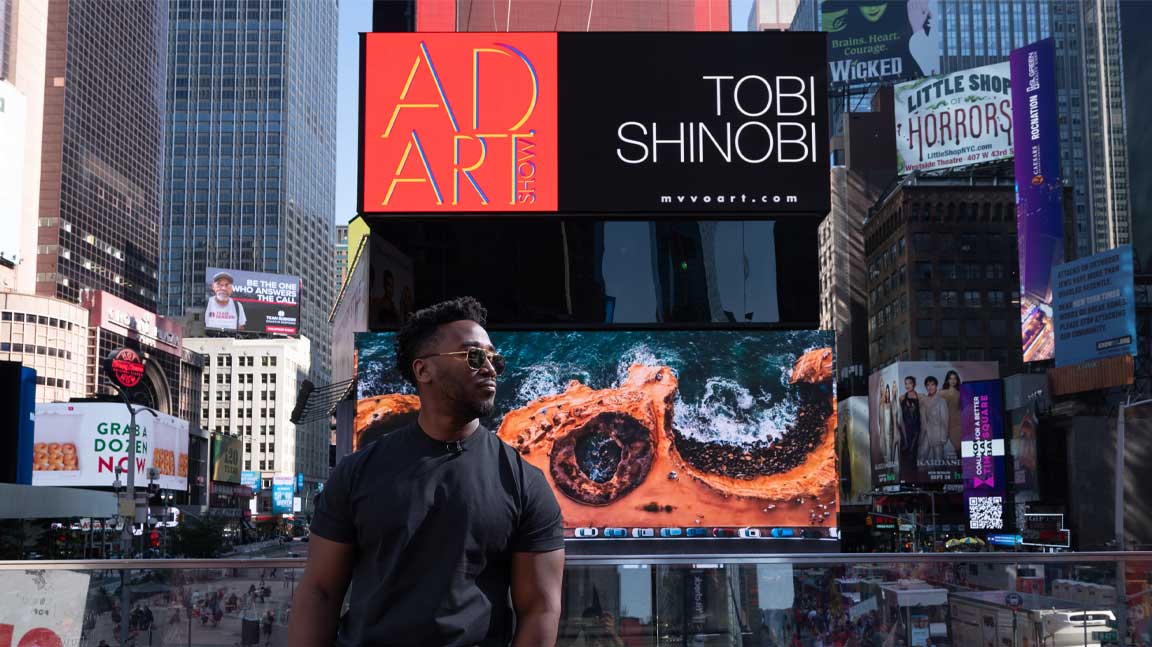 Congratulations to the top ten artists: ArvoMcK, Azita Panahpour, Daniel Scharfman, David Edward Johnson, John LaMacchia, Leo Macias, Marco Gallotta, Parme Marin, Tobi Shinobi and Yejun Yoon. Their work will be featured on digital billboards across America for the next week.

As Maria van Vlodrop President and of MvVO ART and creator of AD ART SHOW stated: "This year's group of artists is particularly impressive! All 95 represent vibrant, individual voices in ART. They clearly demonstrate the depth of artistic talent among the dual career artists we celebrate each year during AD ART SHOW and the value of time spent working in commercial art. The Clio for Parme is so well-deserved! I am also thrilled that AD ART SHOW is partnering with OUTFRONT Media to showcase our winning artists. Art on billboards across the country expresses the significance of creativity in contemporary life and how important it is to provide opportunities for artists to thrive."

We believe that it is very important to continue to show art in the public space. OOH's crucial role in and connection with the various communities across America, make it the perfect canvas to impact a large group of people, increasing the accessibility of this great work.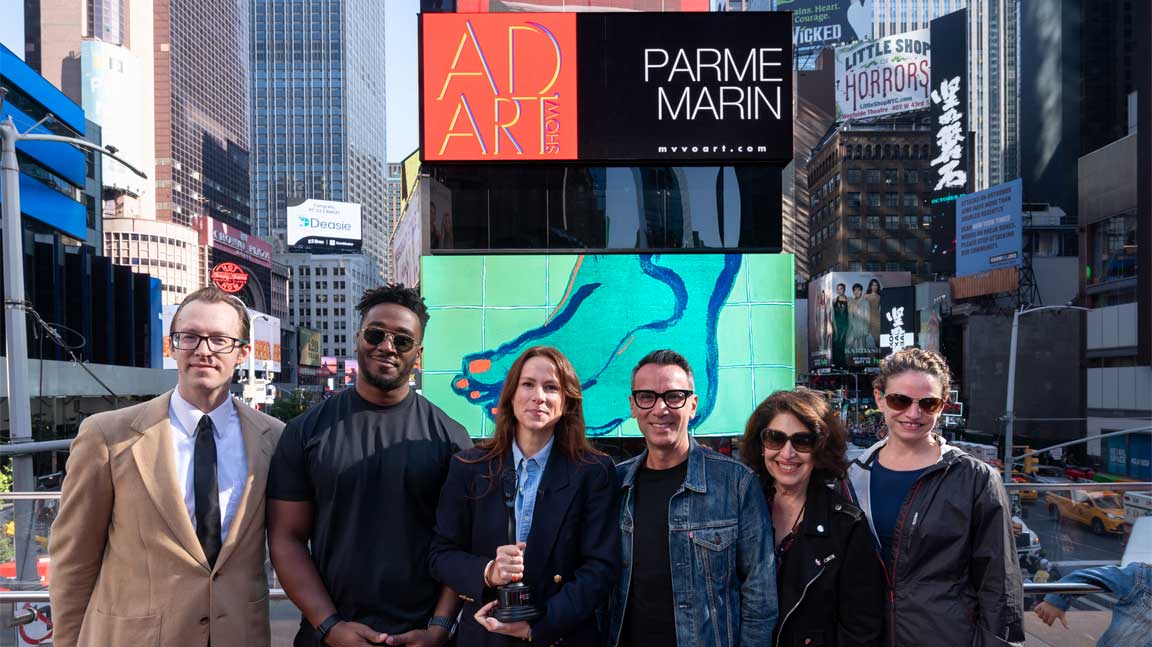 Author: Liz Rave, Vice President, Marketing @ OUTFRONT