"It Turns the World into a Brand's Playground:" Geospatial AR, Out of Home, Bring Space Invaders to Your Neighborhood
October 10, 2023
Have you ever walked around your neighborhood blasting aliens out of the sky?
Weird question, we know. But stay with us.
We've partnered with Google and Taito to bring one of the most iconic video game franchises of all time where it's never been before: into the real world.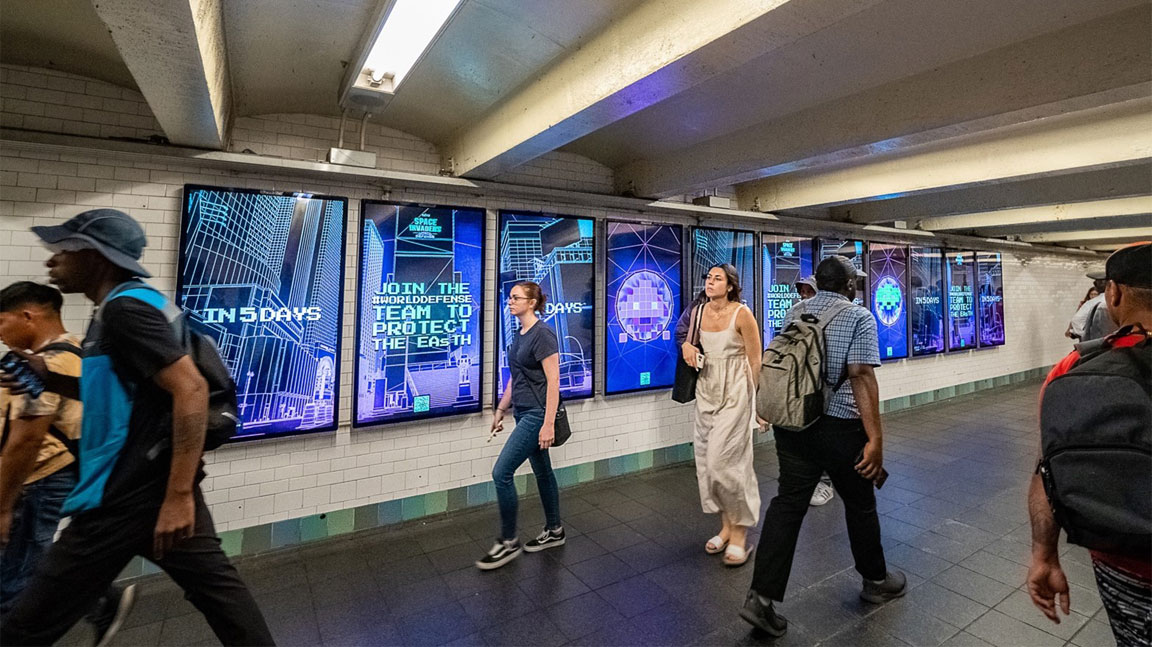 Space Invaders: World Defense
is available now on the App Store and Google Play, and it's a showcase of one of the most exciting new technologies available to out of home advertisers: Geospatial augmented reality.
AR has been around for a while, but Google's new
Geospatial API
expands the realm of what's possible with it by essentially mapping the world in three dimensions, while its
ARCore
allows content to be attached remotely to any coordinate on that map.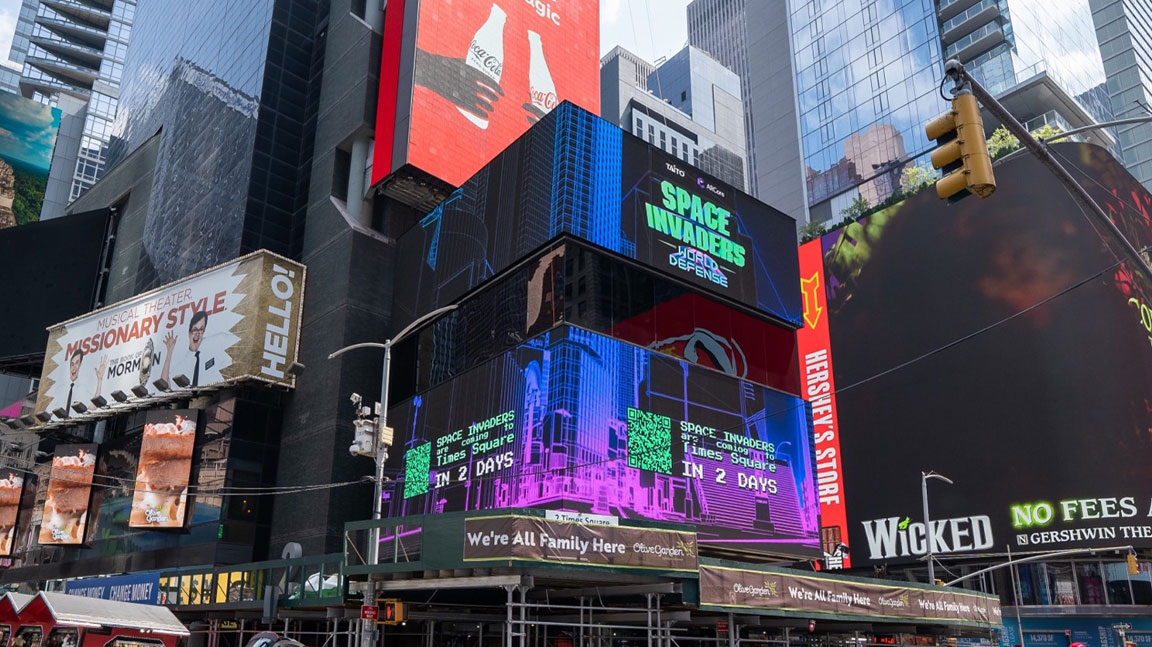 Space Invaders: World Defense uses this technology to transform the player's immediate surroundings into the game level, with pixelated, three-dimensional aliens spawning from rooftops, emerging from portals on walls, and hiding behind buildings. Players grab power-ups, warp between our dimension and the Invaders', and compete for the high score in their local neighborhood.
Over 5,700 New Yorkers downloaded the app by scanning the QR code on our digital urban panels, liveboards, and other DOOH screens around the city. We even hosted a live tournament at 2
Times Square
,
transforming it into the world's largest leaderboards for the occasion.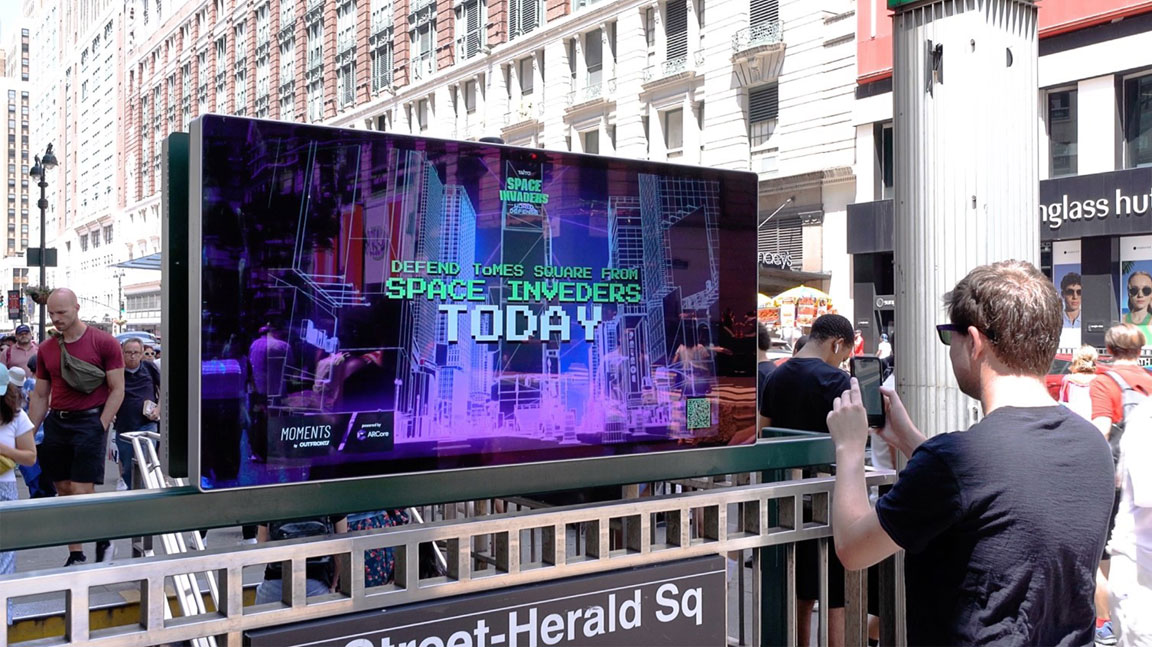 But OUTFRONT, you might be saying, isn't that just Pokémon Go with aliens? We sat down with Chad Shackelford, OUTFRONT VP and Head of Creative, to learn what makes Geospatial AR different.
"In previous AR experiences, you had to remain fixed on the target itself, which was either the QR code or the larger image, to maintain it. So, if I pan away, I lose the AR experience. You couldn't do anything super immersive or transformative," he told us. "What makes Geospatial different is you can envelop the world around you, so your physical placement still has a permanent spot within the augmented experience, which gives you a lot more opportunity to integrate with the surrounding architecture and environment."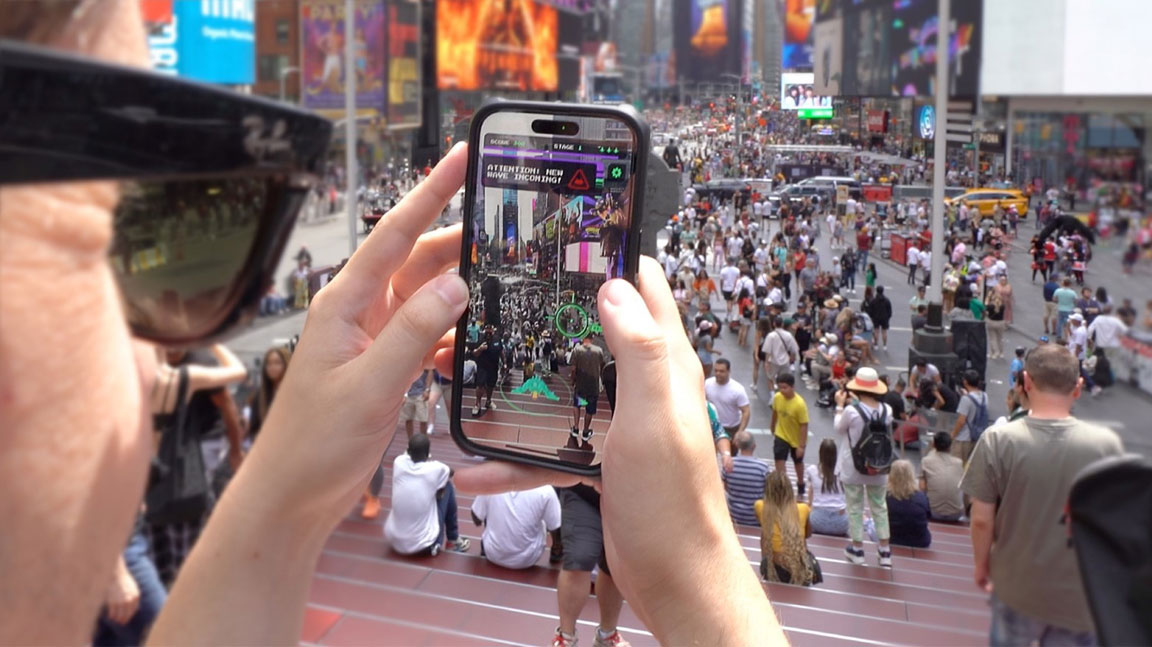 With the Geospatial API, the augmented reality experience is completely unique in each location where it's consumed, thanks to data from tens of billions of Google Maps images collected over the past 15 years.
So what does that mean for brands?
"This is inspiration, aspiration, brand loyalty building. This is connectivity to audiences," explained Shackelford. "Those interstitial brand moments in between more direct product promotion – those are the things that build affinity. Geospatial turns the world into a brand's playground."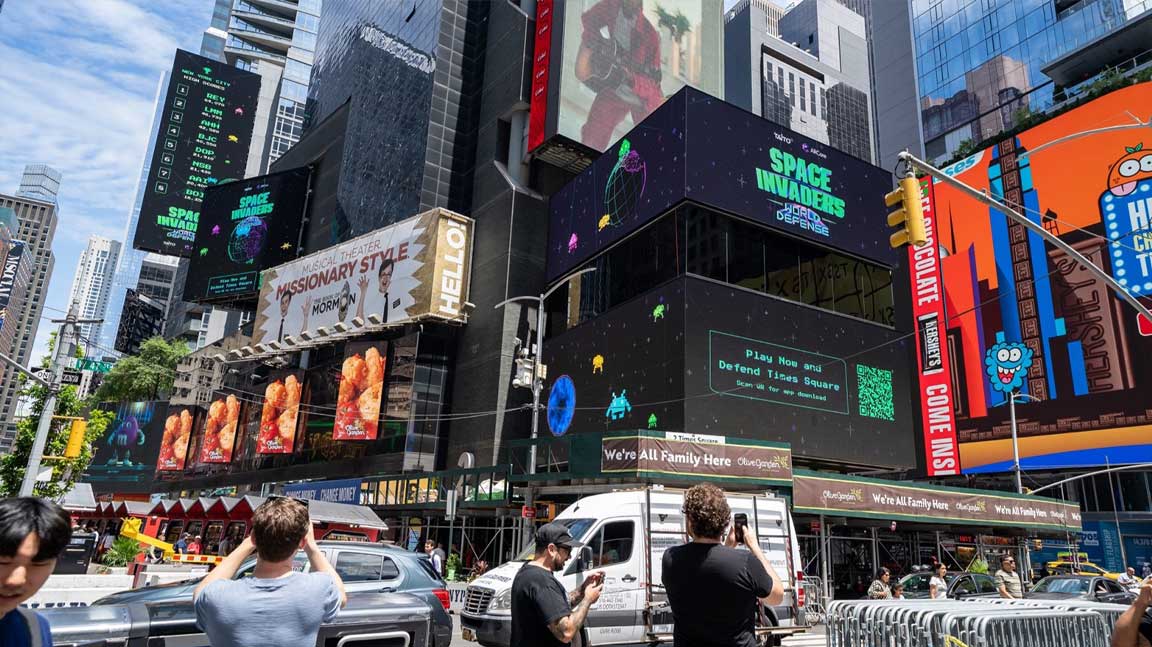 On a more tactical level, it means that AR experiences no longer need be one-size-fits-all, or tied to a specific geographic position, but rather can be fully integrated into the environment of any location, dynamically generating content that interacts with the user's surroundings.
"We started to think about how the retail store was no longer the point of conversion but rather becoming the point of brand experience," Shackelford elaborated. "The big opportunity for out of home and Geospatial is to deliver that brand experience across every step of your journey, non-obtrusively, in a way that's tasteful, respectful, and additive."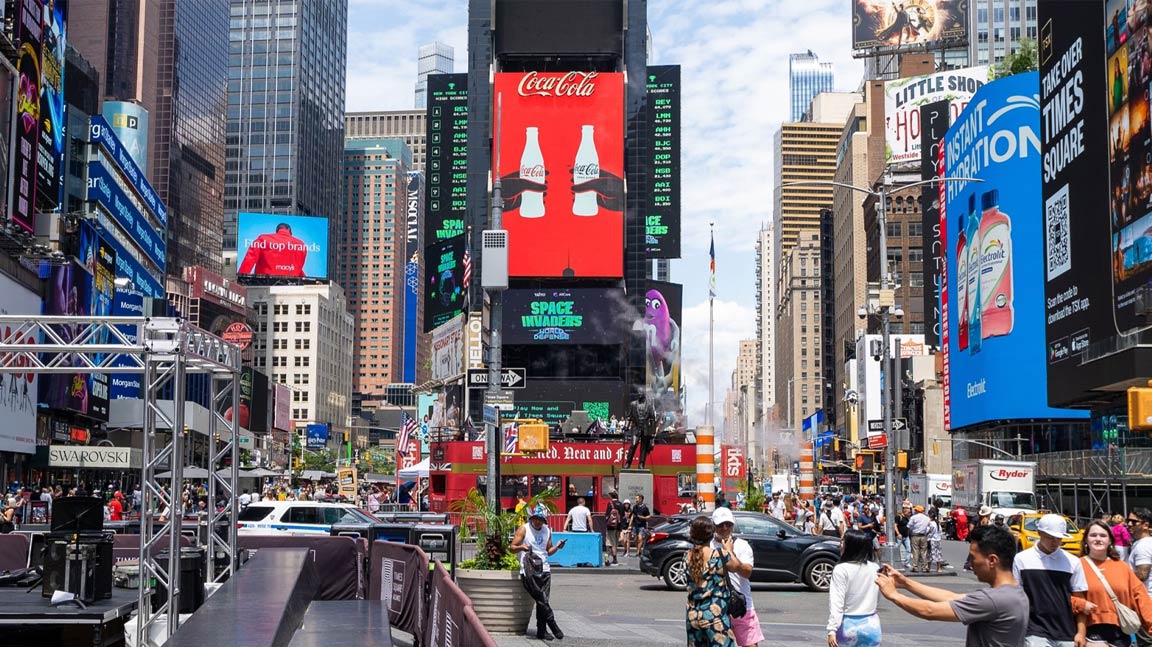 Out of home is the perfect medium through which to execute a Geospatial AR activation, for self-evident reasons. "Geospatial API and all of that Google StreetView dataset is all outdoors, so it's perfectly aligned with OOH," Shackelford said. "Google believes location networks are completely paramount to the success of Geospatial AR, and that's what we mean to them. Transit played a very vital role in this being a successful game launch. We used a lot of cross-neighborhood tournaments. We used LiveCard Max and did a dynamic countdown in-train for the first time."
Transit media formats were essential to the activation. With over
four million riders passing through the MTA's subway turnstiles each day
, there's no better way to reach
New Yorkers
at scale. And subway media is proven to be effective – with 1 in 3 searching the web after exposure on the platform or in-train and 1 in 4 visiting advertiser websites (SOURCE: OUTFRONT NYC DMA Audience Survey, 1000 Respondents Surveyed, Wave 5, Nov 2022). Here it drove engagement throughout the campaign with the countdown, the QR code to download the app, the tournament competition, and neighborhood leaderboards.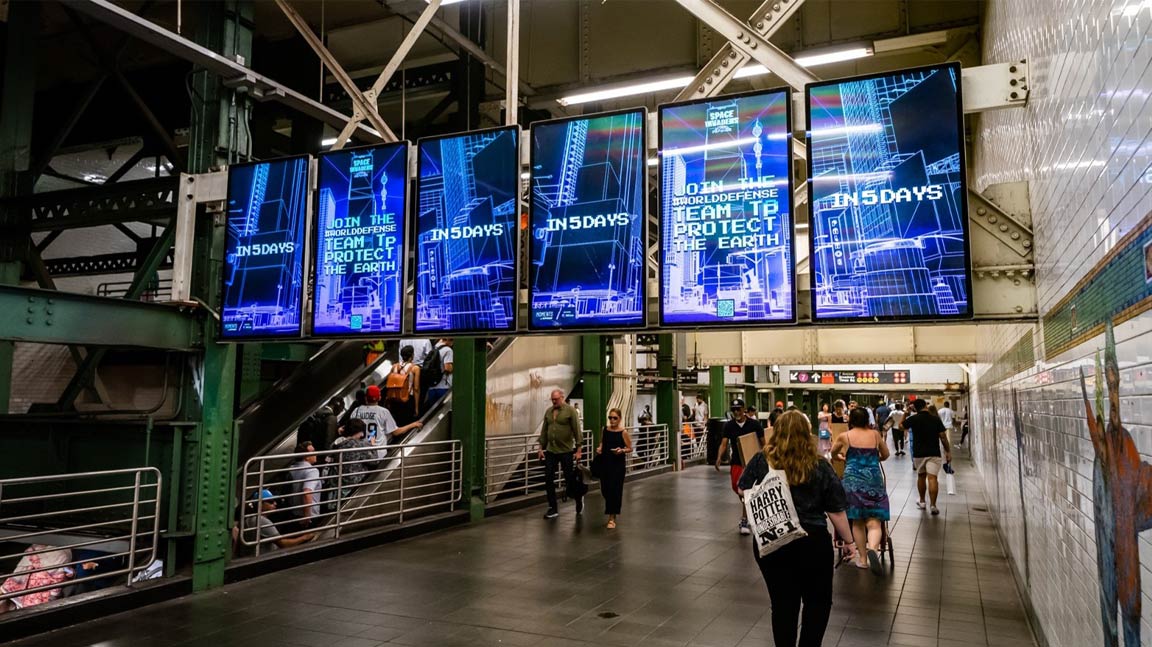 Space Invaders: World Defense represents the second round of our reality-bending partnership with Google Labs. Last December we used the Geospatial API and collaborated with Nexus Interactive to stage a
real-world musical performance for virtual Coachella headliners Gorillaz
. In the first ever public, commercial application of Geospatial API technology, the band's giant cartoon avatars sat on the buildings surrounding Times Square while performing "Skinny Ape," immortalizing the activation in the music video.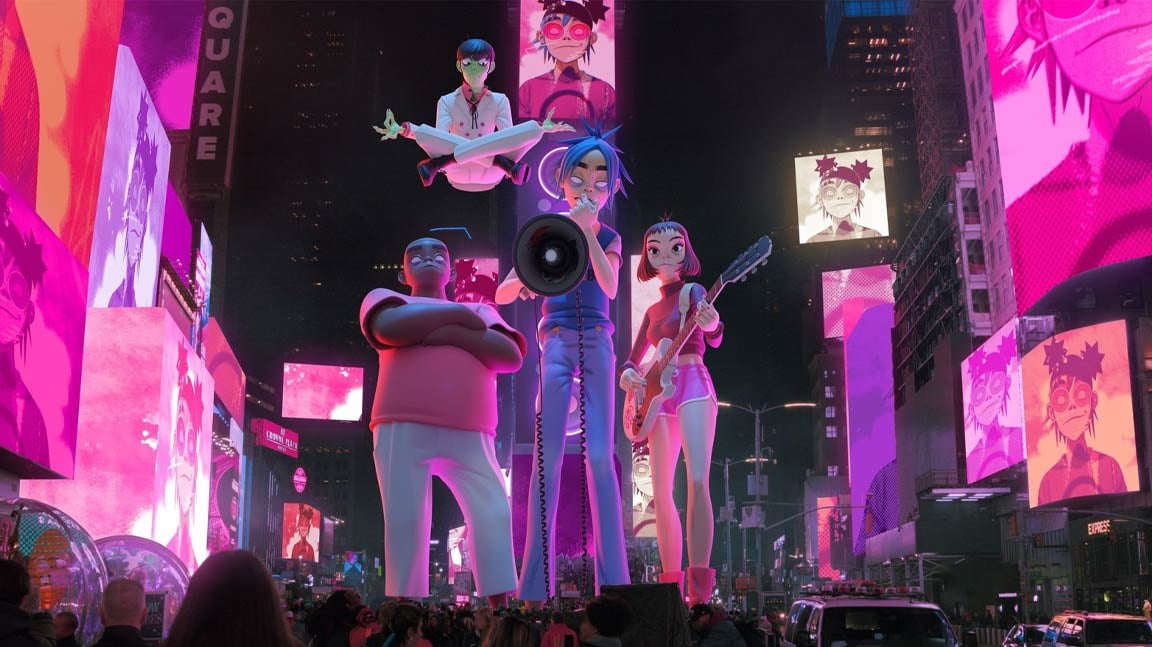 That won us the
Gold and Bronze Cannes Lions
, the most prestigious awards in all of advertising.
"It's really transcended an out of home campaign or a digital thing. It's a piece of culture, which is pretty rad. We just reinvented the way a music video was launched to the world and the idea of what a live performance is in this kind of blended world between the physical, digital, and virtual."
Finally, we asked Chad what brands intrigued by Geospatial AR's potential should consider. "It all goes back to story – what are you really trying to communicate? This isn't a lower-funnel opportunity, an opportunity to overly promote products and drive e-commerce. Of course, you can do all those things but the reason why Gorillaz and Space Invaders were so successful is because in a certain sense they were gifts to people, brought to you by these brands – and they brought to life those brand worlds that people have a lot of affinity for."
Shackelford continued, "You really have to look at your IP and ask yourself, is it compelling? Do people love this and will people want to interact with this, and can I build a really interesting story that people will want to talk about and share? You have to put your effort into defining what it is that you want to bring to life, what you want people to do within that experience, what you want to emotionally evoke. All the other stuff certainly plays a role – KPIs and so forth – but you really have to focus on the creative concept."
If you're ready to immerse consumers in your brand experience wherever they are, Geospatial AR might be for you.
Get in touch
with the innovators at XLabs to learn more!
Author: Jay Fenster, Marketing Manager @ OUTFRONT