Podcasts + OOH = The Perfect Match
October 3, 2023
Contextual relevance is king for OOH with many brands aligning their creative with National Days throughout the year. This past weekend, we celebrated National Podcast Day (September 30th) by unveiling creative from our partners at Podcast Movement in Times Square. We are also proud to announce that Locked On Sports, is the winner of our podcast industry contest, launched at the Podcast Movement Conference.
Locked On Sports
is a daily sports podcast network fueled by some 1,000 shows with a combined monthly listener base of 25 million.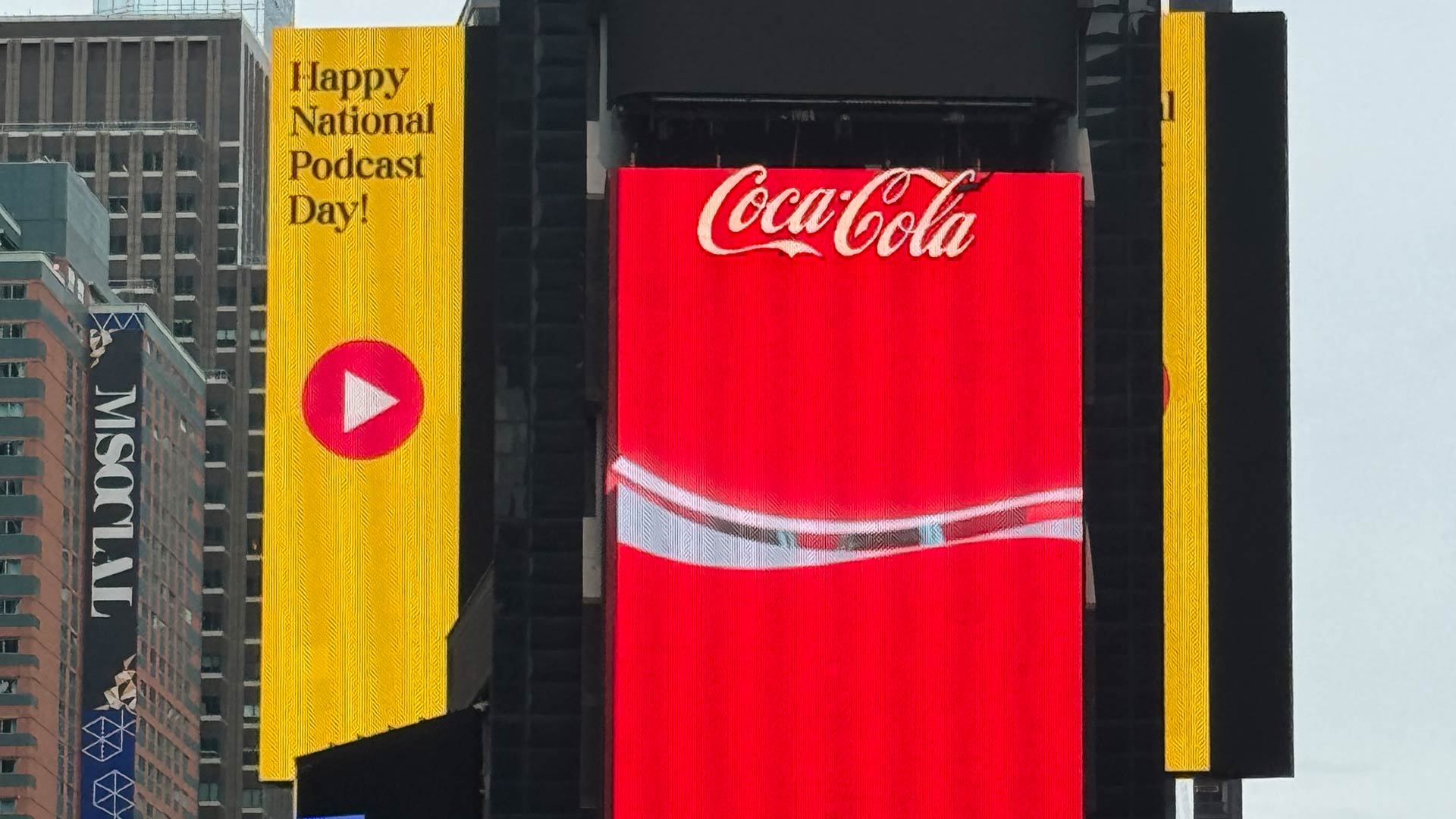 With the focus on the podcast sector, it's also a good moment to note that smart podcasters understand the benefit of leveraging OOH's immersive and cultural relevance and its scale and frequency. Listed below are the top reasons why it makes sense for podcasts to utilize OOH complete with video segments from OUTFRONT's Leigh Lowery and Rachel Winnter at the most recent Podcast Movement conference in Denver.
1. Grow Your Audience & Subscribers by Leveraging the Synergy of the Commute


OUTFRONT has over 500,000 assets that reach 7 out of 10 Americans along their daily commute, whether in the car or on the train (SOURCE: Geopath, 2023). With 42% of commuters listening to podcasts on their commute, the synergy just makes sense (SOURCE: YouGov, 2023)! Add complementary visuals to your audio presence along their journey to ensure you breakthrough. Advanced audience targeting solutions, like smartSCOUT™, give brands the ability to drill down and ensure that their message is impacting the right audience at scale.


Today, more and more podcasters are leveraging the discoverability factor needed to succeed in a highly cluttered marketplace in urban centers and across the nation. The impact is strategic, with some of the largest podcasts like Call Her Daddy and De-Influenced with Dani Austin using Times Square's global stage or on a more targeted side, Midst podcast targets hometown of Los Angeles to promote its second season.



2. Daily/Weekly Programming Updates on Dynamic Digital


A podcast's existing content schedule can determine the creative that appears on the digital OOH assets. These automated content changes ensure contextual relevance and encourage consumers to keep coming back to the screens for more content.


Speaking of cultural relevance, another great content example would be Post Malone's recent IRL concert from one of OUTFRONT's digital billboards in Times Square. A cultural moment captured live on one of these big iconic canvasses!



3. Consumer Engagement Driven Through QR Codes:


One of the few silver linings of the pandemic from a marketer's perspective is that the consumer behavior of scanning a QR code for content has finally come to fruition. In fact, we see that 41% of subway riders have scanned QR codes on advertisements in the past (SOURCE: OUTFRONT NY 5 Borough Audience Survey, 2022). This now allows for in-the-moment action, where interested commuters can scan to download your latest episode on their commute.


With a vibrant mix of art and science, today's modern OOH via digital (DOOH and 3D spatial), interactivity (QR codes) and social (#sOOH) provides new levels of consumer engagement for brands.



4. Social OOH: Repurposing Visual Content


You may have heard us say it before, but OOH is the best primer for all things digital, especially social. According to Comscore in 2022, OOH drives 7X more social activations than any other media format, per ad dollar spent. This is a perfect way to repurpose your visual and social content and continue to drive consumer engagement online.


Looking for more reasons to celebrate? Check out what today's National Day(s) are and enjoy your boyfriend, techies, and fruit at work! Or if you are old school and reading this on Oct 3, Happy Mean Girls Day!


Liz Rave, Vice President, Marketing @ OUTFRONT

Note: Video segments first aired at The Podcast Movement on August 24.