Ovadia Law Builds Trust with Bus Advertising in Miami
October 12, 2023
There's a surprisingly poignant TV commercial running in Miami. In it, attorney Abraham Ovadia recalls a formative childhood experience – riding the bus for three years after his mother's car was stolen – and talks about how her perseverance in the face of that event inspired him to never give up.
"Now those same buses that I used to ride on as a kid have my advertisements on them," he voices over footage of him stepping off a
Miami-Dade County bus advertising
his firm, Ovadia Law Group.
Why do attorneys and law firms use out of home like billboards, transit media, and
the occasional Albuquerque bus bench
?
It's because the buyer's journey for legal representation is different than most. The thing about lawyers is you don't need one – until you do. And when you need a lawyer, you usually need one
now
.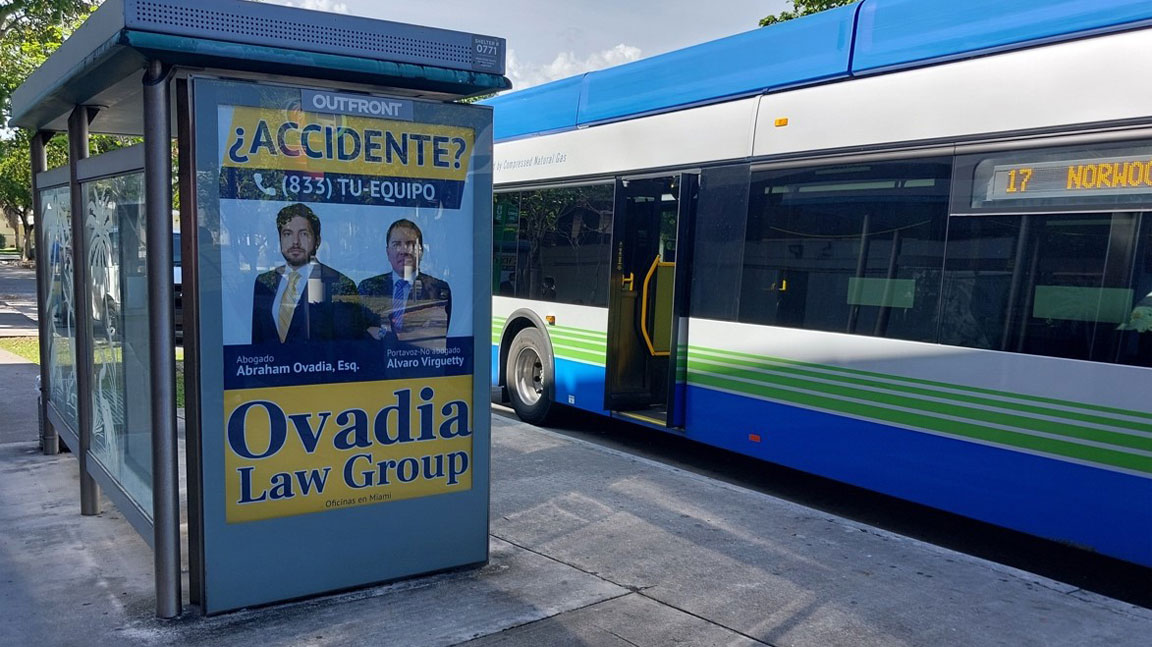 That means that the kind of duly-diligent, research-driven, comparison-shopping approach that someone might use, say, to buy a car – isn't what's happening here.
When someone suffers a personal injury or an arrest, that search for legal representation is essentially a flight to trust. Many people ask their friends and family for recommendations – but barring that, where do you turn?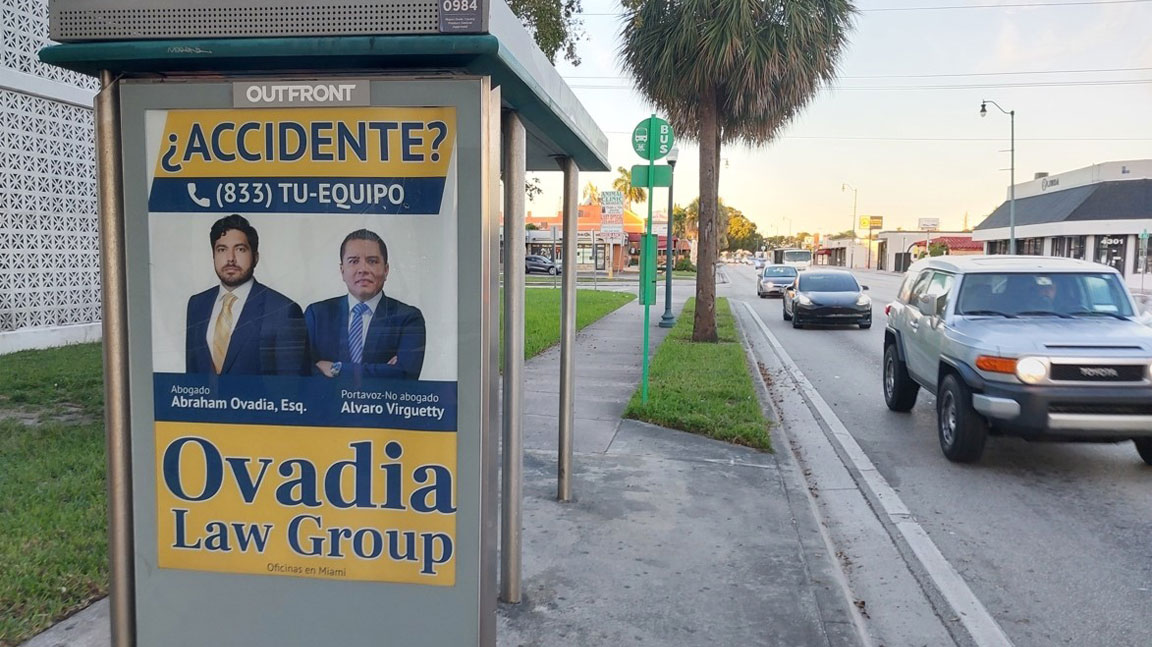 We spoke with Ovadia's account executive at OUTFRONT, James Milone, to learn how out of home ensures that when someone needs a lawyer, Ovadia is where they turn.
"As with most personal injury lawyers, it's their game," said Milone. "Their face, their personality – they have to sell an image because they want people to trust them."
Abraham's face on the ads creates a human connection, and its familiarity with his face that builds trust over time.
Transit advertising
delivers that familiarity through frequency, making it a great value for businesses and brands that need to reinforce their message and presence. "He likes quantity," Milone said. "So when I present him with big transit deals of 600 bus shelters or 180 buses, he's given me the green light without hesitation."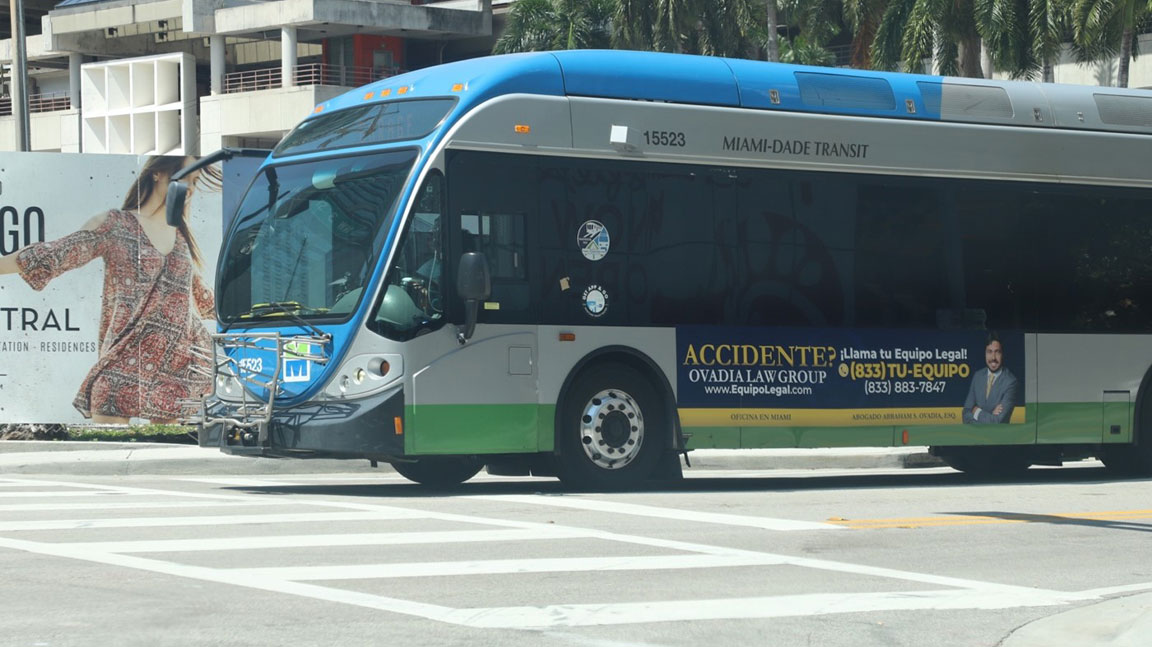 "He likes to make that huge splash, get the people talking," he added. "Abraham is becoming a brand himself with his face, with the story he told."
Milone continued, "People trust him because they're seeing him everywhere – they're not just seeing one billboard or one bus or one shelter. They're seeing hundreds of them and people get the sense of, this guy must know what he's doing."
Miami-Dade buses are dispatched from several central garages, and advertisers can select buses on a per-garage basis, which means campaigns can achieve broad coverage across the region. That's ideal for an advertiser like Ovadia. "Abe loves that we can blanket the entire market with buses or shelters, and when we do, we hit every nook and cranny of Miami," said Milone. "He's everywhere you look."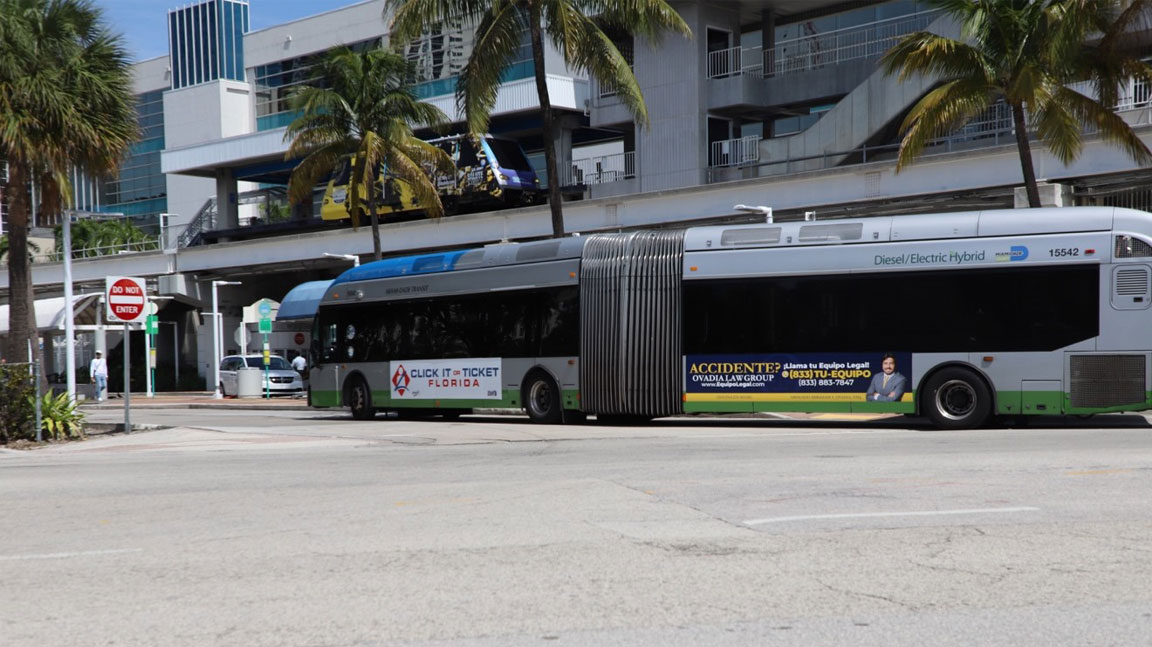 Ovadia's
bus advertisements
are also bilingual – always helpful in a market like Miami. Bus advertising is optimal for in-language advertising because of its deep reach into the neighborhoods where audiences live.
And the results?
"Having buses and shelters all over Dade County has taken my business to the next level," Abraham told us. "Working with James and the team at OUTFRONT has been great."
Milone added context. "With all the ads around Miami, Ovadia is building a solid rapport with consumer. People see him everywhere, and that builds confidence in the brand. His calls are going up, his web traffic is up."
"Our products are working. His campaigns are working. He's getting exactly what he needs from us every time. That's why he keeps renewing."
Out of home's real-world presence translates to presence of mind. That's why OOH is the
most trustworthy advertising medium there is
– and that's why attorneys and law firms of all sizes count on it.
Looking to build your brand by building trust?
Get in touch
! Or, take your chances with an
inflatable Statue of Liberty.
Author: Jay Fenster, Marketing Manager @ OUTFRONT