Lions, Tigers, and Billboards: Detroit Market Spotlight
October 5, 2023
Picking our favorite market is like picking a favorite child but let's just say that Detroit holds a special place in our hearts.
Those who've never been here might be making a weird expression right now and thinking "Really? Detroit?" Because let's face it – lots of people still hold outdated ideas about what this vibrant, dynamic, ascendant city is like. For example, you probably didn't know that the Detroit Riverwalk was named #1 riverfront in the country for three years running according to the USA Today 10 Best Readers' Choice Awards, or that National Geographic named "the D" one of six unexpected cities for food lovers.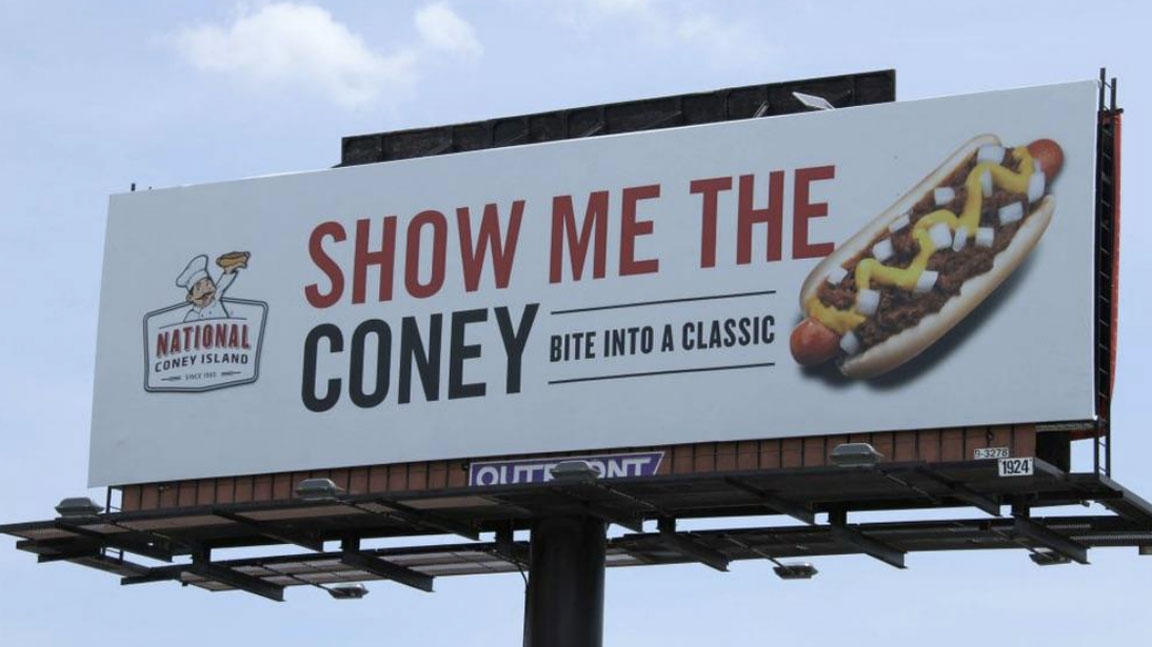 But as the leading provider of
Detroit billboard and transit advertising
(reaching 98% of the market weekly), we at OUTFRONT know exactly what makes this such a remarkable place to live, work, play, and yes, advertise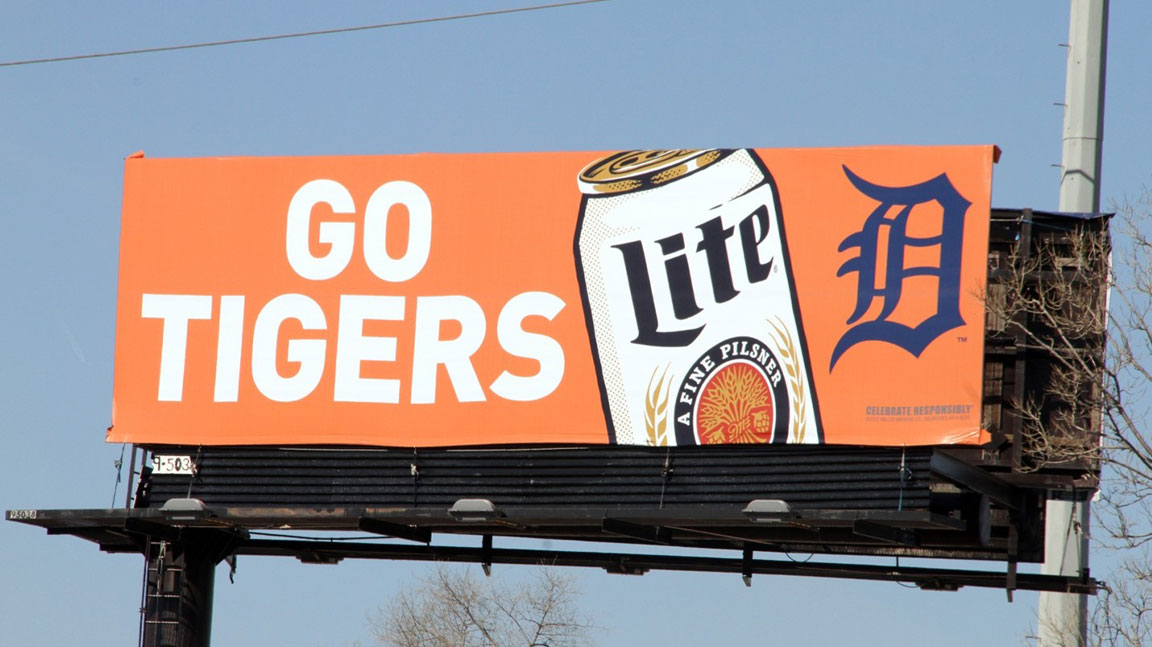 For starters, this is a city with music in its blood. You might've heard of a little genre called Motown. Yeah, that's this Motown. But it isn't just R&B to which Detroit can claim roots – the city has served as an incubator to jazz, blues, and gospel. This is, after all, a proud, predominantly Black city, with more African-American residents than any other in the United States. Theatre thrives here too, with the nation's largest performance district outside New York City's Broadway.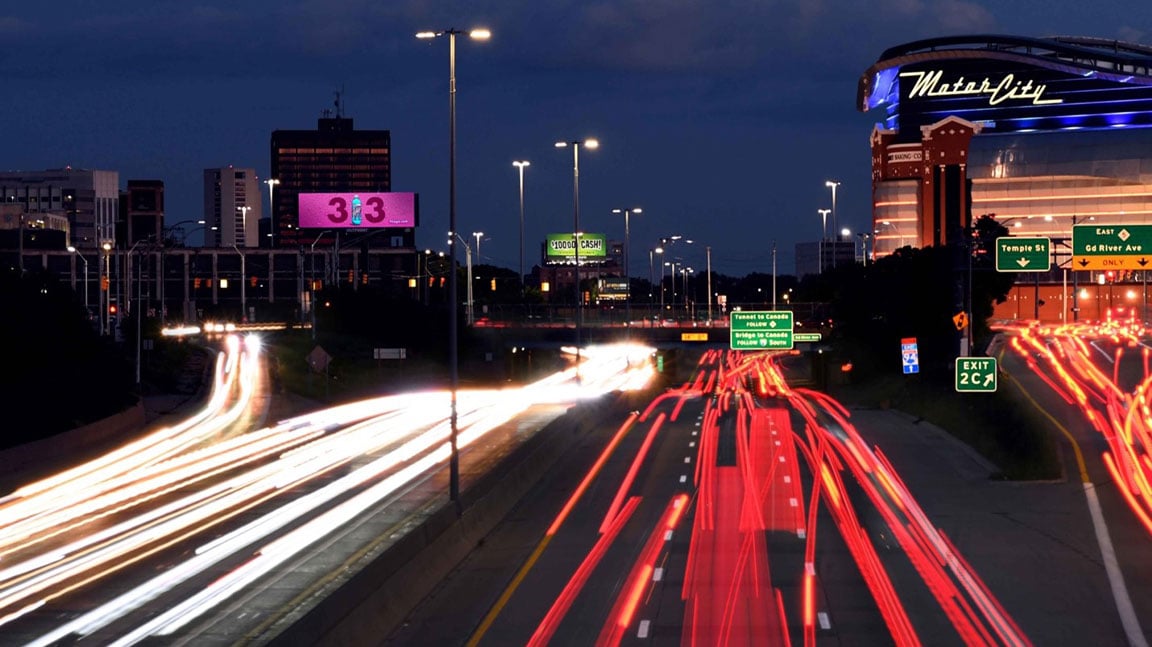 Detroit can also claim status as the birthplace of techno, the percussive, groovy style of dance music that spawned a hundred others. Every Memorial Day weekend, 110,000 techno lovers of all ages descend upon Hart Plaza, located on that beautiful downtown riverfront, for Movement Music Festival, a three-day celebration of the city's musical influence and legacy.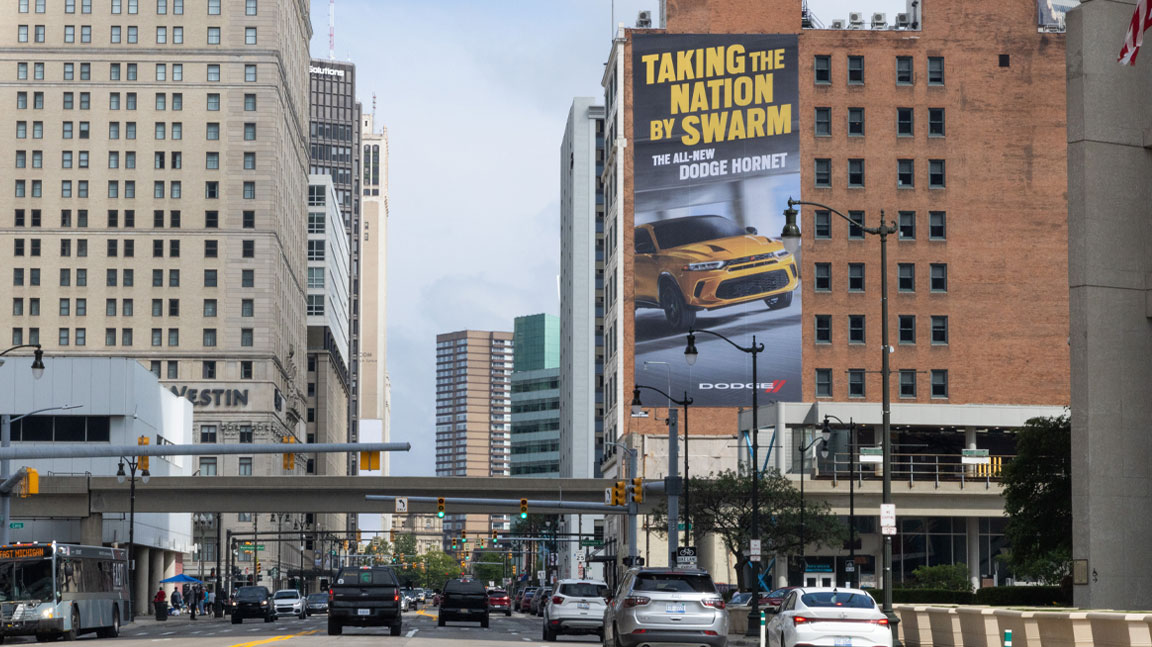 While in downtown Detroit, they'll also be exposed to
some of our most high impact wallscapes
, one-of-a-kind canvases that measure up to 5,000 square feet, commanding the attention of both drivers and pedestrians.
There aren't many traditional billboards in the urban core, and the City of Detroit doesn't accept advertising on its local buses – so these walls are the most effective way to reach the downtown audience.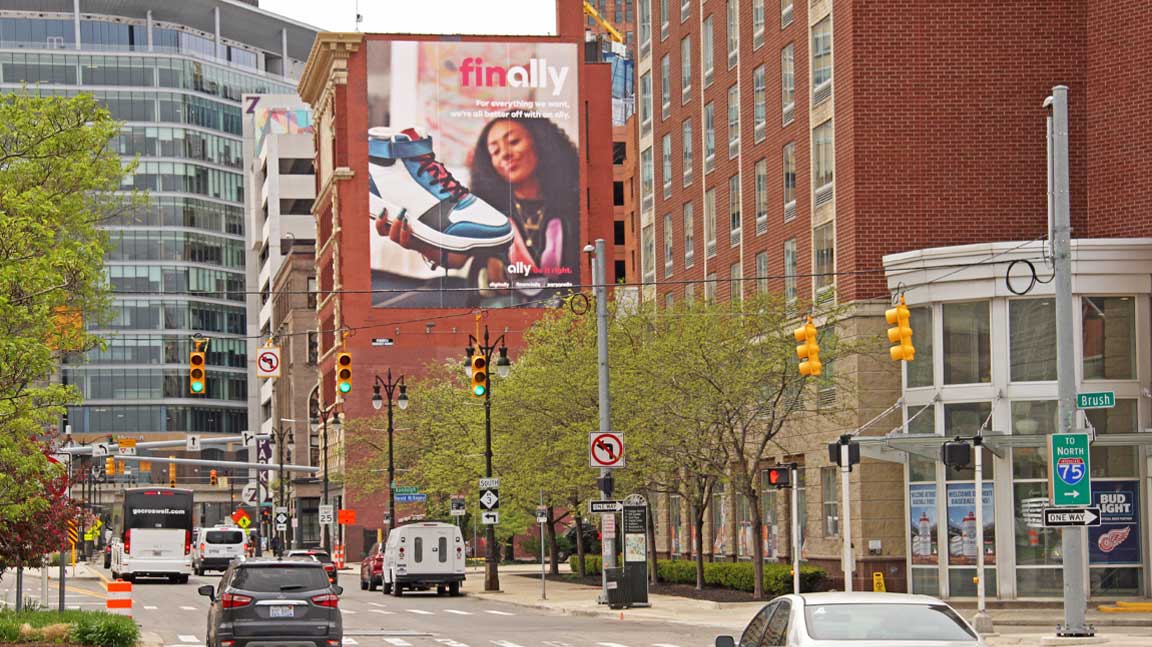 In addition to a burgeoning restaurant scene and copious nightlife, downtown Detroit also hosts a trio of major sports venues: Little Caesars Arena, Ford Field, and Comerica Park, homes to the Red Wings and Pistons, Lions, and Tigers, respectively. One thing about Detroit: fans here are die-hard.
It doesn't matter if the team is in first place or last, the stands are still packed. And speaking of sports, the NFL Draft is expected to bring 125,000 football fanatics to Detroit next year. That comes on the heels of SummerSlam, whose attendance of 59,194 produced the WWE's highest-grossing gate of all time for a non-WrestleMania show.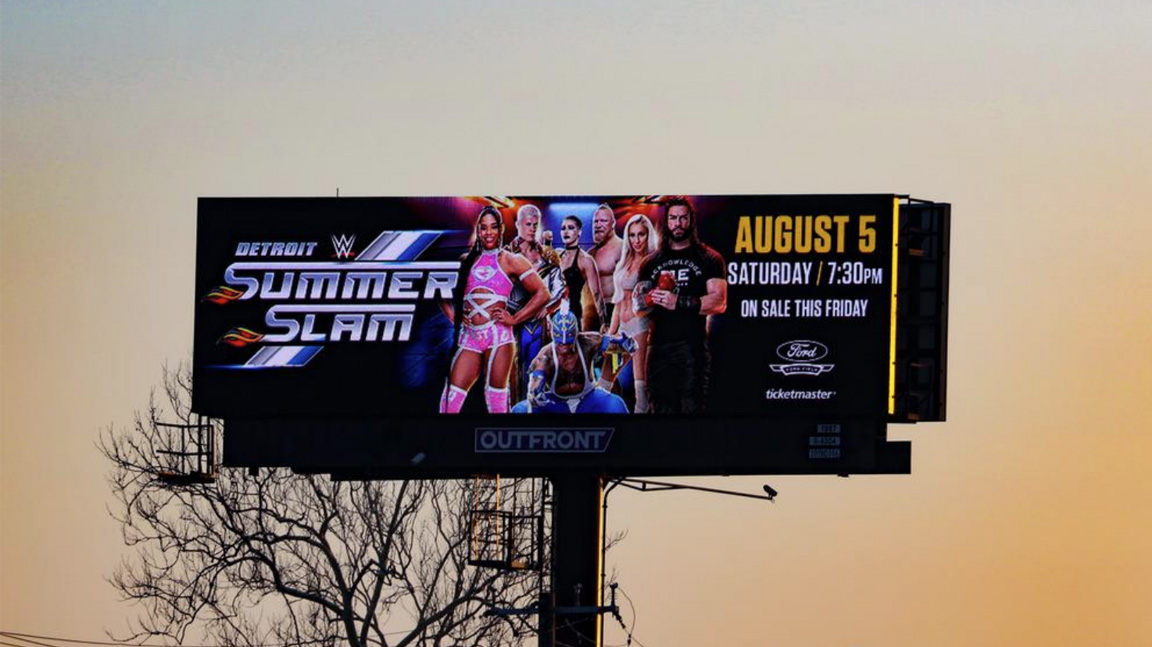 Beyond downtown, we have a network of over 70 digital bulletins that can deliver timely, contextually relevant messaging. These screens can be purchased through traditional channels,
programmatically
, or through our
Digital Direct Ad Server (DDA)
.
And while the City of Detroit doesn't take bus advertising, the broader area's transit agency, SMART (the
Suburban Mobility Authority for Regional Transportation
), does. SMART operates bus lines that efficiently deliver commuters to the downtown core and the offices of major employers like Quicken Loans, General Motors, Ford Motor Company, Ally Financial, and Little Caesars.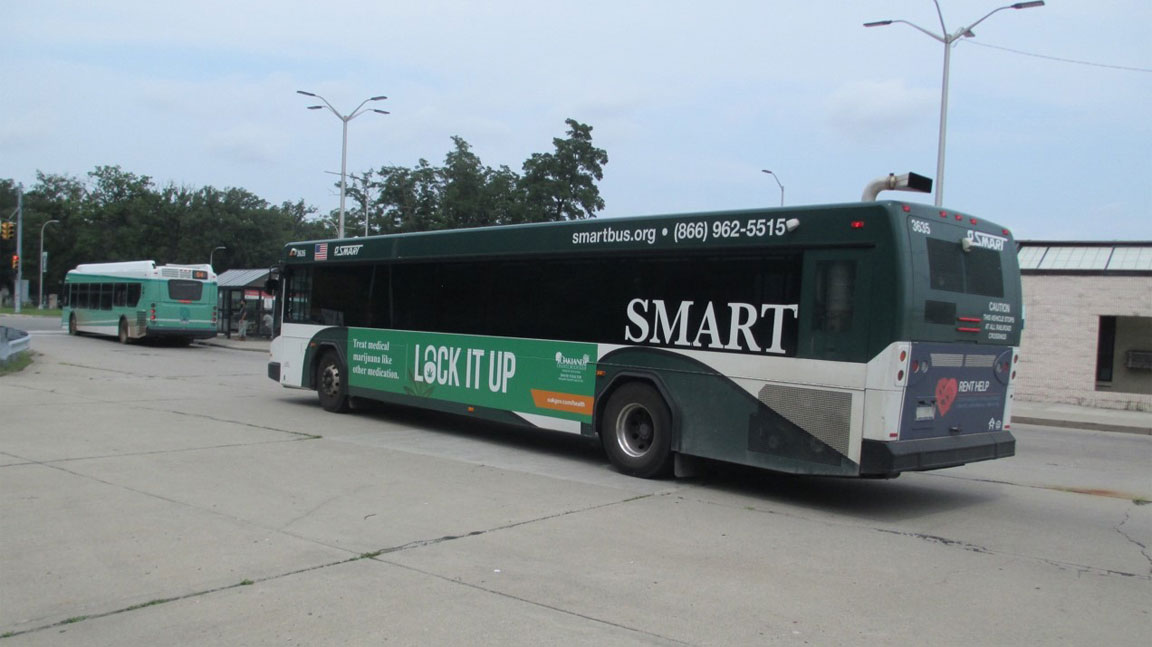 Our
Detroit bus media
deliver region-wide reach and frequency for advertisers who wish to activate diverse audiences like blue-collar communities, the LGBTQ+ scene in Ferndale, affluent Oakland County residents, or the Millennials and Zoomers who've flocked to Detroit for its endless cultural depth and low cost of living.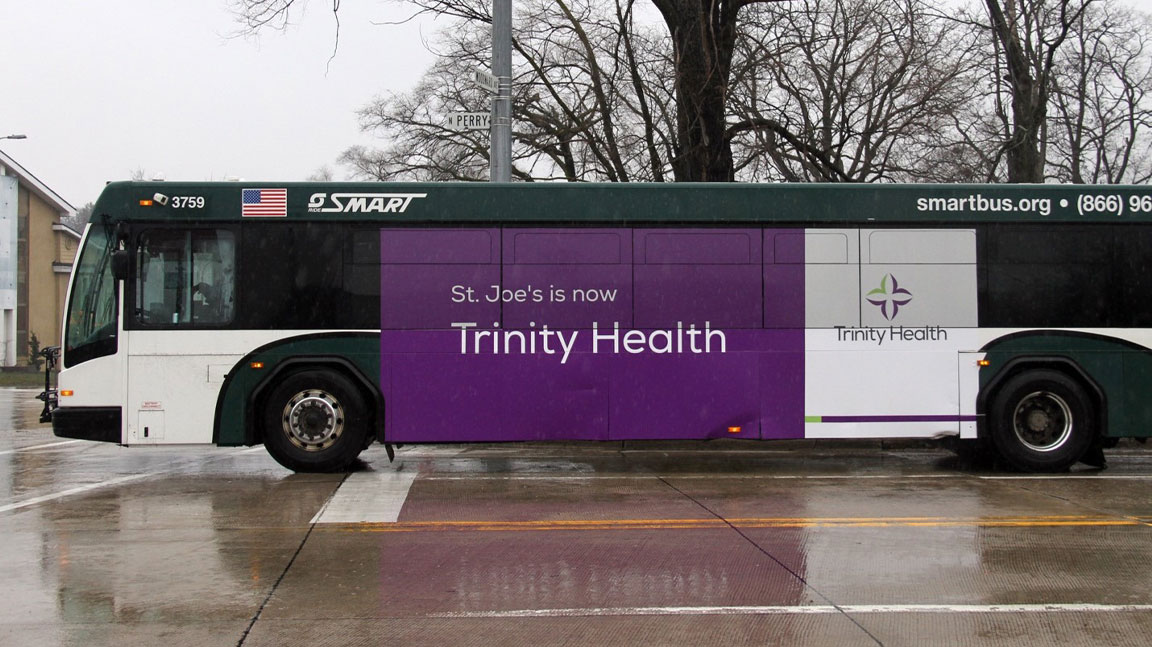 SMART bus advertising formats include interior cards that leverage the dwell time of an average 60-minute commute. At the same time, Ultra Super Kings make an oversized impression on those the buses pass along the way, spreading brand awareness throughout the entire tri-county area.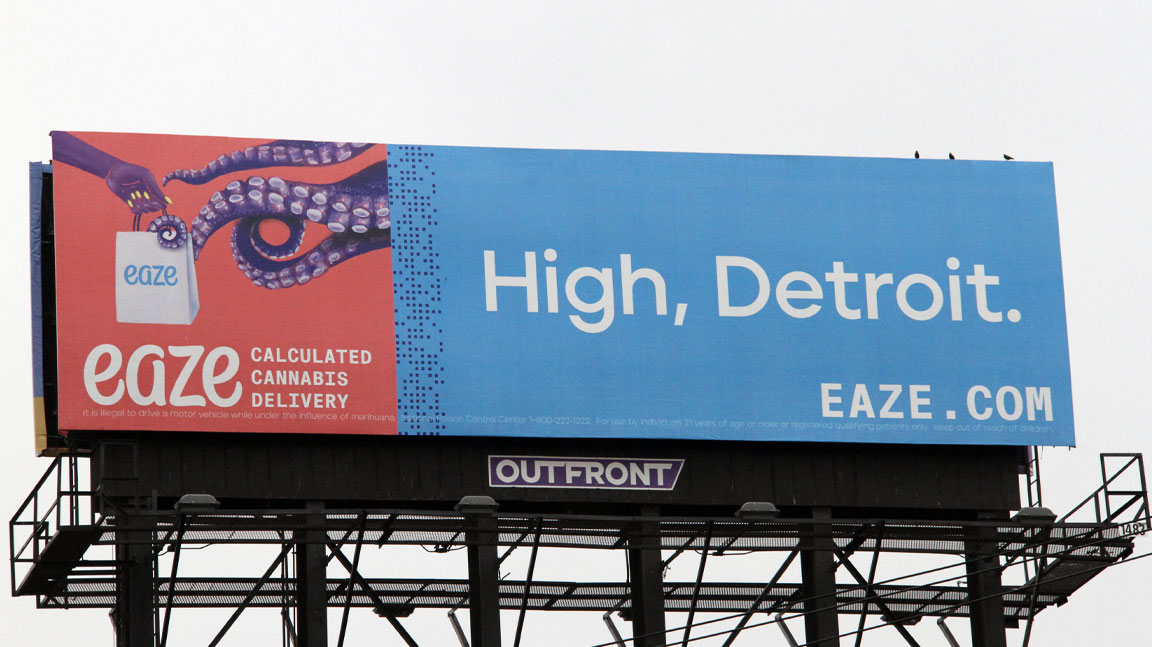 With
65% of Detroit's billboard inventory
bearing that little purple OUTFRONT tag at the bottom, we're the experts at reaching residents of this exciting city. Are you ready to drive your brand forward?
Let's get motoring!
Author: Jay Fenster, Marketing Manager @ OUTFRONT